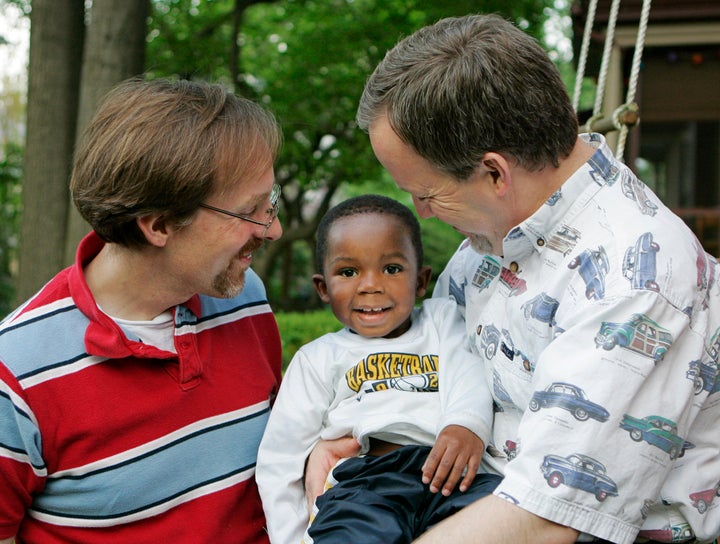 Now, civil- and LGBT-rights groups are worried that an amendment to the civil unions law would actually take rights away from gay and lesbian couples in the state.
Democratic Sen. David Koehler introduced the civil unions bill in the state Senate, and now is sponsoring an amendment to it, SB 1123. The amendment says that religious child welfare agencies "may decline an adoption or foster family home application" to a couple in a civil union if "if acceptance of that application would constitute a violation of the organization's sincerely held religious beliefs."
"We are very concerned about whether it will pass or not," Martinez said Tuesday. "Because Sen. [David] Koehler ... traditionally is pretty progressive in terms of his legislation and the fact that we have a moderate Democrat who's also co-sponsoring.. does make it look a little better for the future of the bill, which is not a good thing."
Sen. Koehler did not immediately return a call for comment, but co-sponsor Sen. William Haine explained the reasoning behind the legislation to HuffPost Chicago Tuesday.
"The civil union bill complicates matters a bit because the civil union bill changes the definition of a spouse," Sen. Haine said. "So, the Catholic Conference, the Roman Catholic Church and some of the other denominations [with] adoption services, had historically not placed children in households where there's a couple and they aren't married. Sexual orientation's never been brought up."
Haine said the groups he spoke to, who work with "hard to place" children, want to continue offering adoption and foster care services but do not want to approve applications that are inconsistent with their "right of conscience" and religious beliefs. Traditionally, he said, these organizations place children in married households only.
Unlike the bill's sponsor, Sen. Haine voted against the original civil unions bill in the Senate because he feared it "would create problems such as this."
When SB 1993 was on the table in March, the American Civil Liberties Union spoke out against the bill, along with Lambda Legal. The legislation would have allowed organizations to deny adoptions to gays and lesbians if same-sex relationships went against their religious beliefs. The bill also would have allowed organizations to deny adoptions to atheists or agnostics.
Martinez hopes the same action will be taken against SB 1123.
"This bill is an attack on the Civil Union Act and by extension, the Lesbian, Gay, Bisexual, and Transgender community," Martinez said. "Why this amendment? Why now? Because we just granted rights to the LGBTQ community. Why are we trying to write discrimination into the law? This is unacceptable."
Some LGBT activists were confused by Sen. Koehler's support of the amendment. He spoke passionately on the Senate floor in favor of civil unions, and has a lesbian daughter.
Martinez told HuffPost Chicago that during that floor debate, another senator asked Koehler if the bill infringes on the protections and freedoms of religious institutions. He said it did not, and vowed to introduce legislation ensuring this religious freedom if an issue were to arise.
The ACLU issued an alert about the legislation Monday night, saying that it was not only discriminatory, but also illegal:
SB 1123... amends the Civil Union Act to allow religiously affiliated child welfare agencies to discriminate against parties to a civil union and to refer the parties to a civil union to DCFS for information concerning non-discriminatory child welfare agencies for adoption or foster family home applications, licensure and placements.

The federal equal protection clause bans the government from allowing private agencies to practice discrimination when choosing families for adoptive children. The obligation to license foster parents and to screen adoptive parents is the state's. When the state delegates part of that duty to a private agency the state remains responsible to make certain that the process is consistent with state and federal law, including the 14th Amendment; religiously affiliated agencies should not be permitted to discriminate, especially when doing so can hurt children by excluding a whole class of loving families.
Martinez said that SB 1123 is currently in assignments, and will now move into the executive committee. It could could come up for a floor vote by the end of the week.
REAL LIFE. REAL NEWS. REAL VOICES.
Help us tell more of the stories that matter from voices that too often remain unheard.