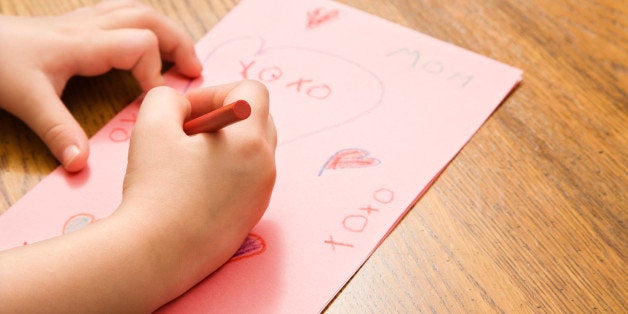 Married couple Brian Copeland and Greg Bullard have been searching for the perfect school to send their young son. Their first priority in seeking a quality education, was a place that would be safe for their child -- a school where their family would be welcomed. Additionally, as Greg is Senior Pastor at a local church, a school where a focus on faith was also important.
So Brian asked a friend about Davidson Academy, a Christian school with no direct affiliation to any religious organization or church. The friend seemed to think the school would be very amenable to a family like theirs, in fact a representative from Davidson had told this friend exactly that when they inquired.
Much to the couple's surprise, following a telephone call to the school, they received a letter stating unequivocally that they were not welcome to even meet with the headmaster.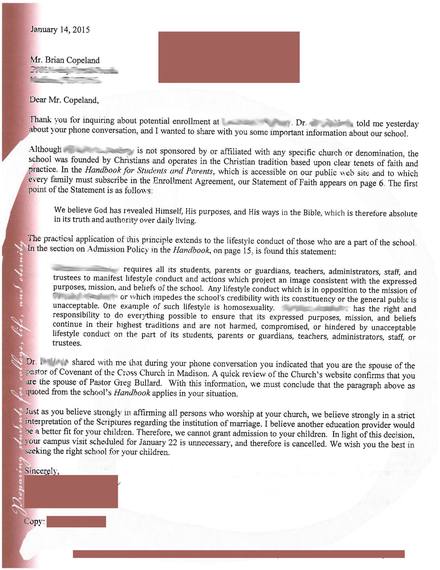 Although Davidson Academy is not sponsored by or affiliated with any specific church or denomination, the school was founded by Christians and operates in the Christian tradition based upon clear tenets of faith and practice. In the Handbook for Students and Parents, which is accessible on our public website and to which every family must subscribe in the Enrollment Agreement, our Statement of Faith appears on page 6. The first point of the Statement is as follows:

We believe God has revealed Himself, His purposes, and His ways in the Bible, which is therefore absolute in its truth and authority over daily living.

The practical application of this principle extends to the lifestyle conduct of those who are a part of the school. In the section on Admission Policy in the Handbook, on page 15, is found this statement:

Davidson Academy requires all its students, parents or guardians, teachers, administrators, staff and trustees to manifest lifestyle conduct and actions which project an image consistent with the expressed purposes, mission, and beliefs of the school. Any lifestyle conduct which is in opposition to the mission of Davidson Academy or which impedes the school's credibility with its constituency or the general public is unacceptable.

One example of such lifestyle is homosexuality. Davidson Academy has the right and responsibility to do everything possible to ensure that its expressed purposes, mission, and beliefs continue in their highest traditions and are not harmed, compromised, or hindered by unacceptable lifestyle conduct on the part of its students, parents or guardians, teachers, administrators, staff or trustees.
Brian posted the letter to Facebook and had blurred out the name of the institution, but a little research brought us directly to Davidson Academy. The letter was posted with the following note from Brian:
I share this to let my friends know that discrimination affects people you know and love and still hurts no matter how many times you go through it. We chose this school because of its rigorous faith-based K-12 academics and extra curricular activities; and, a friend with a son there asked them if a family like ours would be allowed and was told yes. After a phone conversation, fully disclosing we are a two-dad family, an appointment was set for us. I receive this letter canceling our appointment without even getting a chance.

Sadly enough, an acquaintance called the school this morning and told them she had been through a divorce because she cheated and that she now lives with her three kids and her boyfriend. The administrator welcomed them with open arms and offered an appointment.

I chose to not share the name because the kids who go there deserve respect and to learn in peace. It's not about me getting my way. My children will not go there under this person's administration. It's about telling the story that there are real faces and feelings that open letters like this. We want the best for our kids, and THEY deserve to be given a chance. I love you all. The love you show my family every day here makes life even richer.
I'd be remiss if I didn't also mention that Brian and his husband, Greg are not only pillars in their community, but they've won awards for their service to families all over Tennessee, including an HRC Community Service Award and Middle Tennessee's Strobel Award. Additionally, they run the only LGBT food pantry in Tennessee and serve over 200 families monthly.
In speaking with Brian about the discrimination his family faced from the Davidson Academy, he added only:
I've learned through this experience we need to choose a place that will not only admit our children, but celebrate them.
A call to (headmaster) Bill Chaney was unanswered, but according to Toby Compton (whose family has been part of the Davidson Academy community since they opened in 1980), the school refuses to acknowledge the problem:
Over the years, I've given back and helped the school; but, I can't overlook what they've done to a good family -- and a child.

When I reached out to my school contact today...I was told that on the advice of legal counsel, they couldn't comment.
Popular in the Community