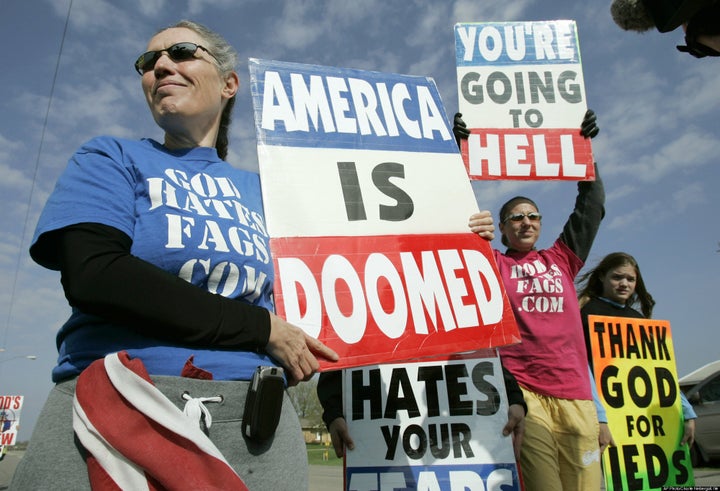 One of America's leading agents of virulent homophobia might be dropping into the Chicago suburbs this weekend.
Westboro Baptist Church has picketed over 400 soldiers' funerals claiming that they were killed as punishment by God for "the homosexual lifestyle of soul-damning, nation-destroying filth" in America. Now, it may be taking on a Saturday night theater production at Buffalo Grove High School.
The church, which runs the website GodHatesFags.com, also picketed the funeral of Matthew Shepard, the gay University of Wyoming student who was brutally tortured and murdered because of his sexuality in 1999.
Since that time, it has made a point of protesting productions of "The Laramie Project," the staged oral history of Shepard's life and death. In one scene, the play depicts WBC protesters at Shepard's funeral.
This fall, drama students at Buffalo Grove High School are putting on "The Laramie Project," a production chosen "to emphasize tolerance and understanding," school principal Carol Burlinski told the suburban Daily Herald.
Burlinski told the paper the group has "every right" to come to Buffalo Grove under the First Amendment, and the school is doing nothing differently.
WBC members have also been encouraged to protest upcoming performances at "a Liberty, Mo., high school; California State University in Santa Ana, Calif., and a Canadian theater in Edmonton, Alberta," according to the Daily Herald.
"These people think that they have the power, this arrogant nation, to change God," said Shirley Phelps-Roper, the group's spokeswoman, to the Chicago Maroon. "The little girly boys up there with their clothes half off gyrating around--they might as well flip off their god."
Calling all HuffPost superfans!
Sign up for membership to become a founding member and help shape HuffPost's next chapter