"Degrading," "hysterical," "exhibitionist": the Antigones do not mince their words when talking about the controversial actions of the feminist protest group FEMEN. Essentially students or young mothers, the members of the small French union all agree on the voyeuristic violence of FEMEN, and express their exasperation at being allegedly represented by a group that they strongly disapprove of. The Antigones effectively denounce the instrumentalization of women and the hatred of men that ensues from the extreme actions undertaken by the Ukrainian group. After spending seven weeks with the FEMEN, Iseul (assumed name), a 21-year-old law student, has become a hardened Antigone. Remembering her infiltration, she says:
"Today, I feel sadness when I think about you, the young French girls that I met, manipulated to serve an ideology that you do not understand."
To fight against what they describe as "the monopoly of women" that is held by FEMEN, the Antigones suggest a reformed vision of feminism, based on the idea of complementarity between men and women as a central way to enrich society. The manifesto published on their official website (http://antigones.fr) asserts that they do not recognize themselves in the vision imposed by politics and the media: "gender theory and sextremism." They support the claim that "a man is a man, and a woman is a woman," and encourage the sexual differentiation that has been completely annihilated by contemporary feminist movements. More specifically, they demand that the government cease providing the group with subsidies, but also that the leaders of FEMEN be returned to Ukraine, and the end of their immunity, which prevented members of the group from being kept in custody even when they committed their most shocking actions (such as their topless manifestation in the Cathedral Notre-Dame de Paris to "celebrate the Pope's departure").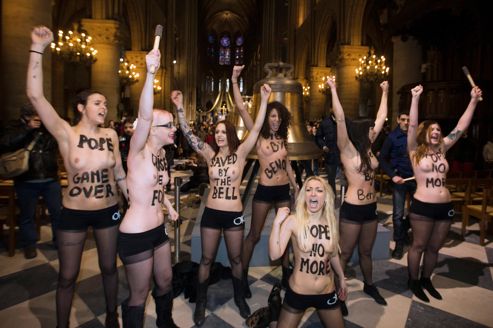 In May, the Antigones attempted a confrontation with the FEMEN in their Parisian headquarters, which was made impossible by the numerous policemen surrounding the place. Failing that, they made a short video clip in which they addressed the FEMEN as follows:
"Femen, you claim that the battles fought by women are feminist,

We respond that they are feminine.
Femen, you claim that women's rights should be fought for topless,
We respond that they are achieved with dignity.
Femen, you claim that religion is alienating,
We respond that it is for many of us a path to freedom and self-realization.
Femen, you claim that male chauvinism dominates our society and you fight against men,
We respond that it is only with men that we will completely be women.
Femen, you demand gender equality,
We respond that complementarity between men and women is what makes our society rich.
Femen, you are paid to fight for your ideas,
We respond that women's rights cannot be traded.
Femen, you assert yourselves in violence and indignation,
We unite with composure and determination."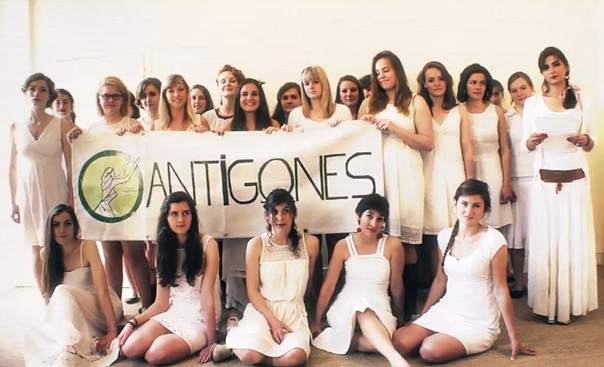 REAL LIFE. REAL NEWS. REAL VOICES.
Help us tell more of the stories that matter from voices that too often remain unheard.