At first look, "Separatists Claim Responsibility For California Wildfires" appears to be like any other story on CNN.com. The article claims that California Gov. Arnold Schwarzenegger has confirmed that a radical Hispanic organization had taken responsibility for the fires that raged through southern California this week. The article even says there's photographic proof "of individuals holding Molotov cocktails, then throwing them into dry brush."
But of course, after the initial shock of the report, the sharp-eyed can figure out that it's a hoax. To start with, the site's URL is cnnheadlienews.com -- note the "headlie" instead of "headline." CNN's web address is cnn.com, and the address for its sister network Headline News is cnn.com/HLN/.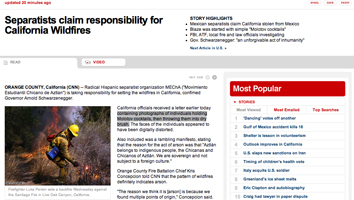 But anti-immigrant websites picked up on the faux story and ran it as fact (for see here). For example, before discovering it was a hoax, the author of AmericanAndProud.net declared, "I am going to wait until all the facts are in, but it appears the first major shot of the next Mexican/American war has just been fired."
A domain name search for "cnnheadlienews" shows the site is registered to a company with a Nashville, Tennessee address called Bleachboy Heavy Manufacturing Concern. The website associated with Bleachboy, BBoy.net, is a bare homepage that cycles through four different logos. There's no other information on the site except for a warning about sweatshop products, a note that says "thank you for the traffic," and the ever-banal phrase, "Spring is in the air."

Popular in the Community