Ask any thrifter out there, and they'll tell you that there's something incredibly satisfying about antiquing. America's other favorite pastime is part treasure hunt, part history lesson; a folk adventure that takes place in dusty attics and secondhand shops everywhere.
There's no better proof of the universal appeal of antiquing than the recent proliferation of television shows devoted solely to pickers, pawners, hunters and collectors from Los Angeles to Boston and every haven in between. And yet, no show has paid tribute to the "a-ha" moment of long-lost relics like the PBS classic Antiques Roadshow. Ever since it was brought from the UK to the US in 1997, the show has demonstrated that every flea market frequenter and yard sale peruser is equally poised to make that once-in-a-lifetime find, and that even when the treasure isn't yours, the adventure is just as sweet when a salvaged item turns out to be a priceless piece of history. In preparation for this evening's festivities, we had the chance to speak with one of the event's stars, art dealer and Roadshow's painting table maven Betty Krulik. A veteran specialist in American art, the former Christie's handler really deals in all things two-dimensional, running the gamut from Old Masters to post-war contemporary works. Krulik describes the Antiques Roadshow audience with admiration, from the enthusiastic (and sometimes costumed) collectors to the curious amateurs who shyly bare their prized possessions. And best of all, she gave us a bit of insight into the antiquing underbelly, from the mystery of flea market Renoirs to the story-telling talent of the show's beloved characters.
See a slideshow of the 15 best moments from Antiques Roadshow below:
PHOTO GALLERY
15 Amazing Moments From Antique Roadshow
HP: What is a typical day at Antiques Roadshow like?
Betty Krulik: It starts with all the appraisers convening on Friday afternoon. The producer, Marsha Bemko, will prep us, reminding us of things we should and shouldn't do as appraisers from making sure our finger nails are manicured to not showing your hind end to the camera. Then we all kind of go to bed to early because we start around 7am the next day. So on Saturday, we fire up our computers and people come in through "triage," as we call it. In our triage, the nurse is a generalist appraiser, who will tell you, "Ok, this piece of pottery is not American, it's Chinese, so you go to the Asian department, not Folk." After triage, people line up like at the bank. They go to wait on line at different tables, with 6-7 appraisors for each department.
HP: And how many people do you typically see at your table?
BK: At the end of the weekend, we see about 1,000-2,000 objects -- just at the painting table. Six thousand tickets are distributed for the show in total, with those people allowed two objects or a collection of objects each. So it could also be a group of prints that were all from associated American artists (even thoughts it's 25 prints it's considered a collection).
HP: What is the actual appraisal like?
BK: Well, we ask people what is that they want to know. Some people want to know the value. Other people just want to know what it is. For example, a woman came in one time with a beautiful illustration. I said to her, "Oh my. This is really kind of wonderful. Would you be interested in going on TV?" She agreed and I didn't really ask her too much about it until we went on television. We go on, we talk about her illustration and I tell her about the artist and the composition and I said, "What is it that you'd like to know?" And she just said, "What is it?" Well, it was a unique work of art, a charcoal with watercolor and varnish. And it was worth $125,000! She cried when I told her the value. It was beautiful.
HP: Is that the most expensive object you have come across on the show?
BK: The single most expensive object on the painting table was a Norman Rockwell, which was worth just close to a million dollars. A Diego Rivera also came in, and that was almost a million dollars. But sometimes these prices don't end up on television, because people don't always like to air their appraisals for a variety of reasons. They could be uncomfortable that people know who they are.
HP: So how many people actually end up on television?
BK: Of the 12,000 objects we see, about 90 are filmed. Of those that are filmed, 60 air. And they are all kinds of objects. Good, bad and ugly.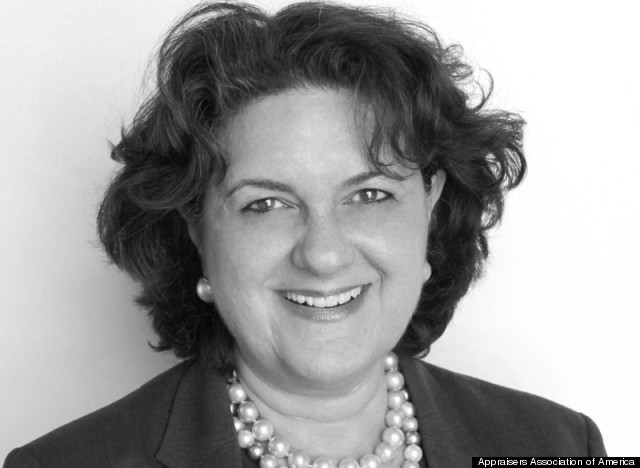 Betty Krulick, image courtesy of the Appraisers Association of America
HP: Have you experienced any heartbreaking moments where an antique owner really believed they possessed a highly valuable object and it turned out to be worth nothing?
I'll be honest with you, if we see a 1,000 objects, it happens about 100 times a day. They can be family heirlooms, pictures or paintings that have always been in the family that have a strong sentimental value. And they feel that it has to have a high monetary value. Unfortunately, we are breaking people's hearts all the time, graciously.
HP: When the informal appraisal that takes place on the show is over, what happens next? If they want to sell their piece at auction, do you help them?
BK: Actually, most people say they wouldn't sell. But for those that do, we are not allowed to solicit deals but they can track us down if they need help. And from time to time this happens, but it's mostly just advice on where they should go with their item. Once, I did a formal appraisal after having met someone on the show. Really, it happened a lot more often earlier on in the show, but now, because the Internet has changed so much, a lot of people do a tremendous amount of work before they walk in. I remember the first 10 years of the show someone once said, "Soon everyone at home will have a computer. You'll be able to shop online." And I said, "I doubt that."
HP: Is there one piece of art that would be a dream find for you -- something that you've always wanted to see at Antiques Roadshow, but you've yet to come across?
BK: I'd love to see my favorite American artist, Winslow Homer or John Singer Sargent. But we've yet to find one!
HP: Lately, we've been seeing quite of few instances in the news where lucky thrift store shoppers are stumbling on amazing works by artists like Renoir and Ilya Bolotowsky in their local flea markets and Goodwill stores. How often do you think this actually happens?
BK: I don't think it happens very often. I would say when people find something for $5-25, they are usually finding things that are worth between $1,000 and 10,000, with a certain degree of frequency. But a Renoir...that's very rare. Finding things that are worth over $100,000 at a local shop or market, that stuff only happens with one artist that I know of -- Martin Johnson Heade.
BK: Well, I'm going to quote the scholar, Tedd Stevens. I brought a work to him once for authentification and he gave me the answer. He said Heade was a tourist artist in Florida, and when people traveled to Florida, they would often purchase a Heade painting because it wasn't very expensive. But if they bought a Heade, it was as a memento, not a cherished possession. As a result, they did end up in yard sales and junk shops because they weren't considered treasured objects.
HP: Have you ever been one of those lucky thrifters?
HP: Do you have a collection of your own?
BK: Well, my husband and I began collecting just when we started to date. I was dealing in works of art on paper and he's a paper conservator, so we decided not to collect in our field because we didn't want it to be a conflict of interest. Instead, we began collecting photography. And then paintings by some of my husband's friends. My husband also starting painting, so I guess I collect his work, too!
HP: So what advice would you give to an amateur collector looking to build up their antique skills?
BK: I would say, go to museums and look at the best. The high quality [items]. You're not going to see a plunker at a museum. Stand in front of a work, soak in everything about it. So when you go to a flea mark and antique shop, your eye has been trained. You'll know it when you see it.
HP: And for all the die-hard Roadshow fans, who is your favorite appraiser?
BK: Its hard to narrow it down to just one. Lee Dunbar, she does sports memorabilia, and she's a rock star. She is amazing. She's got this incredible energy. And Leigh Keno as well. He can charm everyone -- the ladies in particular. They all have this incredible gift for revealing the story of a piece with a certain amount of anticipation. It's about being great story tellers.
One of the 15 best moments from Antiques Roadshow. (Scroll down for more)
"On and Off the Road: An Evening with America's Most Popular Appraisers" will be held on October 16, 2012, from 6:00pm - 8:30pm at the Grolier Club in New York City.
Calling all HuffPost superfans!
Sign up for membership to become a founding member and help shape HuffPost's next chapter
BEFORE YOU GO