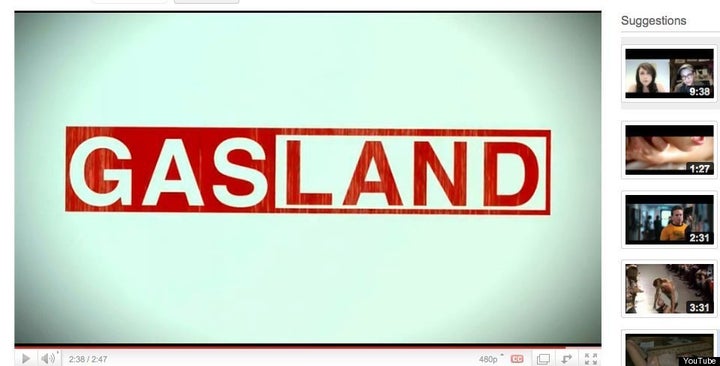 In an article published in the Lancaster On-Line, Ted Borawski, a geologist who is the Chief of the Minerals Section in the Bureau of Forestry, in the Pennsylvania State Department of Conservation and Natural Resources (DCNR), is quoted making an anti-semitic comment about documentary filmmaker, Josh Fox, whose film, Gasland, has won many awards and was an Oscar nominee for Best Documentary this year.

Fox's film raises health, environmental and human rights concerns with a gas drilling practice called hydraulic fracturing, which Borawski espouses. In his comments, speaking to the Pennsylvania Dutch Chapter of the Chartered Property Casualty Underwriters Society, in Nettsville, PA, Borawski reportedly told the audience that "Joseph Goebbels would have been proud," of Josh Fox, who is the son and grandson of Holocaust survivors who fled Europe. Borawski further suggested that Goebbels "would have given [Fox] the Nazi Award."
A one time oil and gas exploration geologist-geophysicist with the Pennzoil Company and Enron Oil companies, in state documents, Borawski recommended state forests and public lands as the "most desirable" locales for drilling and for the long term storage of CO2, (and other gas drilling after products) in underground reservoirs.
The paper indicated that on state lands it would be easier to restrict the kinds of "human activity that may breach the reservoir, allowing large volumes of gas to leak or vent to the surface, groundwater aquifers, and atmosphere" than it would be to restrict such activities elsewhere in Pennsylvania.
In the same document, Borawski states that these repositories might be required for as long as "hundreds to thousands of years," incurring "rental payments" that could affect long term economic viability.
Outside of state lands, the same document recommends that the state "should consider the possible use of eminent domain to obtain the necessary rights" because otherwise "the cost of obtaining the mineral rights, potential access problems with pipeline right-of-ways, and potential liability issues could pose limitations" on full scale gas development.
In Gasland, Fox interviews numerous homeowners in states across the U.S. who report contamination of household water, and local streams, directly following drilling in their environs.
According to Lancaster On-Line staff writer, Ad Crable, Borawski also told the assembled Underwriters Society that the number of wells to be drilled on "both public and private land (in Pennsylvania) will increase from about 6,400 wells today to 120,000 wells, perhaps even 180,000."
The full article is here. Commenting on Borawski's remarks, Fox, who calls "environmentalism" his religion, said that, "Calling people Nazis is ridiculously common these days, but that doesn't make it okay, especially from a State official."
"So many of my relatives perished in the holocaust, I spent many years overcoming the devastation," said Michael Fox, the film director's father. "I needed to revive my hope that there were good people, and that kindness and justice could prevail in the world. To have my son called a Nazi after what happened to our family, when what he did was to raise the alarm about the poisoning of our water, is heartrending. It highlights how quickly and callously some forget man's inhumanity towards man, resorting to cruel name calling and hatred when they have no other resources to justify their untenable and greedy positions."

Some citizens are alerting the
American Defamation League, as well as contacting PA Governor Tom Corbett to inform him about Borawski's statements. Borawski reports to Daniel A. Devlin, Director of the Bureau of State Forestry. Ironically, their offices are located in the Rachel Carson Building.
Sign up for free radio show announcements of interviews with environmental health experts, health and environmental actions, blogs, alerts, and reports at www.healthjournalistblog.com
Related
Popular in the Community