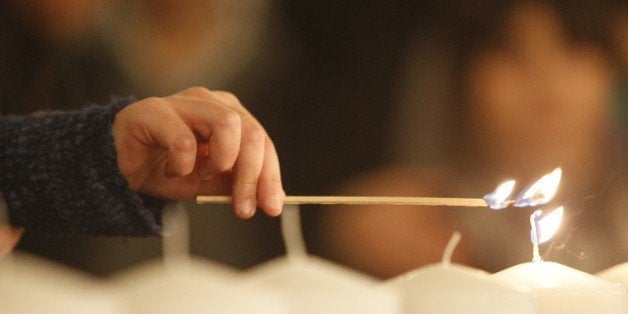 Talking about a resurgence of anti-Semitism with the burial of four French Jews in Israel yesterday is undeniably, and perhaps unavoidably, fraught with charged emotions. Whether you are among those who believe that incidents are isolated and sporadic, or those who fear that they are intrinsic and systemic, there is at once a rise of anecdotal evidence on burgeoning anti-Semitic sentiments and a paucity of data.
Being anti-Semitic post World War II was taboo, off limits, unthinkable. But the UK reports anti-Semitism is up anywhere from 400 to 500 percent, and among the numerous incidents in Germany, the tossing of Molotov cocktails at a synagogue that had been burned down on Kristallnacht seems both symbolic and unreal. They reveal how violence and intimidation have gone from figurative to manifest, spilling from Twitter hashtags linking to anti-Semitic rants online to blood in the aisles of a Kosher supermarket.
So what has caused this tipping point in outward expressions of religious intolerance? Attempts to quantify what is going on generally depend on press reports or facts gathered by organizations that track hate crimes and hate speech. In Great Britain, the Community Security Trust recently reported a five-fold increase in calls from people concerned about anti-Semitism in their communities. In the United States, the Anti-Defamation League issued a chilling compilation - titled Violence and Vitriol - of reports on anti-Semitic speech and incidents from Chile to Ireland to South Africa.
Mark Gardner of the Community Security Trust has theorized that "a crush of trigger events" has fueled expressions of hate and, in their frequency, kept the fires of anti-Semitism burning. Repeated conflicts with Hamas have "left no time for the situation to return to normal," he told the Guardian newspaper last year. Unfortunately this analysis prevents us from understanding the "normal" Gardner evokes in a clear-eyed way. What's lacking is objective benchmark information on the way people think and feel about Jews and, for context, other religious groups. And most researchers on the subject simply lack the reach and resources needed to gather and analyze data.
Although we are not in the business of political analysis, we have expertise and experience in understanding people -- their perceptions, their motivations, and their behavior. Our research team, which usually focuses on consumer-related issues, conducted an international survey of attitudes towards Israel and the Jewish people. This work was done in mid-August in Paris and Lyon, Toronto, New York, San Francisco, London, and Madrid. We spoke with 4,756 people in samples, which mirrored their populations and asked questions that would give everyone a baseline sense of both the breadth and depth of public attitudes.
When we asked people to rate their feelings toward Jews, Muslims, and Catholics, we found evidence of prejudice all around. (Our scale ranged from one to 100, with higher scores indicating "warm feelings.") Attitudes about Jewish people ranged from a below average score of 40 in Spain to a surprisingly lukewarm 62 in New York.
The figures were even worse for Muslims who lagged behind Jews in every city surveyed. Muslims scored highest in Toronto, but still did not break the mid-line with a 48. In Spain, where mistrust levels seem especially acute, Muslims scored a 34.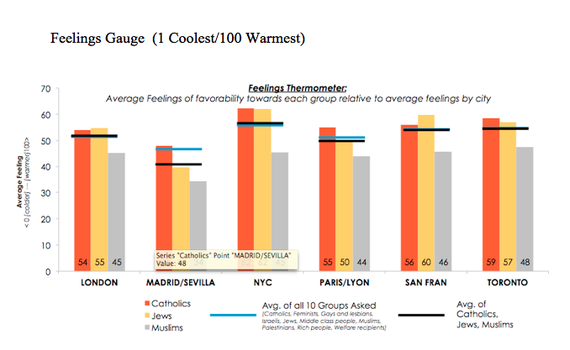 The numbers tell us that trust is in short supply and people tend to harbor reservations about all of these religious groups. However we know from news reports that when Israel is in conflict, anti-Semitic acts, especially destructive acts targeting Jewish people and institutions, are reported more often than acts against Catholics and Muslims.
Here the data supports the anecdotal reports that when Israel is in the news, especially as it uses force to defend itself, negative feelings toward Jews may be inflamed. In every single city we surveyed, those who believed Israel's response to Hamas had "gone too far" were much more likely to have anti-Semitic beliefs.
To zero in on this dynamic, we asked people if they felt sympathetic toward Israel and then asked whether they believed, in general, that Jewish people "only look out for their own kind." In every nation we surveyed, negative beliefs about Jews in general corresponded strongly with negative opinions about Israel. Conversely, when people supported Israel, they were much less likely to voice anti-Semitic views when questioned by our pollsters.
Sadly, the data also points to anti-Semitism as a broad, community-based phenomenon. In France, where the most recent violence occurred other answers to our survey indicated significant anti-Jewish sentiments, respondents reported alarming levels of prejudice -- 36 percent for France and 44 percent for Spain -- among their neighbors.
As New Yorkers, we were surprised and dismayed to see that 34 percent of people believed that their neighbors "had negative beliefs about Jews." Worse, a remarkable 25 percent of New Yorkers said their own parents harbored anti-Jewish feelings. The effects of these social influences are what one might expect. Having a parent with bigoted beliefs raised the likelihood of anti-Jewish responses by 13.5 percentage points. Having neighbors with negative thoughts about Jews resulted in an 8.5 percentage point increase.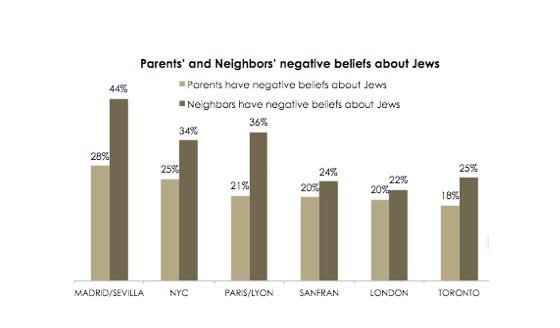 The data shows that anti-Semitism, at least in the countries surveyed, is stubborn, deep-seated and chronic. It is worse than anti-Catholic bigotry but not quite as widespread as anti-Muslim feelings. Yet here's a critical distinction: within nations, people act-out against Jews more often than they do against Catholics and Muslims. Some of this behavior seems linked to events involving Israel. However, it would be wrong to suggest a causal link between expressions of anti-Semitism and Israeli policy. Last Fall's conflict in Gaza, for instance, may have "unleashed" anti-Semitism, acting as a false catalyst, but the feelings against Jews exist independent of the Middle East. After all, if someone predisposed to hate Jews cites Israeli policy to justify their anti-Semitism, he or she is still an anti-Semite.
Yet not all our findings were bleak. As part of our study we tried to determine whether people were affected by media mentions of Israel. When we asked our survey respondents last August to read an unbiased report on the ongoing events in Israel and Gaza we saw expressions of anti-Jewish feelings decline. People who told us they were "somewhat open" to new information moved from a 14 percent to 25 percent likelihood of sympathizing with Israel. Those that were "very open" moved from 35 percent to 42 percent likelihood of sympathizing with Israel. We saw related reductions in the number of people who said they had negative thoughts about Jews in general.
So the data offers hope that hearts and minds can be affected by honest, reliable, unadulterated information. We can inform instead of inflame. We can teach instead of just talk. We can exercise our freedom of speech and freedom of the press as a means to contest cultural boundaries. The alternative is watching bigotry of all kinds -- against Muslim or Jew, Catholic and, sadly, a long list of other groups -- dominate the discussions around the world. The evidence is there that we can create change and counteract the hate that occurred last week and continues to be so pervasive and pernicious. It is up to all of us to engage, enlighten and educate.
A sample of 4,756 respondents completed a survey that asked questions about feelings, thoughts, and opinions about particular ethnic groups as well as foreign policy. The respondents were fairly representative of the populations of the six markets the survey sampled: Paris/Lyon (n=612), Toronto (n=613), New York (n=1399), San Francisco (n=632), London (n=885), and Madrid/Sevilla (n=615). Field Dates: August 15, 2014 through August 18, 2014
Related
Popular in the Community