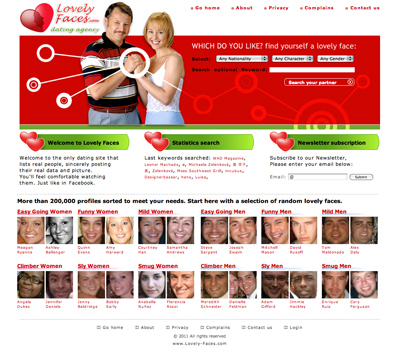 The homepage of LovelyFaces.com / Courtesy the artists
As the time of this post, the "Lovely Faces" site is not functional, following a wave of publicity that greeting the announcement of the outrageous stunt on February 2. However, a screen shot of the site's front page shows a smiling couple, above a humorous greeting: "Welcome to the only dating site that lists real people, sincerely posting their real data and picture. You'll feel comfortable watching them. Just like in Facebook."
In a press release, Cirio and Ludovico satirically claim to be trying to "free personal data as Facebook's exclusive property," and they have provided a surreal diagram explaining their process of stealing and classifying people's profiles. They claim to have employed a facial-recognition algorithm to classify photos and make them searchable by type. The types, in case you are wondering, are "Easy Going," "Funny," "Mild," "Climber," and "Sly." (We're guessing "climber" alludes to social climbing, but on a European dating site who knows?)
If all this has you feel a bit vulnerable that your own profile might have been stolen and held up to ridicule, that's the point. A wide-ranging artist statement about "Face to Facebook" covers everything from transparently obvious revelations about the social-media site's culture ("It's also evident that the majority of users want to appear in the best shape and look"), to pop psychology about how men and women judge pictures of each other (apparently, men look more to faces for sexual cues). But it ends with pointed statements about the artist-activists' efforts to undermine Facebook's credibility with its users, and lay siege to the $50 billion social media platform whose controversial story is now an Oscar candidate.
"The project starts to dismantle the trust that 500 million people have put in Facebook," Cirio and Ludovico state. "The project talks about the consequences of posting sensitive personal data on social network platforms, and especially the consequences in real life.... We're not just making a sophisticated critical action against another giant online corporation, but we are also trying to formulate a simple hack that everybody can potentially use. Everybody can steal personal data and re‐contextualize it in a completely unexpected context."
"Face to Facebook" is firmly in the tradition of contemporary artist teams like the Yes Men -- who famously cloned the Web site of the World Trade Organization, and posed as representatives of the free market group -- and fellow Italians Eva & Franco Mattes, who cloned the Vatican's site, slowly changing it to add subversive material.
The project is the third in what is described as "The Hacking Monopolism Trilogy," consisting of different "conceptual hacks" attempting to undermine different internet giants. For the 2005 project "Google Will Eat Itself," Cirio used revenue generated from clicks on Google ads to purchase Google shares, in the hopes of producing a method for the company to self-cannibalize (on his personal bio, he says that he received a cease and desist letter from the company). The 2006 project "Amazon Noir" went after Amazon, creating and distributing hacked copies of e-books as PDFs.
For its part, the Facebook Corporation has not been amused by "Face to Facebook." "Scraping people's information violates our terms," the company's director of policy communications Barry Schnitt told Wired. "We have taken, and will continue to take, aggressive legal action against organizations that violate these terms. We''e investigating this site and will take appropriate action."
Of course, as Wired also points out, the "Face to Facebook" stunt has strong echoes of Facebook founder Mark Zuckerberg's own early experiments with FaceMash, a site that appropriated the profiles of female Harvard students without their permission and allowed users to rank them against each other.
Popular in the Community