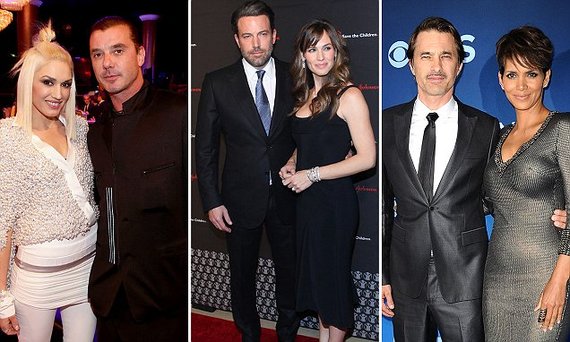 "Being single on Valentine's Day rocks!"
said no one - ever.
Being heartbroken on what's meant to be the most romantic day of the year is even worse.
Like attending a baby shower when you're struggling to conceive or going to a hen party when you've just been dumped, V-Day can feel more like D-Day if you're not on the receiving end of roses and rings.
So as an antidote to the lack of relationship guidance we're given during sex education at school - like what healthy relationships look like and how to deal with a broken heart - this is my tried and tested "Hit List For The Heartbroken".
For while there's no quick fix to the horror of heartbreak, which can leave your mind, body and soul feeling just that - entirely broken - these miraculous methods really do work and have helped heal the way for countless coachees and friends.
As Rumi teaches: "The wound is the place where the light enters you". So buy yourself a beautiful notebook befitting what will be the start of a sacred journey of healing and scrawl your feelings inside it - as big, jagged and illegible as you like. Pierce through as many sheets of paper as required; be led entirely where your heart takes you; write as if nobody is ever going to see your secret trail of pain; record the good, the bad, the unrepeatable and the unreadable. Get it all out. And repeat. One day you'll find that pretty looking notebook - as I did - and wonder at the child-like scrawl inside, marvelling at the strength of emotion contained within and the positive learnings left in your wake.
2. Meditate Your Woes Away

When you're at an all time low, meditation can feel like your anchor amidst the chaos. Calming the mind through observing all thoughts and feelings but letting them go, meditation allows you to focus on the present moment and release anxieties. Short meditations like this one can be done as you lie in bed, on public transport or even during a toilet break at work, giving you a sense of calm control over your emotions. And if you're able to book some time off work, yoga retreats are wonderful meditative experiences, easing knotted minds and stressed out souls.
What's the best way to avoid feeling lonely? Find comfort with kindreds. Simply download the Pinterest App on your phone, create a "Quotes" board and search for images which reflect how you feel from anger" to "heartbreak quotes". Ensure you also pin inspiring quotes related to hope, adversity and transformation and revert to these when you feel low. In the words of Buddha: "The mind is everything. What you think, you become".
5. Change Your Inner Dialogue

Negative self-talk is a common heartbreak hangover. Your self-esteem has done a runner and you're stuck in a swamp of limiting beliefs. The great news is, you can change all that. Your sub-conscious mind is not rational so if you tell it something enough, it will believe it. So take positive action and reframe your inner dialogue from negative self-talk to positive self-love with Louise Hay's Power Thought Cards. Meditate on one of her hand-crafted daily affirmations as you're getting dressed each morning and listen to one of D.r Wayne Dyer's Inspiring Apps as you travel to work. Savor the calm which pervades your soul.
One of the hardest things about heartbreak is the disappearance of romantic habits you've become accustomed to. That's why the sudden absence of Saturday morning snuggles requires swift resolution in the form of positive action. Whether rowing, running or yoga, sign yourself up to a new hobby which gets you out of bed when you're most likely to mope. You'll make new friends, achieve something uplifting and return home feeling strong, proud and victorious. Put simply by Elle Woods: "Exercise gives you endorphins -- endorphins make people happy".
7. Visualise The Positive

Heartbreak can leave you feeling disillusioned and hopeless. A great way of staying anchored in positive reality is to identify a pair of soul mates that you admire. Ask yourself what you like about their relationship. Maybe it's the way they communicate when they're unhappy or how they laugh at the same things. Looking outwards will draw out your values and refocus your mind on what you're really seeking.
8. Talk To An Objective Third Party
Whether a therapist, coach or NLP Practitioner, non-judgmental ears who aren't emotionally involved with you can clarify issues at the drop of a hat. Most of my friends have spoken to Angela Kirk of Neal's Yard Therapy Rooms, Covent Garden at transitional life stages from job disillusionment to break ups. Like a deep clean of the soul, objective third parties leave you feeling understood, detoxed and a whole lot lighter.
Whip out your phone and write a list of the times you've overcome a challenge which felt insurmountable. Alongside each, note how you achieved the impossible and how you felt after each success. When you feel wobbly, meditate on that list and remind yourself of your powerful inner resources and how strong you really are. In the words of Piglet from Winnie The Pooh: "You are braver than you believe and stronger than you seem."
Melanie Pritchard is a Life Coach and NLP Practitioner who helps guide individuals and businesses from where they are now to where they want to be. You can find her at www.gazinggirl.com and on Facebook where she empowers readers to achieve their goals, whether career, relationship, confidence-related or otherwise.