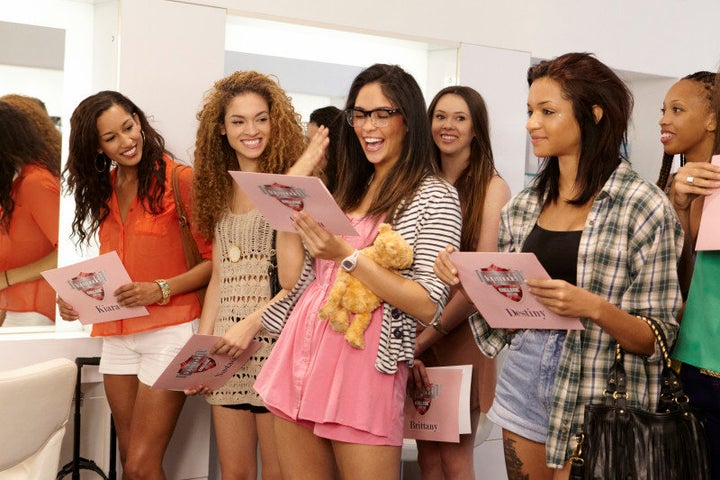 The third installment of America's Next Top Model: College Edition opens in a manner to which we've become accustomed this cycle - Tyra Banks obligatorily recaps the new "ratings system" upon which the girls will be judged (see previous post for more). And in the grand tradition of ANTM editing, the first few girls to be featured making any personal comments will fall into the top two and bottom two this week (more on that later). But in the meantime, the wanna-be-on-tops arrive home and are greeted by Leila's winning photo. I usually love this girl's face, but I must admit she is doing next-to-nothing with it in this shot, giving an expression as interesting as a soggy piece of styrofoam. Leila invites Laura to share the Tyra Suite with her, which from my understanding is just a few cardboard walls stocked with ANTM-endorsed products.
Presently, the girls are informed that they'll be receiving makeovers, a third-episode norm. Darian guzzles white wine in the background and blurts, "I just want BANGS." I contemplate her hair logistics - is her forehead just huge, or are portions shaved, or is everything simply braided too tightly? The big questions in life have no answers ..
Maria throws us some foreshadowing with the bitchily-intoned statement, "I'm not gonna let them cut my hair soooo .."; at this point it's already pretty obvious that Maria's not especially pretty or charming, and that Tyra clearly chose her in order to be able to say HARVARD as often as she pleases. To be honest, in a few episodes we won't even see which schools they attend, and we'll all be asking, "Harvard who?"
To receive their makeovers, the models-to-be roll into a Beverly Hills salon simply entitled CRISTOPHE. Cristophe himself, a creepy, older raisin-type with hair parted in the middle (red flag) and either tattoos or scary wrinkles on his neck (I couldn't decipher), will be heading the styling team. Glamour. But GASP! For the first time in ANTM history, the girls will be given a choice of accepting Tyra's makeover (aka haircut), but they must decide prior to knowing their fate. Okay, y'all. Let me break this down for you: this is something called a gimmick. Tyra created this gimmick. A more apt word might be "trap." Or, as a phrase, "kiss of death." Anyone who has ever seen the show in the past 5 years knows that it the real name should be called Tyra's Next Top Minion, because it's all about doing what Ty says, regardless of its modeling relevance. So, when asked the question, "Would you like this haircut Tyra selected for you?" we hear a chorus of "yes" from the well-informed, followed by a "HELL NO" from Maria, and a wary "no" from quirky Victoria, which prompts my fave line of the episode: "This bitch is stupid because if anyone needs a makeover, it's her." Truer words never spoken.
In an obvious turn of events, Tyra and Kelly Cutrone each sit down with the nonconforming contestants and shame them for their respectably wayward ways. TyTy, looking like a desiccated insect alien (in a good way), makes each girl read her aborted haircut plan, and gauges their remorse. Seeing that Maria has none, Kell steps in to berate her by equating her current modeling agency to a mosquito and proclaim that she is "committed to defending mediocrity." I'm not sure what that means but I appreciate its rude intentions. Also, Tyra keeps busting out dogmatic claims like "Social media didn't like your braids" and "I can't wait to see what social media has to say about this," acting as if 'social media' is a person ... actually it probably is a real person; a real person named Tyra Fucking Banks. Now that these two trollops have been adequately scolded, we get to see the metamorphic makeovers:
Darian: Something called a "long, layered bob" that's really just shoulder-length hair. Even though she does get bangs, her shaved forehead sitch is still perplexing.
Destiny: Short, shaved, asymmetrical. She's this year's reincarnation of black girl who cries about losing her hair and not feeling pretty. Standard fare.
Laura: This bitch is so boring I can never remember her name and refer to her simply as "Cel" for celery. Her trailer-trash makeover, however, is unforgettable, featuring bleach-blonde hair framing an orange-tanned face. Eleganza.
Nastasia: Looks exactly the same, and by that I mean spark-plug head.
Kiara: Essentially they give her a blow-out, but in an effort to tranny-up her look, also shave off the ends of her brows so they can connect them to her hairline. I approve.
Brittany:Short red hair with a flare-out. Looks like a sexless, cartoon Rose McGowen.
Leila: Gross early-aughties highlights, a la Kelly Clarkson. Cringe.
Yvonne/Kristen: Honestly, I don't know exactly what happened, but they both look generally/marginally prettier. Yvonne still has the curious case of Rumer Willis' potato-face, though.
Post-primping, YouTube nobody P'Trique twirls in, dropping TyraMail clues like "body of work is revealing" and "get the right exposure." Essentially, clothes are coming off for the photo shoot. Surprisingly, no one seems especially phased by this, so we can fast-forward straight to the house fight: Darian is loud. When Kiara confronts her, they throw the phrase "real bitch" around as if it means something, before casually slipping to bed at a responsible hour. They need to be at a shoot, after all!
And that shoot is a mock nude-sketching class, where Johnny Wujek informs the ladies that they'll be photographed topless by actual photographer Tony Duran. Upon learning that they'll be posing with boytoy and new judge Rob Evans, a variety of squeals are emitted by a variety of lips. Pre-shoot, Maria humbles herself by using the C-word, and fashion blogger BryanBoy pops in for no apparent reason except to display his futuristic shades of gay. The shoot itself is less wack than is par for ANTM, although much of the posing was concealed by clunky nudity censors. Notable standouts are: Brittany, giving some pasty-chic Amber Waves vibes; Leila, who is made to fall naked into hedges; Allyssa, who supplies an angry, pouty Cindy Crawford face; and Victoria, who is intense and captivating on film. On the flip-side, Darian gives nothing but weird mouth and JC Penney poses, and Yvonne blusters about with her Mongoloid bone structure. Maria, swathed in a bathrobe, confesses to Johnny that she's "not into it enough," and just like that, college name recognition exits the College Edition; Harvard is for quitters, people. The best part of this shoot, hands-down, is the charcoal depiction of the each shot. I can't even do justice to their 3rd grade, child psychology, busted quality; you'll just have to see for yourselves.
At judging, Tyra is suited-up in a jumpsuit with body-length lacy cut-outs. Kelly looks dour, Rob looks delicious, and BryanBoy has been invited to the adults' table. In the photos, Laura has manhands, Darian "looks kind of bored and kind of like she has no eyebrows," Destiny's face is melting off, and Yvonne's butt is simply horrifying. Brit, Leila, and Allyssa each get snaps-up for their half-nude fierceness. Vicki apologizes for forgoing Tyra's styling regime, and is rewarded for her penance with good humor all around. Scores are spat out and calculators clicked upon to sum up the super-technical grades for this week. Tyra repeats the word PHOETOE as she summons each peon to collect her keep:
As it were, the bottom two are peen-sniffing hairline wonder Darian, and Easter-Island-stone-head Yvonne. Their merits are negligible, although Tyra does utter the inappropriate words, "It is so tight it's crazy" (which also doubles as the title of my new single), before restating how crucial social media is in this competition. Their fake scores end in a TIE (20.8) that social media breaks, affording Yvonne another week in the realm of ANTM. The scores are significantly lower this week; I hope they drop week by week until the finale where they reveal that, SURPRISE! It was all a not-so-clever ruse! (A gay can dream...)
Tyra makes Darian think that she's not actually going home, then blurrily explains the secret losers' competition in which she'll complete all the same shoots for a chance to return. The girls stare about confusedly as Darian makes her departure. In the spirit of pretending to know what's going on, allow me to predict my Top Three girls for this cycle (in no particular order): Brittany, Leila, Victoria. Two are adorable and one is borderline psychotic, so we're all for a shitshow if these ladies fulfill my prophecy. Tune in next week for Tyler Perry, public humiliation, and non-physical fighting! Fierce and love, Nick ~
REAL LIFE. REAL NEWS. REAL VOICES.
Help us tell more of the stories that matter from voices that too often remain unheard.