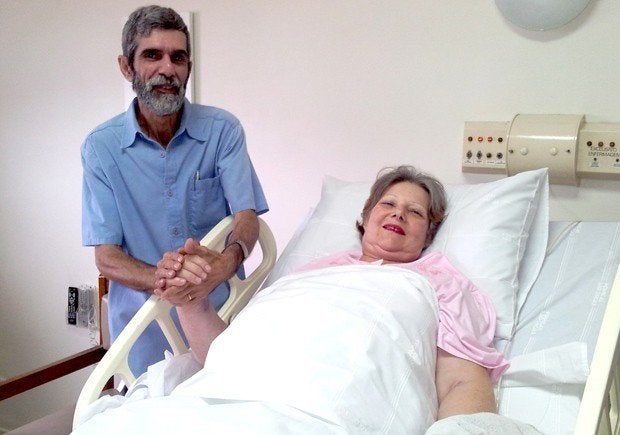 Antônia Letícia Asti fulfilled her lifelong dream to become a mother--one week after her 61st birthday.
"I'm extremely happy. I fulfilled my dream of being a mother. Thank God and the doctor," Asti told Brazilian news website G1. "It was a struggle, but thanks to God, I did it. Anyone who wants a victory needs to fight. I never for a moment thought about quitting. I always wanted to be a mother. We never had a lot of money, but we saved a lot to achieve our dream,".
Before this final attempt, the office assistant and her 55-year-old husband, José César Asti, decided to look into adoption. The couple's attempt to adopt was rebuffed due to their age according the Spanish wire service Efe.
Asti's obstetrician, Dr. Orlando de Castro Neto, has worked with the Brazilian couple since their first IVF attempt in 1992, when Asti was in her 40s.
"Antônia had preserved embryos from the first fertilization [attempt at IVF], but the embryos have a validity of 10 years, more or less, and they were reaching their end. She said she wanted to use them for a new attempt," Neto told Efe.
The twins, Sofia and Roberto, were delivered by caesarian section prematurely at 31 weeks due to the mother's severe hypertension. The newborns weighed approximately 900 grams (nearly 2 pounds) and will remain in the hospital until they reach an ideal weight, Hospital Director Segundo Marco Antônio Antun told G1. Antônia remained in the Intensive Care Unit (ICU) for 40 hours after the birth to monitor her high blood pressure.
"The age didn't matter at all," Neto told Efe "The only condition is that a woman has a uterus."
CORRECTION: A previous version of this article incorrectly stated that Asti was in her 50s when she sought her first IVF treatment. In fact, Asti was in her 40s during her first treatment in 1992 and in her 50s during the third unsuccessful IVF treatment she underwent before she bore her twins this month.
BEFORE YOU GO
PHOTO GALLERY
Brazilian Dishes And Drinks