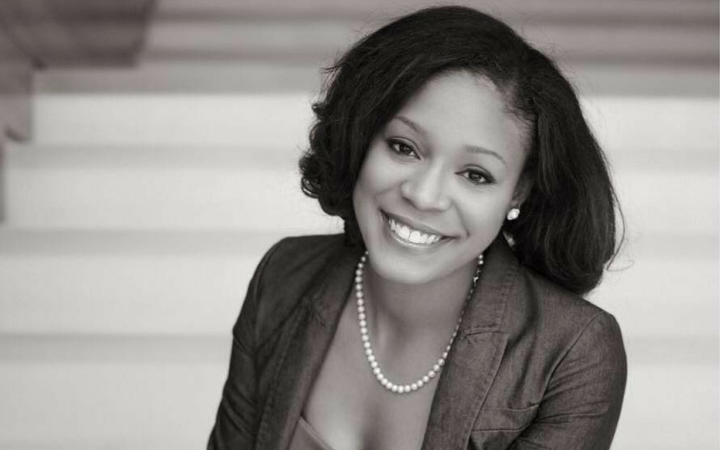 "Be the young girl that grabs the world by the lapels" — Maya Angelou
A native of Ypsilanti, Michigan, Antonice Strickland serves as the President of the National Black Public Relations Society, Washington, D.C., Chapter (BPRS-DC). Strickland is the founder and principal of Audacious Publicity and Management Group, a firm she founded in 2016, located in Germantown, Maryland.
Growing up in Michigan, Strickland learned early in life how to pick herself up from adversity. At 14 years old, her mother died in a tragic car accident, and it was the most difficult and challenging time for her and her family. "I lost a bit of my sanity," she recalls. "I had to learn immediately how to grow up and how to keep going because when tragedy hits, the world stops for no one. But I was blessed to have the ability to remember the good lessons from my parents. My mother always reminded me to love and respect myself first, and my father always taught me and continues to tell me to be fearless in all I do because I have the power. My father has always pushed me to be better, even when we argued about it; and I love him for it."
A proud member of Alpha Kappa Alpha Sorority, Inc., Strickland earned her Bachelor of Arts degree in Journalism from Michigan State University and recently completed her Master of Public Relations and Corporate Communications from Georgetown University.
Antonice Strickland will speak about her journey to the nation's capital, her career and family, and leading one of the top public relations organizations in the Washington, D.C. area.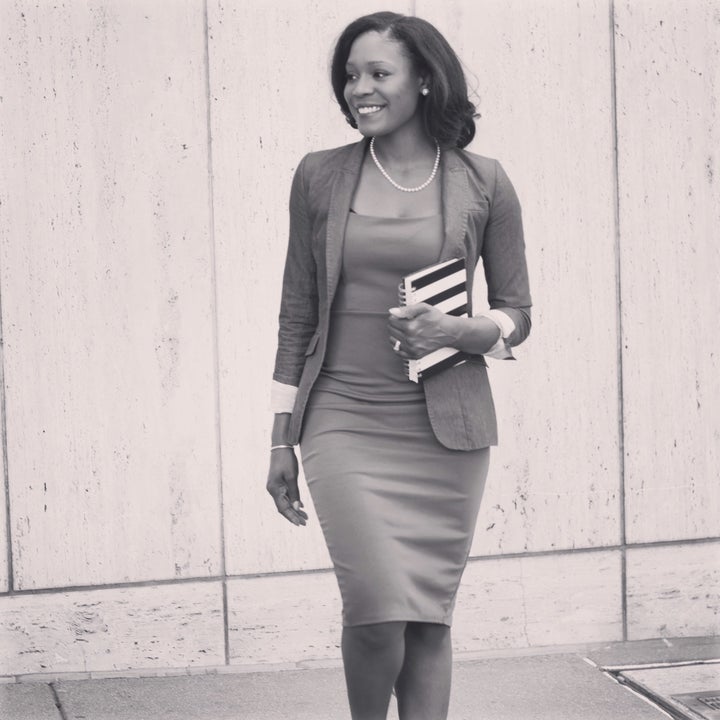 Gwendolyn Quinn: What brought you to the Nation's Capital? How do you like living in the Washington, D.C. metropolitan area?
Antonice Strickland: I was ready for a change and ready to leave Michigan for a while. I wanted to live somewhere new. I applied for jobs in New York, Washington, D.C., and Atlanta. I leaped at the opportunity to work at Becky's Fund in Washington, D.C., where I was hired as a PR and marketing intern. Becky's Fund is a nonprofit organization that supports victims of domestic violence. When I was accepted in Georgetown University's Graduate program that initially kept me here [Washington, D.C.]. And then I met my now husband, who is from the area, and that's why I stayed. I love living in the DMV [D.C., Maryland, Virginia area]. The only thing I could live without is the traffic and cost of living. Sometimes it makes me want to move back to the Midwest.
GQ: How was it growing up in Ypsilanti, Michigan?
AS: At the time, we were living in a house in Ypsilanti. It was much better than living where we were before in a cramped apartment in Taylor, Michigan. In Ypsilanti, I didn't have the fear of being robbed and shot; or the fear of someone breaking into my parents' cars. Overall, living in the Willow Run community of Ypsilanti made me the tough and humble person I am today, and my parents always kept me focused.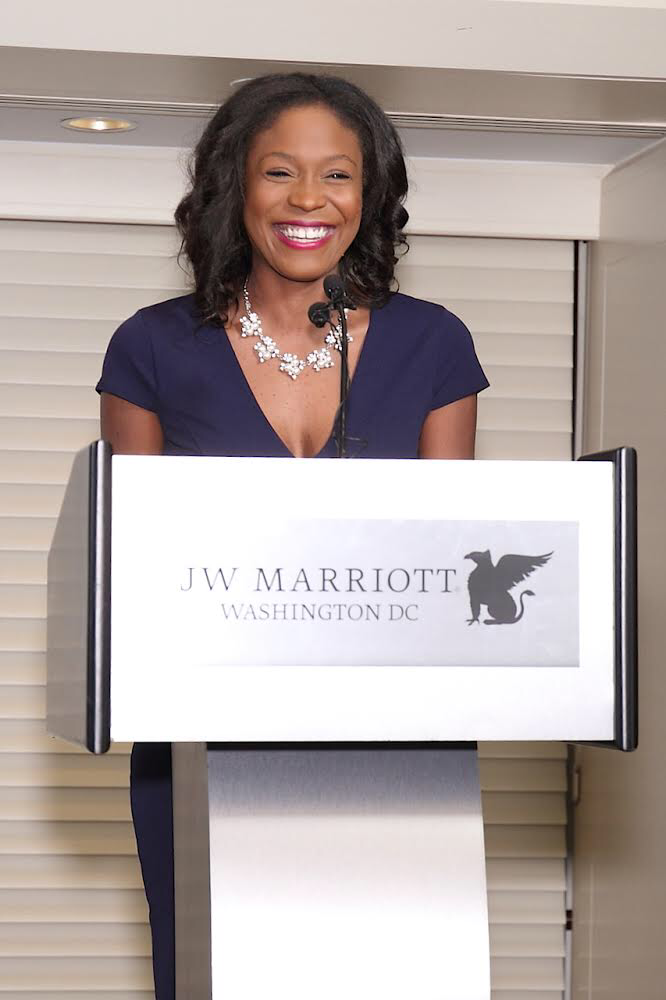 GQ: Why did you switch your career from journalism to publicity and public relations?
AS: I officially made the switch from journalism to publicity during my senior year of college. I had my first PR internship with Lezotte Miller Public Relations. It was a local PR firm near Michigan State University. I worked closely with Mrs. Barbara Lezotte; she was pleasant, diligent, and a creative professional. I learned a great deal about traditional PR; including snipping news articles, drafting press releases, and organizing media lists. At times it was tough, but I enjoyed watching how happy her clients were at the result of the work performed. I later took a PR class that following semester and knew that was the career I wanted to pursue.
GQ: In what capacity, did you work in journalism?
AS: During my college days, I did my first internship at MacDonald Broadcasting's WQHH-FM's Power 96.5 radio station. I worked in the promotions department. My second internship was with WHTD-FM 102.7, now WGPR-FM 107.5, where I worked in the promotions department on contest scripts, on-air commercials, and Detroit's Summer Jam concerts. I was employed at Michigan State University's (MSU) WDBM-FM 88.9, an alternative rock station. I worked as a board operator, scriptwriter, and on-air personality. I also co-hosted a radio show on Saturdays at MSU called, "The Vibe." We programmed R&B and hip hop music; this was significant because WDBM-FM was primarily an alternative rock station. I also co-founded and created VOICE magazine. Our mission for the magazine was to educate, enlighten and entertain the college community at MSU. We were the only publication of its kind on campus. I am proud of that venture. We started the magazine from scratch, and it is a blessing that the publication still exists.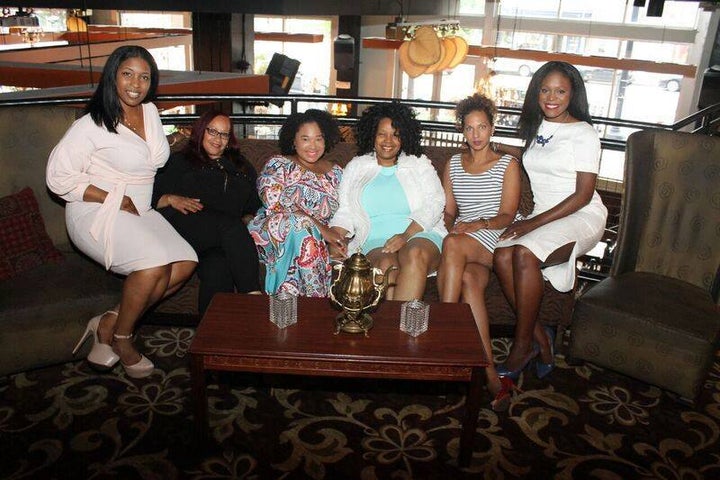 GQ: What do you love about public relations?
AS: I love the opportunity to engage and connect with people. I value each relationship. Sometimes a new relationship doesn't always result in a placement for a client but the connection often develops into other opportunities. More importantly, I've made some great friends through the PR community.
GQ: How did you land the position as the President of the National Black Public Relations Society, Washington, D.C. Chapter (BPRS-DC)?
AS: I started as a general member when I moved to Washington, D.C. In 2014, I became the Vice President of Programs and Events. A year later, I was elected to Chapter President of the National Black Public Relations Society. At the time, I was surprised; and a little nervous. Leading this phenomenal organization has been one of the most amazing experiences I've had thus far.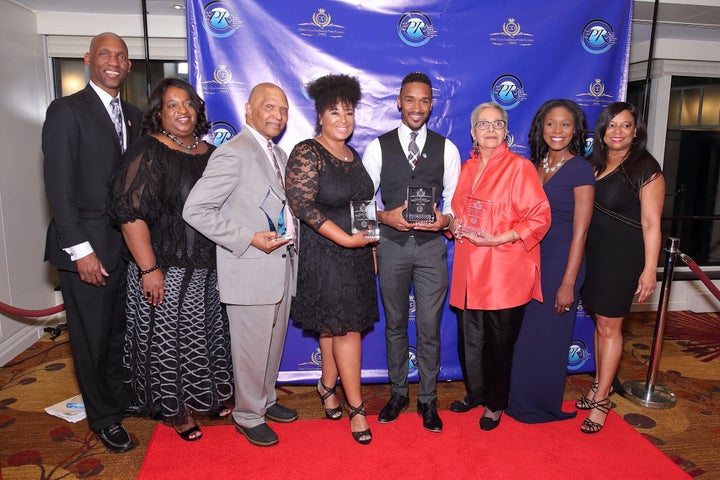 GQ: What is your role as President and what are you plans for the organization?
AS: My role as President is to ensure clarity, efficacy, and consistency of messaging to the chapter office as well as the national office. I lead the affairs and activities of a ten-member executive board, with more than 70 chapter members. I also serve as the chapter's spokesperson, serving as a liaison between national leadership and other local chapters across the country. My long-term plans for BPRS-DC is to continue to grow the chapter, and as an industry thought-leader be a go-to resource for all public relations professionals of color in the Washington, D.C. metropolitan area. I would also like to continue the Ofield Dukes Excellence in Public Relations Awards event. The future of our chapter is bright. We have amazing members and phenomenal leadership.
GQ: As President of the BPRS-DC Chapter, what is your biggest accomplishment to date?
AS: As president of the Washington, D.C. chapter, my biggest accomplishment was the creation and planning of the Ofield Dukes Excellence in Public Relations Awards event. It was such a great experience to connect with a remarkable array of professionals and to celebrate the tremendous life and legacy of Mr. Dukes.
GQ: What was your first publicity, public relations, or communications position?
AS: My first public relations and communications position was as a public affairs specialist with the U.S. Consumer Product Safety Commission in Bethesda, Maryland. I was employed at the federal agency for two years. During my tenure, I assisted in minority and community outreach initiatives, led social media and strategic communications campaigns for fireworks safety, minority outreach, and the Safe Sleep campaign.
GQ: As the Principal of Audacious Publicity and Management, which projects do you handle?
AS: Our clients at Audacious Publicity and Management have included Blue Room Productions. We led them to their first Best of D.C. Award, given to the company by the Washington City Paper. My other clients included Major Influence, a local independent record label, where we handled publicity for new artists. We also led the publicity efforts for the Juneteenth Music Festival in Denver, Colorado. We managed the festival's digital marketing; and implemented and managed two concert stages.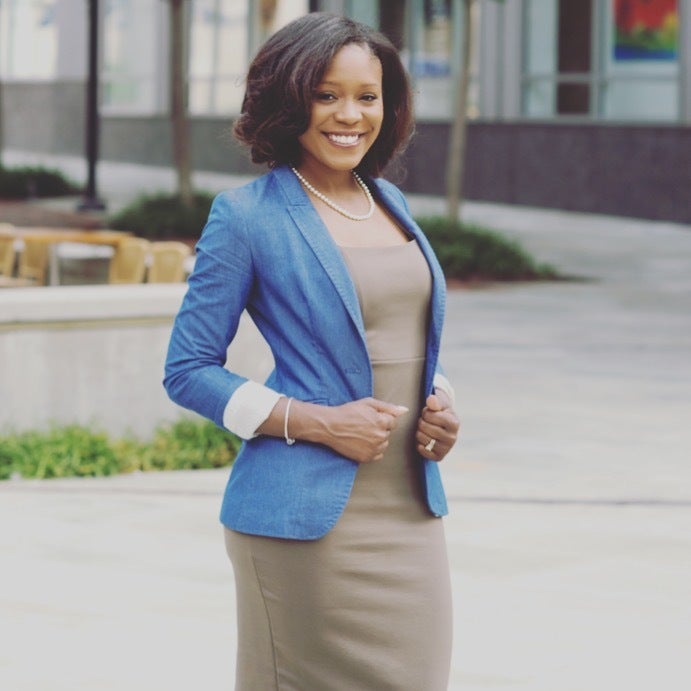 GQ: Where do you see yourself in the next five years?
AS: I would like to travel more, advance my career in public relations, and continue to be a resource to young PR professionals.
GQ: Tell me about volunteerism and community work?
AS: I love being a resource to people, particularly the youth. I was active in Upward Bound, a federally funded educational program throughout the United States. I am product of their phenomenal work. I often tell people I credit a lot of my success to Upward Bound; it helped save my life. One day, I would like to dedicate my time to the organization and hopefully support their programs financially. I was a volunteer teacher for Junior Achievement in Montgomery County Parks and Recreation in Maryland; and a girls' basketball coach. I also volunteered for Meals on Wheels and the Sickle Cell Disease Association of America.
GQ: What do you like to do in your spare time?
AS: I enjoy spending time with family and engaging in competitive activities. I love to visit local wineries and attend concerts and music festivals.
GQ: Who are your mentor(s), and what are some of the most valuable lessons you've learned from them?
AS: I never had a "formal" mentor, but I've had some amazing people in my life, who have been integral to my growth and successes. I count Edgar Brookins and Michael Dutton as my two biggest advocates and supporters in the world of public relations. I turn to them for advice on various matters. Edger and Michael keep me abreast on various happenings in the Washington, D.C. area. They also introduce me to key people that I should know. It's been a blessing to work closely with them as I lead the Washington, D.C. chapter. The most valuable lesson I learned from Edgar and Michael is to believe in myself, and what I'm capable of achieving.
GQ: What is the best advice (professional or personal), you have received and from who?
AS: The best advice I have received is from my father. He said: "Nothing comes to a sleeper but a dream."
GQ: What is your favorite Bible scripture, quote or catchphrase?
AS: My favorite Bible scripture is "Don't be fooled by those who say such things, for bad company corrupts good character" 1 Corinthians 15:33. If you're on a good path and stick with folks making bad decisions, it becomes a part of you. I never wanted to be "guilty by association."
GQ: What keeps you spiritually centered and grounded?
AS: My grandmother. Good or bad, if I need a word or a prayer, I can always count on her.
AS: My family inspires me. There is a level of resilience that inspires me that I find with members of my family including my husband, my father, my grandmother, and my younger cousin, who is an undergraduate at Harvard University. I always think about what they [father and grandmother] had to go through to get where they are today; it keeps me grounded and motivated.
GQ: What are some of your pop culture's must-haves (music, film, television)?
AS: My pop culture must-haves are Erykah Badu, Whitney Houston, Beyoncé (every album), Spike Lee movies, Lion King and Toy Story, Internet (Wi-Fi), T-shirts with cool catchphrases.
GQ: What would you like people to know about you?
AS: I love free weekends when I do absolutely nothing but play loud music. I like to cook breakfast with my husband and make homemade mimosas. I'm a lover of life and all of the little things.
Gwendolyn Quinn is a global award-winning media strategist and consultant with a career spanning more than 25 years. She is a contributor with NBCNews.com/NBCBLK.com, BlackEnterprise.com, HuffPost, and EURWEB.com, among others. Quinn is also a contributor to Souls Revealed and Handle Your Entertainment Business.
Antonice Strickland is the President of the National Black Public Relations Society's Washington, D.C. Chapter. She partnered with Gwendolyn Quinn to produce "The Top African American PR Millennials for 2017" series. Strickland is also a contributor with AllHipHop.com.
Support HuffPost
The Stakes Have Never Been Higher
Related
Popular in the Community