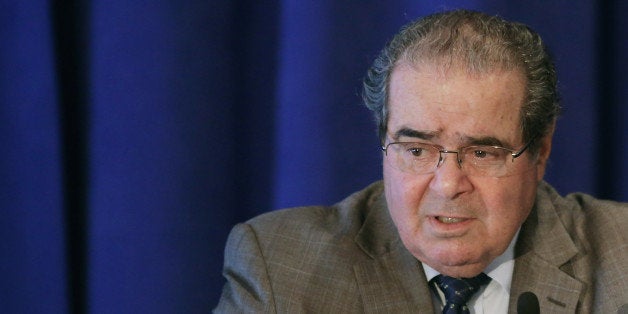 Supreme Court Justice Antonin Scalia requested Thursday that people not describe him as "anti-gay" based on his judicial decisions, according to the Washington Blade.
"Don't paint me as anti-gay or anti-abortion or anything else," Scalia said, according to The Washington Post. "All I'm doing on the Supreme Court is opining about who should decide: Is it a matter left to the people, or is it a matter of my responsibility as a justice of the Supreme Court?"
Scalia was speaking alongside Justice Ruth Bader Ginsburg at George Washington University. While the wide-ranging discussion included humorous stories about Ginsburg and Scalia's travels together and Ginsburg's imbibing before the State of the Union in January, the associate justices also spoke on their views of the Constitution and the role of the court.
"The issue of gay rights, on abortion, on many of the issues in which Ruth's opinions and mine differ does not pertain to the substance," he said, according to the Blade. "It doesn't pertain to whether gay people ought to have those rights or whether there ought to be a constitutional right or a right to an abortion."
Ginsburg said the court isn't acting as a ruler. Rather, the court's rulings happen after a "groundswell among the people" to push for the concept of equality for people who were once excluded.
Ginsburg voted with the court's majority in its 2013 landmark decision overturning the anti-gay Defense of Marriage Act and ruling that proponents of California's Proposition 8, which banned gay marriage in that state, lacked standing to defend the ban. Scalia dissented in both cases, saying the court overstepped its bounds by handing down rulings that he said were not supported by the Constitution.
Scalia's dissent in the DOMA decision has been cited by a number of judges as justification for denying marriage equality to same-sex couples. His 2003 dissent in the case of Lawrence v. Texas, which struck down the state's anti-sodomy law, has also been cited.
Calling all HuffPost superfans!
Sign up for membership to become a founding member and help shape HuffPost's next chapter
BEFORE YOU GO
PHOTO GALLERY
Supreme Court Justices