Justice Antonin Scalia, a colorful and by far the most influential member of the Supreme Court's conservative wing, died on Saturday at a ranch in West Texas. He was 79.
Local officials initially claimed that the cause of death was a heart attack but later stated that the official cause will not be determined for several days. A staunch Catholic, Scalia received last rites from a local priest, according to The New York Times.
Chief Justice John Roberts said in a statement that Scalia's death is a "great loss to the Court and the country he so loyally served."
"On behalf of the Court and retired Justices, I am saddened to report that our colleague Justice Antonin Scalia has passed away. He was an extraordinary individual and jurist, admired and treasured by colleagues," he said.
President Barack Obama remembered Scalia as "larger than life" and "one of the most consequential judges and thinkers to serve on the Supreme Court."
"I plan to fulfill my constitutional responsibility to nominate a successor in due time," he said, adding that he expects the Senate to confirm him in due course. He also expressed condolences to Scalia's wife, Maureen, and surviving family.
The looming nomination and future of the Supreme Court has already raised the stakes of the 2016 presidential election -- with leading conservatives in Congress saying that the task should be left up to the next president.
But Scalia's sudden death also leaves in flux a slate of high-stakes cases the court has already heard or is about to hear -- including contentious battles over immigration, affirmative action, abortion and the future of public-sector unions.
Without Scalia's voice or vote, these deeply politicized cases -- expected to be decided along ideological lines -- are at risk of resulting in 4-4 ties. That means the decision will leave whatever prior court ruling as the final word and will not create any legal precedent.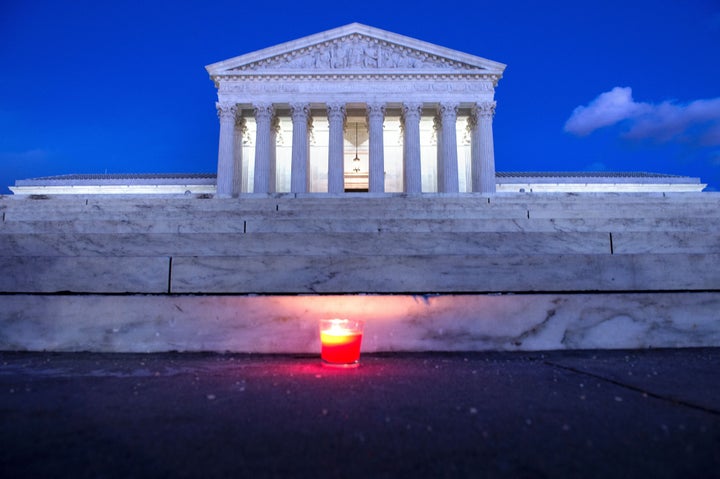 Scalia had served on the Supreme Court since his 1986 appointment by President Ronald Reagan. At the time of his death, he had been the longest sitting justice on the Supreme Court -- which, under the court's seniority rules, sat him just to the right of Chief Justice Roberts.
Known for his clear, sometimes bombastic prose, he was a leading proponent of "originalism" -- the belief that the text of the U.S. Constitution should be interpreted as the founders would have understood the document.
Scalia admitted the method was imperfect, but defended it as better than any alternative method of constitutional interpretation.
"I don't have to prove that originalism is perfect... It's not perfect," he said. "The question is whether it's better than anything else. And it is."
Originalism's imperfections were in full view in 2008's District of Columbia v. Heller, one of Scalia's most controversial -- and history-making -- decisions.
Writing for a five-justice majority, Scalia used historical definitions to argue that the Second Amendment conferred an individual the right to own a handgun for self-defense in the home. It was the first time that the Supreme Court had enshrined such a right in constitutional law -- but the ruling threw the law on guns into confusion, and to date the court has refused to clarify it.
As Scalia liked to point out, originalism didn't always lead him to the result he would have personally preferred. He frequently discussed his vote with a 5-to-4 majority in Texas v. Johnson, in which the court held that flag burning was protected under the First Amendment, as an example of when originalism had led him to a conclusion that was against his personal preferences. 
If it were up to me, I would put in jail every sandal-wearing, scruffy-bearded weirdo who burns the American flag.
"If it were up to me, I would put in jail every sandal-wearing, scruffy-bearded weirdo who burns the American flag. But I am not king," he said.
Scalia's lesser-known but far more influential legacy on the court and the law is what is now known as textualism -- the faithful adherence to what the text of the law, as written by Congress, says. That view led him to really dislike divining congressional intent from committee reports, floor statements and other legislative action that didn't make it into written legislation.

In a back-and-forth with Sen. Chuck Grassley (R-Iowa) during his 1986 confirmation hearing, Scalia sharply disagreed with Grassley on the importance of committee reports for the interpretation of statutes. 
"Senator, Congress does not act in committee reports," Scalia said. "I will say that flat out. Congress acts by passing a law."
Today, both liberal and conservative judges and scholars largely agree that is the legislative text that prevails when interpreting statutes, and that secondary materials should be consulted only as a matter of last resort. 
When not leaving a mark with his jurisprudence, Scalia left a mark with his scathing, often sarcasm-riddled dissents -- protesting vociferously on every major pro-gay rights ruling and the two big challenges to the Affordable Care Act. 
Dissenting in last June's Obergefell v. Hodges, which declared same-sex marriage legal nationwide, Scalia said he'd rather "hide my head in a bag" than join the court's vapid majority opinion.
"The Supreme Court of the United States has descended from the disciplined legal reasoning of John Marshall and Joseph Story to the mystical aphorisms of the fortune cookie," he said. That's only a small sampling of a large oeuvre.
The Supreme Court of the United States has descended from the disciplined legal reasoning of John Marshall and Joseph Story to the mystical aphorisms of the fortune cookie.
He was also extremely close friends with Justice Ruth Bader Ginsburg, one of the court's most liberal justices. The two shared a love of opera and were even photographed together riding an elephant during a 1994 trip to India.
Scalia didn't appear to have any plans for retiring from the Court anytime soon, telling The Associated Press in October that he would step down once he felt he no longer could do his job to the best of his ability.
"As soon as I think I'm getting lazier and I just can't do the job as well, I'm going to get off there. I want to preserve whatever reputation I have," Scalia said. "If you've lost your smarts, yeah, you should get off. But that hasn't been the case."
It's extremely rare for a sitting Supreme Court justice to die while on the bench. The last time it happened was in September 2005, when Chief Justice William Rehnquist died.
Born to Italian immigrants in Trenton, New Jersey, in 1936, Scalia received his undergraduate degree from Georgetown University and the University of Fribourg, Switzerland, before earning an LLB degree from Harvard.
Prior to serving on the Supreme Court, Scalia served on the U.S. Court of Appeals for the D.C. Circuit -- often seen as the second-most important federal court in the country.
CORRECTION: A previous version of this story said Scalia had an LLM degree; he had an LLB.
This story has been updated to indicate Scalia's cause of death remains undetermined.
PHOTO GALLERY
Reactions To Scalia's Death
Calling all HuffPost superfans!
Sign up for membership to become a founding member and help shape HuffPost's next chapter