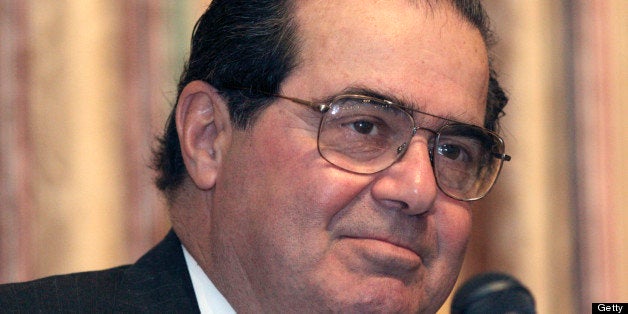 On Friday, conservative Justice Antonin Scalia slammed Supreme Court colleagues as "moralist judges" during a speech to the North Carolina Bar Association in which he all but gave away the outcome of the Defense of Marriage Act case expected to be announced this week.
Over the course of a 35-minute tirade that may as well have been addressed to his fellow Justices, Scalia argued that judges are not moral experts and should not decide moral questions. He critiqued the concept of a "living Constitution" and "evolving standards of decency," deriding the idea that there could be either a new moral question or a new way to answer moral questions through science. As examples of long-standing, scientifically unanswerable moral questions, Scalia named "abortion, doctor-assisted suicide, the death penalty, and same-sex marriage."
Scalia's opposition to gay rights is old news, but his Friday preview of the Court's decision in the same-sex marriage cases is the first concrete hint at how the Court may rule in either of the highly controversial same-sex marriage cases, Windsor v. United States and Hollingsworth v. Perry. Within the embittered remarks suggesting DOMA's demise, Scalia's jab on science holds special significance: the degree of protection courts afford gays hinges on science.
DOMA's drafters predicated the marriage ban on what they called the state's legitimate interest in protecting children from gay parents and preserving the traditional family. Conservatives have proactively attempted to discredit studies showing that the children of same-sex parents are unaffected by their parents' genders or that same-sex marriage does not affect society. On Friday Scalia was quoting from the playbook of hyper-conservative professors Leon Kass and Harvey Mansfield, whose Supreme Court brief argues that there is no scientific basis for such claims.
Psychological, physiological, and genetic findings demonstrating that sexual orientation is not a choice may be even greater game-changers for the Supreme Court on gay rights. Today, it's constitutional to fire or discriminate against an employee for being gay because the Court has not recognized sexual orientation as an inborn trait. When and if the Court accepts that being gay isn't a choice, they may have to apply the Equal Protection Clause of the Fourteenth Amendment to anti-LGBT legislation as they do with legislation that discriminates on the basis of race or national origin. Such a decision would be the best case scenario for gay rights advocates, revolutionizing the lives of LGBT Americans in every arena.
Ultimately, the two sides have fought to win over just one Justice: Anthony Kennedy, the swing vote. Kennedy did express indecision on the credibility of scientific studies at oral argument: "[T]here's substance to the point that sociological information is new. We have five years of information to weigh against 2,000 years of history or more." However, it's most likely that Kennedy was alluding to a deficit of evidence for the last 2,000 years than indicating it contradicted the last five. If Scalia failed to persuade Kennedy on this score, his acid remark about morality and science may be directed at his moderate colleague -- and it may augur a bigger victory than most gay rights advocates dared to hope for.
For Kennedy to refuse to uphold DOMA would not itself be a shock. Kennedy has a special history with gay rights: in 1988, Kennedy joined the Supreme Court majority that upheld anti-sodomy laws; in 2003, Kennedy was the vote that overturned the 1986 case and author of the opinion that found that the right to privacy covers consensual sex. In that 2003 decision, Kennedy wrote that the earlier case "was not correct when it was decided, and it is not correct today." In his opinion, Justice Kennedy demolished the claim that Western civilization writ large and American history condemn homosexual behavior and cited a European Court of Human Rights decision supporting gay rights. Kennedy also looked to public opinion, observing that criticism stemming from the 1986 case "has been substantial and continuing, disapproving of its reasoning in all respects." Ten years later, a majority of the public favors not only gay rights but marriage.
It is the basis on which Kennedy and the Court might vote to strike DOMA that holds the potential to surprise us. Until Friday, it seemed likeliest that the Court would take one of a number of moderate paths to striking DOMA, like states' rights to legislate marriage, an extension of the right to sexual privacy, or the right to marry, the basis for striking anti-interracial marriage laws in 1967. While it is easy to imagine Kennedy signing on to one of these opinions, Scalia's rant seemed directed at a much more specific type of judicial reasoning, one answering moral questions with science. There's good cause to believe Justice Kennedy may surprise us tomorrow morning just as he did ten years ago, voting with the liberal Justices to overturn DOMA in a decision that supports gay rights and establishes sexual orientation as an inborn trait in law.
Popular in the Community