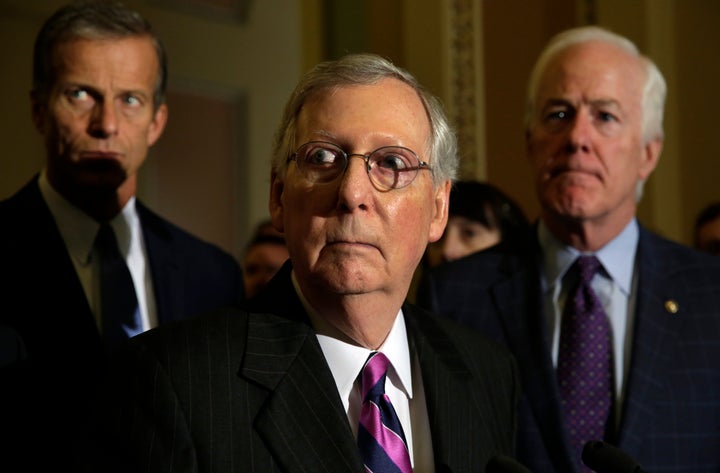 WASHINGTON -- The Senate voted unanimously Thursday to pass a resolution honoring the late Supreme Court justice Antonin Scalia, even as dozens of them are refusing to honor his legacy by filling his empty seat.
All 100 senators cosponsored the resolution, which was introduced by Senate Majority Leader Mitch McConnell (R-Ky.) -- the same person who says he won't even meet with whoever President Barack Obama picks to fill Scalia's vacancy, never mind vote on that nominee. Nearly all Republicans are saying it's not fair to let Obama nominate Scalia's replacement since he's in his last year in office, so they won't hold any hearings or votes this year.
The resolution commends Scalia for his 29 years on the court and celebrates his love of hunting, the opera, and, ironically, his enforcement of "the separation of powers contained in the Constitution as a bulwark for individual freedom." The Constitution requires the president to nominate people to the Supreme Court, and requires the Senate to vote on those nominees, either for or against.
If Scalia were around to see how the Senate is responding to his vacancy, based on his previous statements on Supreme Court confirmations, he wouldn't be amused. He's lamented that the process has become too politicized and said he "wouldn't want to go through it again."
"I am not happy about the intrusion of politics into the judicial appointment process," Scalia said in 2004.
Six years later, he aired similar frustrations: "As long as [the Constitution] is subject to revision, you should get used to controversial and absurd political theater when a person is nominated."
McConnell and Sen. Chuck Grassley (R-Iowa), who chairs the Judiciary Committee, are in talks with the White House about meeting with Obama to discuss the Supreme Court vacancy. But they're still holding firm in their position about not holding any hearings on a nominee until he's out of office.
"We are working with the White House to schedule a time for a meeting," said McConnell spokesman Don Stewart. "The Leader welcomes the opportunity to reiterate to the President directly that the American people will be heard on this matter, and the nomination will be determined by whoever wins the presidency in the fall."
Calling all HuffPost superfans!
Sign up for membership to become a founding member and help shape HuffPost's next chapter
BEFORE YOU GO
PHOTO GALLERY
Reactions To Scalia's Death