Republicans ran racist attack ad after racist attack ad against Antonio Delgado, a Rhodes Scholar and first-time Democratic candidate vying to upset GOP Rep. John Faso in New York's 19th Congressional District. 
Delgado defeated Faso, a freshman House member, in Tuesday's election, according to CNN and NBC. He will become the first non-white person to represent the Hudson Valley district in Congress. 
The race was among the most closely watched in the Democratic bid to flip 23 GOP seats to gain control of the House. Both parties invested heavily in the district, which supported Donald Trump in the 2016 presidential race but was carried by former President Barack Obama in 2008 and 2012.
Delgado earned a Rhodes scholarship to the University of Oxford in 1998 and later graduated from Harvard Law School. But in August, the National Republican Congressional Committee began attacking him over his short career as a hip-hop artist.
In a series of TV ads and news stories, the NRCC ― echoed by the GOP-aligned Congressional Leadership Fund and Faso ― painted Delgado as a "big-city rapper" whose lyrics represented a "sonic blast of hateful rhetoric and anti-American views."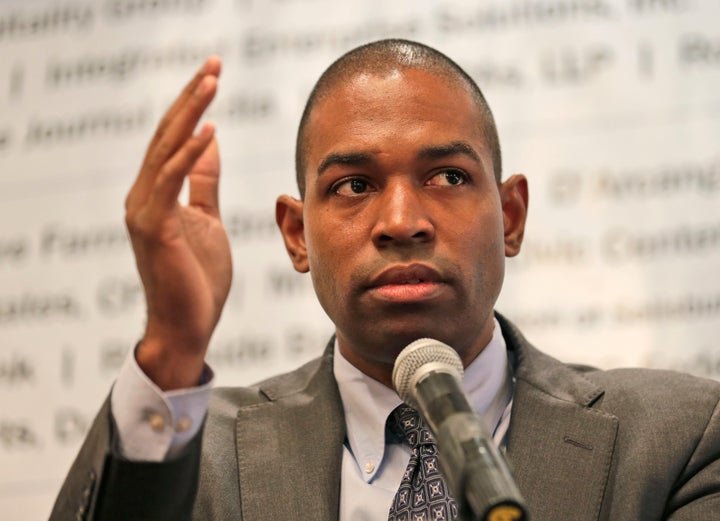 Faso called Delgado's lyrics, some of which criticized American capitalism and systematic racism, "offensive" and "inconsistent with the views of the people of the 19th district and America."
Delgado called the ads an attempt to "otherize" him. While some New York media outlets ran with the framing of Delgado as the "rapping Democrat," The New York Times blasted Faso and the GOP for "race-baiting his opponent" and running a "cynical campaign to hold on to a key congressional seat."
The racist attacks, however, failed to derail Delgado from his message, which primarily focused on issues like health care and criminal justice reform. Delgado, who won a crowded Democratic primary in June, targeted Faso's support for repealing the Affordable Care Act.
Delgado supports a Medicare buy-in plan to expand Obamacare and access to health coverage. A corporate lawyer for the mega-firm Akin Gump, Delgado also touted his work as a pro bono attorney advocating on behalf of clients serving life sentences for crimes committed as minors. He supports bail reform and a ban on private prisons.
Delgado also hit Faso for opposing abortion rights and working to defund Planned Parenthood.
Faso and the GOP's attacks, he said throughout the campaign, were an effort to distract voters.
"[Voters] really want to talk about health care — they really do," he said at a late September campaign stop, the Times reported. "They want to talk about schools, the environment and jobs" rather than rap music.
Faso rode Trump's popularity to victory in 2016, when he replaced retiring Rep. Chris Gibson (R). Until Delgado's victory, the GOP had held the seat for all but four years since 1993.
Calling all HuffPost superfans!
Sign up for membership to become a founding member and help shape HuffPost's next chapter