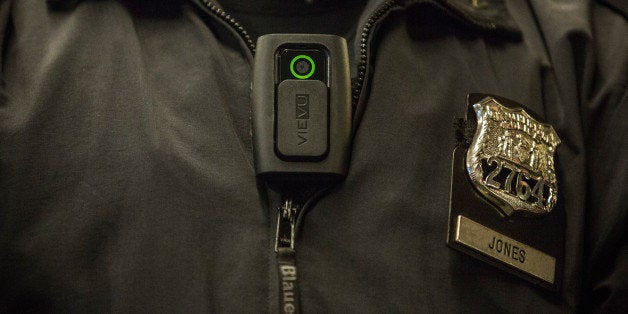 The Berkeley, Missouri, police officer who fatally shot a black teenager on Tuesday was issued a body camera earlier that night, but wasn't wearing it at the time of the shooting. The dashboard camera in his police cruiser also was not activated.
On Wednesday, St. Louis County Chief of Police Jon Belmar said that the officer -- who is still unnamed, but was described as a white 34-year-old and six-year veteran of the police force -- was responding to reports of a theft at a Mobil station when he confronted 18-year-old Antonio Martin and another person. Belmar said Martin "produced a pistol with his arm straight out, pointing at the officer," at which point the officer responded by firing three shots at Martin, striking him once and killing him. The person with Martin then fled.
Surveillance footage from the Mobil station has been released, and appears to show a person in the background -- said to be Martin -- raising his arm in the direction of a police cruiser and officer. The camera seems to be too far away from the incident, however, for anything to be to determined conclusively from the video.
Video captured by a body camera or dashboard camera likely would have been able to reveal more details about the incident. Belmar said the car's dashboard camera wasn't activated because the cruiser's emergency lights hadn't been turned on at the time, which would have automatically triggered the recording.
At a later press conference on Wednesday, Berkeley Mayor Theodore Hoskins said he wasn't concerned that the officer hadn't turned on his body camera. He noted that the equipment is new for the town's police department and that officers haven't received full training yet.
"In the future and when we get well trained, there will be a severe penalty for an officer who does not turn [their body camera] on," Hoskins said.
Body cameras are frequently cited as a key way to bring transparency to interactions between law enforcement and civilians, especially in the wake of the police killings of Michael Brown and other unarmed individuals who died in encounters that weren't recorded. One frequently cited pilot program in Rialto, California, found that between 2012 and 2013, in the first year of the city using police cameras, the number of complaints filed against officers fell by 88 percent and use of force by officers fell by almost 60 percent.
While President Barack Obama has joined the call for the implementation of body cameras with the announcement of a $75 million grant for the equipment, the limitations of the devices have already been exposed. In the case of Eric Garner, for example, there was video of the confrontation that led to his death, and yet a grand jury declined to indict the police officer who put him in an illegal chokehold.
In addition -- as the Police Executive Research Forum presented to the Department of Justice in a 2014 report -- there are still plenty of concerns from both the law enforcement and civil rights communities about how, exactly, a large-scale police camera program would be implemented. Which interactions, for example, would be recorded? How would the review process work? What would the penalties be for failing to record an interaction? Such questions are further complicated by state laws that differ on when and where people may be recorded, as well as how such recordings may be stored and accessed by the public.
And while these questions might be addressed as more police departments adopt such programs, the Berkeley shooting reminds us of a simpler truth: A camera is useless if it's not recording.
Related
Popular in the Community