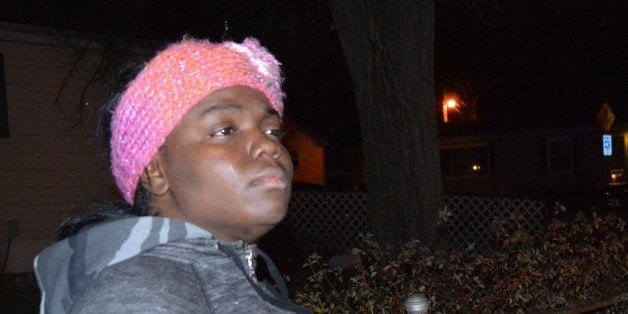 BERKELEY, Mo. - The girlfriend of Antonio Martin says she hasn't been able to sleep since a police officer fatally shot her boyfriend, a black male teenager, at a gas station in Berkeley, Missouri, on Tuesday.
Keanna Brown, 19, revisited the site of the killing on Wednesday, where she expressed her grief in an outcry of mourning.
"He didn't deserve to die," Brown told The Huffington Post outside the Mobil gas station where Martin was shot. "He was so scared, I'm telling you, he was so scared. He looked at me like 'Baby, please jump in between and say something to save me.'"
Brown said she arrived to the scene after Martin had been shot. St. Louis County Police Chief Jon Belmar said Martin pointed a gun at the officer, a six-year veteran of the Berkeley Police Department who was responding to reports of a theft at the gas station when he confronted Martin and another person.
The officer soon fired three shots, one of which struck Martin. The other person reportedly fled the scene.
It took close to 30 minutes for ambulances to arrive, according to Brown, who also said responders hung up on her own phone call to request emergency medical help.
Brown said she was prohibited by police officers from comforting or providing help to Martin as they awaited the arrival of the medical response team. When she told one nearby police officer that she was Martin's girlfriend, Brown said, the officer told her she didn't care.
"You can't tell me you don't care about my baby being dead over there and you still got his body down," Brown said.
Martin stayed at Brown's home often, and she said she was with him earlier in the day before he was killed. She said the two were at home when Martin decided to walk to the gas station but, after some time had passed without his return, she grew worried. She walked down to the Mobil, where she found him bleeding on the concrete.
"I should've been there to protect him, that's all I wanted," Brown said. "That was my baby."
Meanwhile, several hundred protesters gathered on Wednesday evening to speak out against Martin's death. Many protesters shut down an interstate highway while others attempted to loot a beauty supply store.
One crowd also staged a "die-in" in reaction to the police killing in Berkeley, which is located just two miles from Ferguson, Missouri, where another black teenager, Michael Brown, was fatally shot by a police officer in August.
"We say 'black lives matter,' this was not the case," Hoskins said. "You can't even compare this with Ferguson or the Garner case in New York."
In an official statement from the co-founders of the Black Lives Matter movement obtained by HuffPost, the leaders demanded an end to the "war on black bodies."
"While political leaders make speeches and shake hands, Black people killed by police continue to lay in the concrete streets of our communities," their statement read. "Every day that goes by without meaningful change, we lose another Black person to state sanctioned violence."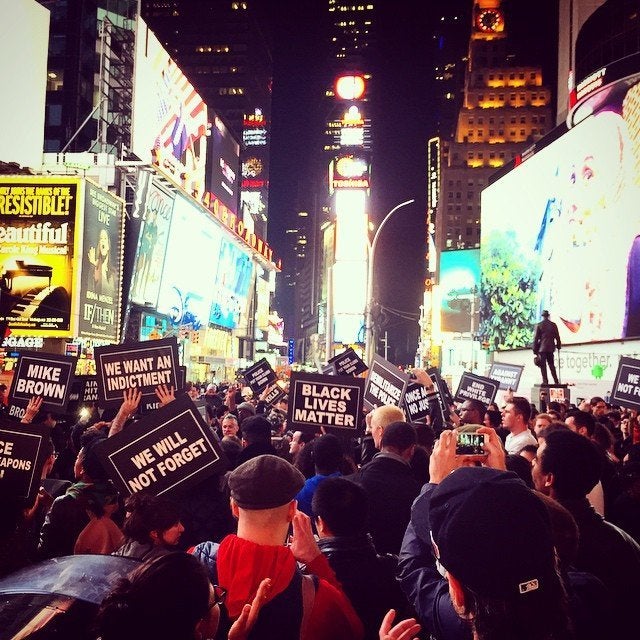 Ferguson Protests Around the Country