 Although there is still doubt, rumors dictate that the president may appoint Latinos in cabinet, yet the questions still remain the same: Who, when and where?
Last week, the National Hispanic Leadership Agenda handed their letter to the administration in an attempt to remind the White House that there is a "wealth of competent Latinos." The list included 19 potential Latinos from both the public and private sector who are seen as possible candidates. Rumors dictate that the White House is indicating it may appoint two Latinos.
Antonio Villaraigosa may have a place in Obama's cabinet
Names such as Mayor of Los Angeles, Antonio Villaraigosa rumored to possibly be on the list for a higher appointment was also listed. Analysts believe because of his experience with labor, his influence with Mayors and charisma, it's not unlikely to suggest he could fit as a Secretary of Transportation, if it becomes vacant, or Secretary of Labor.
"There's no doubt that this administration is going to want to make sure that they have Latinos as part of their administration, so the million dollar question is where do you put them?" said Arnold Torres, former executive director of the League of United Latin American Citizens, who now works as a policy consultant.
The two vacancies include secretary of labor and secretary of the interior with Villaraigosa being seen by some as being qualified for secretary of labor.
"It is possible that they may just turn around and give him a position dealing with cities, the mayors, they may create a new position within the cabinet for that purpose," said Torres.
He explained that the only other vacancy that is high profile at this point is the Department of Labor considering that Villaraigosa's experience does not match in the secretary of interior. Other political analysts including David Bositis, senior research associate of civic engagement and government institute at the Joint Center for Political and Economic Studies, indicated that there isn't a lot of experience that is needed for the secretary of labor position.
"If you have good relations with organized labor, then you don't have to have some specialty in order to be appointed to that position," said Bositis.
Latinos in cabinet: Strong candidates for positions
Other names were also recommended including Maria Echaveste, who was the former deputy chief of staff to former president Clinton.
Solomon Trujillo, an accomplished businessman who was the former chief executive officer of Telstra, was seen as supporters to be qualified for secretary of commerce if that position were to be vacant. Francisco Sanchez, undersecretary for International Trade at the U.S. Department of Commerce, is also likely qualified for that position considering he has already gone through an extensive vetting process.
Still, those involved in the process also clarified it's not a "finite list" and whether they're even on the administration's radar is still uncertain.
"It's not meant to be an exclusive list. It was meant to show the wealth of individuals who could be tapped for positions in the Cabinet or sub-cabinet," said Felix Sanchez, chairman of the National Hispanic Foundation for the Arts, who is also involved with NHLA on pushing for more Latinos in the Obama cabinet.
"Without knowing or understanding what is learned in the vetting process, we can't be sure that any particular candidate can be successfully confirmed," he said.
Just how complicated that process would be for any of the candidates listed is open to interpretation at this point. The candidates are seen as qualified, but that doesn't necessarily mean they would garner enough political support on Capitol Hill, Brent Wilkes—executive director of the League of United Latin American Citizens—mentioned in a previous interview.
Others suggest that they can't envision Republicans pouring "ammunition" on the confirmation hearing if a particular qualified Latino candidate were to be nominated for a Cabinet post.
Then there's the question on whether the candidate would accept such a nomination.
The nomination is submitted in writing to the Senate. Then it is referred to the committee with jurisdiction over the position, hearings are scheduled and then a vote is set up on the floor. The confirmation process is described by some as a long, exhaustive look at everything the candidates have done their whole lives before they're officially nominated.
A federal appointment process could take months, although a cabinet secretary position is quicker.
"They go back and look at your life—they require tremendous amount of information, addresses, phone numbers," said Carlos Gutierrez, former Secretary of Commerce under the Bush administration. "It's still a very arduous, time consuming process."
Gutierrez mentioned that he had never worked in Washington prior to his position, but had acquired enough business experience. He indicated that he didn't carry any baggage with him since he wasn't involved in D.C. politics and in that regard he believes the president should look into the private sector.
"I don't think they have to have an influence on Capitol Hill—you're working for the president. You represent the president in everything you say and everything you do and that's where your influence comes from," he said. "People should not go to be in a cabinet position and assume that they're there representing themselves."
Bositis explained that this is why he believes the Obama administration is looking at individuals who he feels "comfortable" with. He explained that the guiding principle for many individuals involved in politics is ambition, but when you're in a cabinet position they have to "learn to take orders."
"If you look at the people who Obama has picked—both before and now, are people who he is comfortable with," he said. "Somebody who he has a history with and he's worked with them on something before satisfactorily and who he feels like this particular person will do a good job and he won't have any problems communicating with."
The president has already tapped former Sen. Chuck Hagel for secretary of defense, his White House Chief of Staff Jack Lew has also been nominated to be secretary of the treasury and John Brennan, his chief counterterrorism adviser is also Obama's choice to head the C.I.A.
Since Latino voters turned out in record numbers to support the president there seems to be a consensus that he will stay true to the support he is receiving from national Latino groups. In addition, it seems that the administration has affirmed the groups that they're considering Latinos for incoming cabinet positions.
"The point is there aren't a bunch of different slots to choose from," said Torres.
Before You Go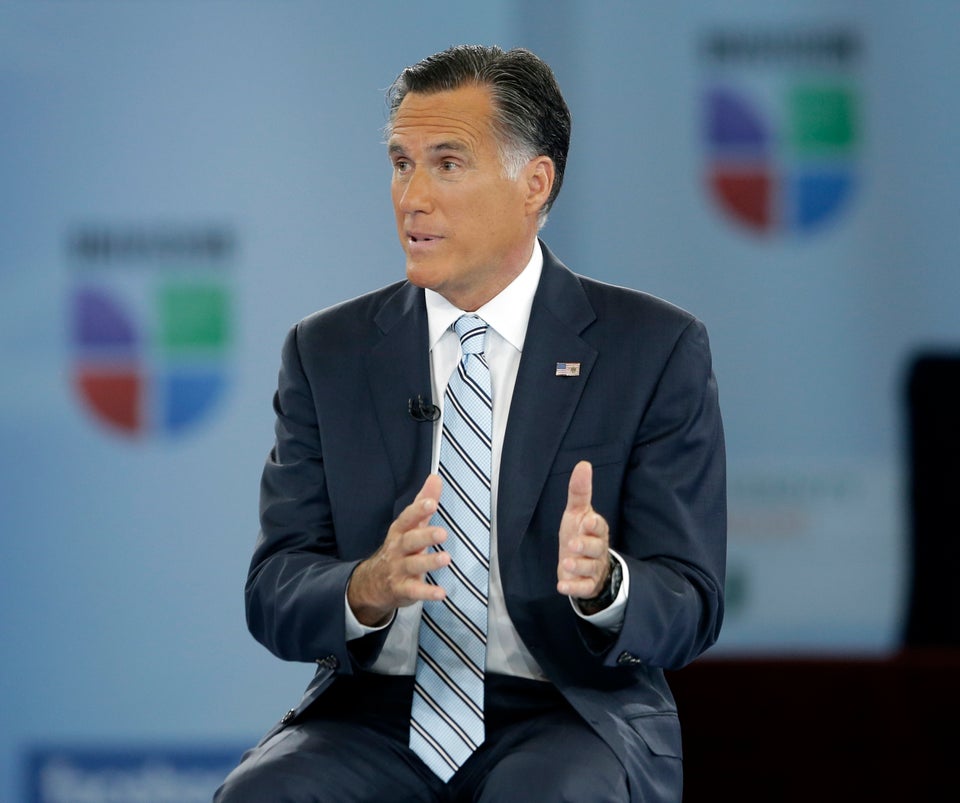 Dumbest Commentary About Latinos In 2012
Popular in the Community