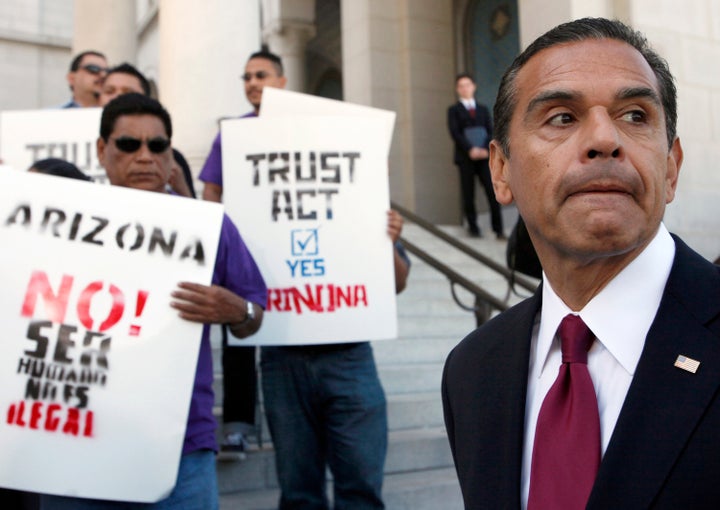 WASHINGTON -- Los Angeles Mayor Antonio Villaraigosa on Wednesday called for California Gov. Jerry Brown (D) to sign a bill that would defy a key Obama administration immigration enforcement program -- and said the president should follow the state's lead by reforming the program.
Villaraigosa is in a somewhat awkward position, as both chairman of the Democratic National Convention and a prominent critic of President Barack Obama's Secure Communities immigration program. He told The Huffington Post he applauds the president's reforms of Secure Communities, which uses fingerprints taken by local police to detect undocumented immigrants.
At the same time, though, he supports California's TRUST Act, legislation that would severely limit the cooperation between local police and U.S. authorities mandated by Secure Communities. The California measure is essentially a rebuke of one of the main pillars of current U.S. immigration enforcement. The bill has passed the state Assembly and Senate, and may soon head to Gov. Jerry Brown (D), who has not said whether he will sign it. Villaraigosa said he thinks Brown will sign the measure into law.
"California is going to lead the way," Villaraigosa said in an interview. "That's what it means and that's what we're doing."
Secure Communities is based on a relatively undisputed idea -- that criminals should be top priority for deportation. The program became controversial after the Department of Homeland Security bungled its rollout. Low-level criminals and immigrants without criminal records continued to be detained and law enforcers said they worried the program would discourage immigrants from reporting crime.
Massachusetts, Illinois and New York attempted unsuccessfully to quit the program. California didn't try to exit Secure Communities. Still, state law enforcement and government leaders have been among the most vocal critics. Santa Clara, Calif., set a new precedent for defying the program when its leaders voted to no longer hold most undocumented immigrants for the federal government when asked, as Secure Communities requires.
The TRUST Act, introduced by Bay Area Assemblyman Tom Ammiano (D), would put limits on cooperation between police and federal immigration enforcement. If signed into law, police officers would no longer hold suspected undocumented immigrants based on requests from Immigration and Customs Enforcement unless the individual had been convicted of a serious or violent felony.
Villaraigosa said he has long urged the federal government to focus on felons and other dangerous criminals, but Secure Communities hasn't lived up to that goal. He said he would like to see the federal government reform the program along the same lines as the TRUST Act.
"When Secure Communities was first established, I thought it was established on those grounds" targeting felons, he said. "As time went on, we've taken the position that it hasn't been working the way it was proposed."
Villaraigosa emphasized that he supports the president's positions on immigration. He said he appreciates the reforms made to Secure Communities so far.
"The new guidelines that the administration has put in place focus on more serious felons," he said. "And of course the president and the administration has moved ahead to provide limited legality for the Dream Act kids, which I very much support and think that was the right thing to do when Congress has just failed at addressing immigration reform."
Calling all HuffPost superfans!
Sign up for membership to become a founding member and help shape HuffPost's next chapter
BEFORE YOU GO
PHOTO GALLERY
DREAMers Taking A Stand