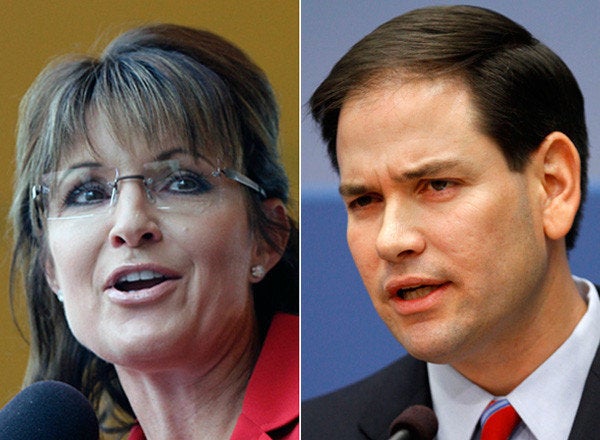 WASHINGTON -- Los Angeles Mayor Antonio Villaraigosa, one of the most prominent Latino elected officials in the country, said Wednesday that Sen. Marco Rubio (R-Fla.) is even less qualified to be vice president than Sarah Palin.
"I would say that I expect that given what happened with Senator McCain, that they're going to go with somebody that has got some chief executive experience," Villaraigosa, chairman of the Democratic National Convention, told The Huffington Post in an interview.
Asked whether he had meant to compare the two Republicans, the former head of the U.S. Conference of Mayors suggested that Palin was in fact the better prepared. Rubio, Villaraigosa noted, has been in the U.S. Senate for less than two years, while Palin was governor of Alaska when she was picked.
"No, she actually had chief executive experience, if you recall, just not enough of it," he said.
Rubio has slipped down most lists of possible vice presidential choices for presumptive GOP nominee Mitt Romney. Still, as Republicans try to lock up both the Hispanic vote -- Rubio is Cuban-American -- and Florida, he's probably an option, Villaraigosa said.
Democrats are making a bigger push this year to put Latinos in prominent places at the Democratic National Convention, naming Villaraigosa as chairman and San Antonio Mayor Julián Castro as the first-ever Hispanic keynote speaker. Rubio is considered a rising star in the Republican Party, and could help the GOP to highlight its Hispanic contingent as well.
Villaraigosa took pains not to say outright that Rubio would be a bad choice, but he also wouldn't say whether he thinks the senator is qualified. He said experience in the executive branch should be the most important consideration -- mentioning Sen. Rob Portman (R-Ohio) -- but added that the vice presidential candidate could be someone who "comes from a state where they might get a bump." Rubio could give that bump in Florida, but it's unclear whether it would do anything in the rest of the country, Villaraigosa said.
Again invoking Sarah Palin, he said there's no way to tell how Rubio would play on the ticket.
"These things are so dynamic," he said. "I remember when they picked Sarah Palin, I was walking out of the convention and I think we were at the airport, and they announced it. There was a camera crew there and they interviewed me, and I said it's either going to be the greatest pick or it's going to be a bomb. And we all know what happened with that one."
There could be some downsides to Portman, too. He served under President George W. Bush as the director of the Office of Management and the Budget, an unpopular position in an unpopular presidency.
"They've got limited options," Villaraigosa said with a laugh. "They could go with Cain, they could go with Santorum, they could go with Perry. What can I tell you? They've got a slim bench."
Romney's numbers with Hispanics are low, and Villaraigosa said he doesn't expect that to improve much, especially given harsh rhetoric on issues such as immigration during the primary.
Some other GOP politicians have had better success appealing to Latino voters. Among them was Bush. He received about 40 percent of the Latino vote in 2004, according to some estimates, a number some Republican strategists say is necessary to win the presidency, as the Latino population continues to grow.

"He supported immigration reform, he's from Texas and very comfortable with Latinos, you could tell," Villaraigosa said of Bush. "I've been with him, slapping me on the back the whole dinner and hitting my leg and speaking in Spanish. He's comfortable, and people saw that."
Either through charm or policy -- but preferably through both -- the GOP has to figure out how to strengthen its appeal to the Hispanic community, he said.
"The party has gotten so far to the right, not just with Latinos, but with civil rights, with women, with young people, that they, frankly -- with not just Latinos -- are losing demographics across the board," he said.
CORRECTION: 8:14 p.m. -- This article has been updated to correct a word in one of Villaraigosa's quotations. He said Republicans have "a slim bench" of vice presidential choices, not a "slim batch."

Before You Go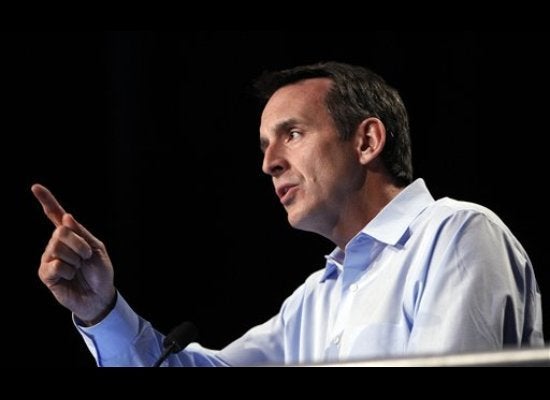 Romney's Veep Search: Who's The Safest Pick?
Popular in the Community