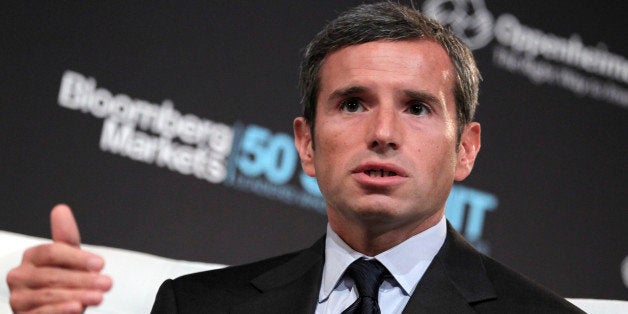 If you are a member of Washington's elite, you point to the fact that Weiss is the publisher of George Plimpton's Paris Review, which alone suggests that Weiss has deep and detailed liberal bona fides that will reveal themselves with sufficient illumination at Beltway cocktail parties. Everyone can talk about V.S. Naipaul over canapes content in the knowledge that the machinery of the American economy is being presided over by someone with real erudition.
But if you want to actually point to something in Weiss' past that suggests he's put his hand to the nitty-gritty of economic policy making, you point to the fact that Weiss is an author of a December 2012 report from the Center for American Progress (CAP), Washington's leading liberal policy think tank. You don't mention that he's one of a dozen or so authors, and that crusading populists Larry Summers and Robert Rubin (!) put their names to it as well. Instead, you tout the fact that this report called for the raising of higher revenue (specifically by increasing taxes on "high-income households") and the need for tax reform that simplifies the tax code.
The Treasury practically has an auto-reply that sends the CAP paper to any reporter that asks about Weiss. And in a background document it sent on Weiss to members of Congress, the paper is a central pillar:
Background on Antonio Weiss

Antonio Weiss has served as a business advisor to numerous Fortune 500 companies, including Google, Coca-Cola Enterprises, Honeywell and Kraft Foods.

As evidenced in the 2012 report he coauthored with Center for American Progress, "Reforming our Tax System, Reducing Our Deficit," Weiss believes we need to reform and simplify our tax code as well as implement policies that help boost economic growth while supporting our middle class.
White House press secretary Josh Earnest made sure to mention this report in the December 11, 2014 press briefing:
Q: On the Antonio Weiss nomination, there's been (inaudible) Democratic support to approve him. And obviously in another few weeks, there will be a Republican-controlled Senate. Is there going to be a change in strategy to try to get him approved given that you've tried to paint him as a liberal to get Democratic support and now you'll need Republican support?

MR. EARNEST: Well, I don't think that we have actually suggested, Angela, that he has any particular ideological point of view. I do think that we have been candid, though, that he shares the President's view about steps that can be taken to make our tax code more fair. These are actually views that he's articulated prior to even being considered for a position in the administration. He wrote a report back in 2012 titled, "Reforming Our Tax System and Reducing Our Deficit," in which he discussed the need to simplify our tax code and implement policies that help boost economic growth for the middle class.

So he is somebody who shares the President's view that our economy will be strongest and will grow fastest when it grows from the middle out. And his support for that kind of philosophy and for that strategy for growing our economy is one of the reasons that the President has nominated him for this position.
All of which puts Weiss at the dead center of leading liberal thought on tax policy over the past decade, and firmly allies him with the Obama White House, which has fought an often perilous battle with its Congressional opposition to raise revenue of any kind -- opposition which has scuttled more than one big budget deal over the past six years.
The need to credit Weiss for the part he played in this report is rather fascinating. First and foremost, the emphasis on Weiss as a guy who's called for raising taxes on the wealthy, and the need for additional revenue, is a strange thing to highlight, considering the fact that it would be inexplicable for the Obama White House to hand out a Treasury appointment to someone who disagreed with these positions. Even Alan Simpson and Erskine Bowles recommended the raising of additional revenues. Here, Weiss is getting a lot of plaudits for simply being someone who nominally hews to mainstream Democratic party policy prescriptives.
But wait! That's not what the paper was about! If you actually read the document, which perhaps Treasury officials were hoping no reporters would do, the first thing you notice is its title: "Reforming Our Tax System, Reducing Our Deficit."
Oh, so the paper that is supposed to prove Weiss' progressive bona fides was actually one that pushed the Democratic Party to reduce the deficit. Got it.
For the past three years, we have been warned that debt levels over 90 percent of GDP are extremely risky and present a debt "tipping point" that we should do everything in our power to avoid. These warnings were based on a paper entitled "Growth in a Time of Debt," written by economists Carmen Reinhart and Kenneth Rogoff.

In their paper Reinhart and Rogoff used data from dozens of countries over two centuries to investigate the relationship between high debt and slow economic growth. They concluded that, "across both advanced countries and emerging markets, high debt/GDP levels (90 percent and above) are associated with notably lower growth outcomes." They argued that the relationship between growth and debt is "non-linear" -- meaning that the growth effects were more pronounced at higher debt levels -- and that countries may have "debt intolerance ceilings" -- meaning that there may be a particular level at which debt becomes particularly dangerous.
As we've since found out -- and as CAP acknowledged in June of 2013 -- Reinhart and Rogoff, to use a technical term about miscalculated and misapplied data, seriously boofed it. Linden, quite wisely, proceeds from that knowledge like so (emphasis mine): "Now we know that their paper not only does not support the notion of a debt 'threshold' but in fact shows that high debt is the result of slow growth rather than the opposite. At the very least, this new information should spur those who based their policy preferences on Reinhart and Rogoff's work to re-evaluate their positions."
And re-evaluate them CAP did, switching its position on emphasizing deficit reduction within six months of coming out in favor of it. Six months, in the life of a think tank, is like the lifecycle of a mayfly.
All of which makes associating Weiss with this old CAP study deeply weird, because even if he was not the primary author of this study, it's still a study that CAP has largely disowned after getting themselves on the correct footing in this post-Reinhart/Rogoff era. Why on earth is the White House drawing on this past-its-sell-by-date garbage in an effort to plump Weiss' nomination chances? Because the real reason he's getting appointed isn't very persuasive. Let's return to Mr. Sorkin for that one: "He has been a staunch supporter — and campaign donation bundler — for President Obama."
UPDATE 12/30 -- In a statement, a CAP spokeswoman defended the report and Weiss' role in it.

The article fundamentally mischaracterizes CAP's report "Reforming Our Tax System, Reducing Our Deficit" and ignores its central point, which is a significant structural reform of the tax code to make it far more progressive by raising taxes on the wealthy. Antonio Weiss was a central author of this report, including its call for raising revenue from corporations. Our plan would have raised the tax rate for top earners to 39.6 percent, as well as raised capital gains for top earners by 28 percent (almost double the current rate). We also proposed treating dividends as ordinary income and limited the value of deductions for top earners.

By raising taxes for the wealthiest Americans and reforming deductions to make them more progressive, while not raising taxes on the middle class, we proposed to shift the burden of deficit reduction to the wealthy from the middle class. Indeed the plan, which would have raised $1.8 trillion more than the 2012 tax policy, was more progressive than that put forward by President Obama.

The American Prospect critique cited in the article related to the fact that the CAP plan kept in place lower taxes for middle class Americans because the author argued that the middle class should also have their taxes increased. This meant the plan would have less deficit-cutting impact but CAP believed (at that time as well as when we released Fiscal Reset and our more recent Middle Class Squeeze report) that investments in the middle class would drive economic growth and help middle class families support their families.

The emphasis in the December 2012 plan on raising taxes on wealthy Americans, not increasing costs on middle class families, and not pursuing deficit reduction at expense of economic growth, is very consistent with the direction CAP took in the 2013 fiscal reset report and our most recent Middle Class Squeeze report. In the latter reports, we pointed to changed circumstances leading us to a reduced emphasis on reducing spending in order to reduce the debt level. The article completely ignores our emphasis in Fiscal Reset on those changing circumstances -- dramatic decreases in the deficit due to the budget deal that winter and lower health care costs.
(Amanda Terkel and Jen Bendery contributed reporting.)
Support HuffPost
The Stakes Have Never Been Higher
Before You Go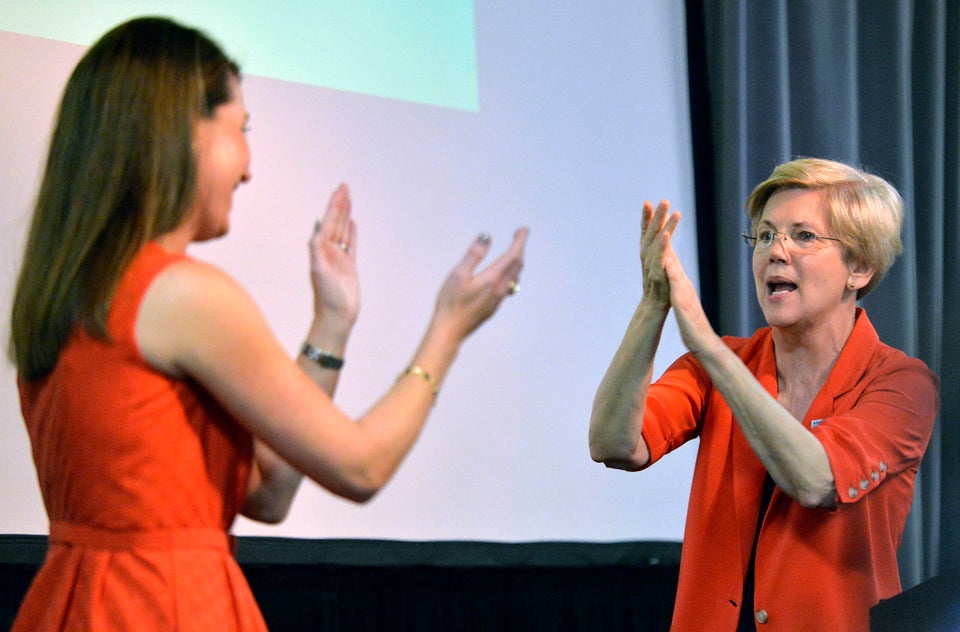 The Faces of Elizabeth Warren
Popular in the Community