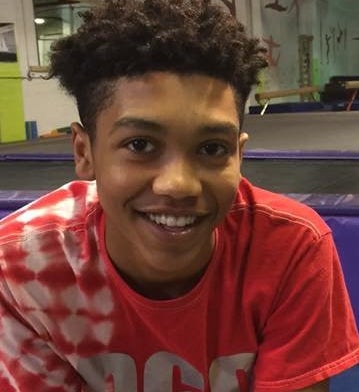 Summer Lee planned to spend the night of June 20 protesting the police stationed within Pittsburgh's Woodland Hills High School, her alma mater. Lee, 30, was upset about previous accounts of school cops brutalizing students of color: Tasering them without provocation, punching them in the face and dragging them down hallways.
Then an East Pittsburgh police officer killed one of the school's standout students as he ran from a vehicle during a traffic stop a day before the planned protest. Suddenly there was a new, more pressing reason for Lee and others in the district to rally.
The brutal killing of 17-year-old Antwon Rose Jr. has brought Pittsburgh activists to the streets in protest over the last week. The police officer's attorney has questioned why Rose would feel the need to run from police, insisting that the shooting never would have occurred had "everybody stayed calm and stayed in the car." The officer was charged with criminal homicide on Wednesday.
But the experiences students of color have endured at the hands of police officers at Rose's school shed light on why they might fear police. A 2017 lawsuit, currently in litigation, says that two officers from the local police department stationed in Woodland Hills High ruled the hallways with brute, violent force. Five current and former Woodland Hills students, all African-American and some with special needs, allege that officers physically or verbally abused them.
The relationship between students and law enforcement in the school is "not even strained," said Lee, who graduated in 2005 and is now running for a seat in the state House as a progressive. "I would say it's dangerous."
"When you think about where Antwon went to school," Lee said, "he saw his friends getting beat up by these cops and how the justice system works against their abusers. Would that not inform your interaction with police officers?"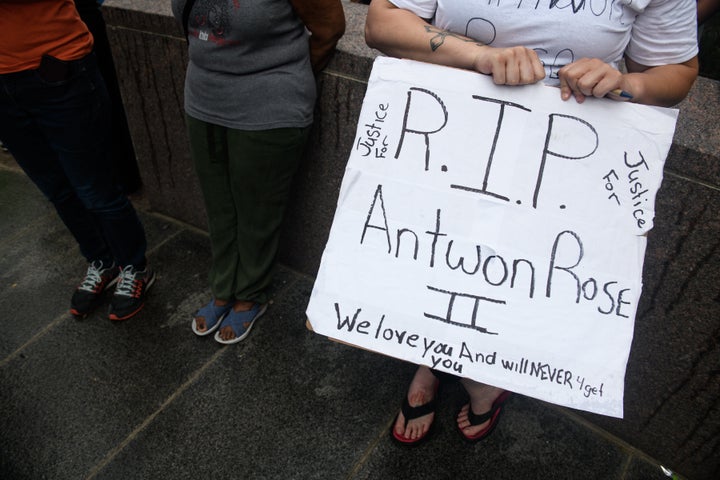 The details of the abuse outlined in the lawsuit are harrowing.
In one 2015 incident, a 15-year-old student referred to by the initials A.W. was sent to the school's administrative office for talking back in class. There, a school police officer named Stephen Shaulis allegedly hurled verbal invectives at him, telling him neither he nor his mother were going to amount to anything. Within minutes ― and without apparent physical provocation, according to the suit and a surveillance video of the incident ― the officer grabbed the student, put him in a headlock, dragged him down the hallway and Tasered him at least three times.
The officer wasn't punished as a result of the incident, but the student was charged with resisting arrest and disorderly conduct.
In 2017, the same officer knocked out a tooth of a 14-year-old student, Q.W., according to the lawsuit and news reports at the time. A video of the incident showed the pair chatting. But after Q.W. left the conversation, the officer grabbed the teen by the neck and slammed him to the ground. After the video cut off, the child was repeatedly punched in the face, according to the lawsuit. Q.W. was charged with aggravated assault and resisting arrest.
In another 2015 incident outlined in the lawsuit, Shaulis is accused of intentionally tripping a student. In 2016, he repeatedly slammed a 90-pound female student's head against a table, according to the lawsuit.
The lawsuit claims school administrators were aware of ― and, in some cases, abetted ― this behavior. The school district is "a hostile environment for students of color," said Todd Hollis, the attorney representing the plaintiffs in the case.
Representatives of the school, the police department that contracts with the school and Shaulis' personal attorney did not respond to HuffPost's requests for comment on the suit. The district attorney's office, which is also investigating incidents involving the officer, did not immediately respond to a request for comment.
Shaulis no longer works at the school, according to local outlet TribLIVE. In 2016, the Woodland Hills High School principal was placed on paid leave after audio surfaced of him threatening a child who was eventually named in the lawsuit. He was later hired as the high school football coach but resigned months later. District Superintendent Alan Johnson announced his intention to resign after the school year in February, saying that "the school district needs a new start," according to TribLIVE.
Johnson claimed at the time the suit was filed that it represented a few isolated incidents, not a pattern.
But others say that there was a climate of brutality in the school where Rose once wrote that he didn't want to become another statistic.
"I think it's a culture of tolerance of this kind of behavior," said John Fetterman, the mayor of Braddock, which sends students to Woodland Hills, and a candidate for Pennsylvania lieutenant governor. "When you have incontrovertible video evidence and people are still willing to carry water for these individuals, it's appalling."
Nationally, the number of police officers stationed in schools has shot up in recent decades. Civil rights activists contend that this trend helps perpetuate the school-to-prison pipeline, in which students of color are disproportionately punished for minor misbehaviors. They say stories like those from Woodland Hills are part of a larger, insidious pattern of officers physically brutalizing students of color and helping push them out of school.
The same dynamic is also evident outside of schools, where scores of unarmed black men have been killed by police in recent years.
But Fetterman is hoping that relationships will improve between the school and police as the issue receives more attention. Fetterman, whose wife was close to Rose, is also hoping for improved relationships between law enforcement and the community at large.
"He deserves justice, and he deserves to make sure that there's a lesson for everybody here," Fetterman said. "This is the kind of conduct and behavior we can't have if we're ever to restore trust between law enforcement and communities of color."
But in Lee's experience, black students in the district have long been treated like second-class citizens. There weren't uniformed police officers at Woodland Hills when she was a student, but there were metal detectors and security guards ― and the distinct sense that school leadership cared about some students more than others.
"In this present-day culture ― a culture where Antwon exists, where Tamir Rice exists ― to expect a black child to go into school and feel safe with officers who are armed … that's violence against them," Lee said.
Popular in the Community