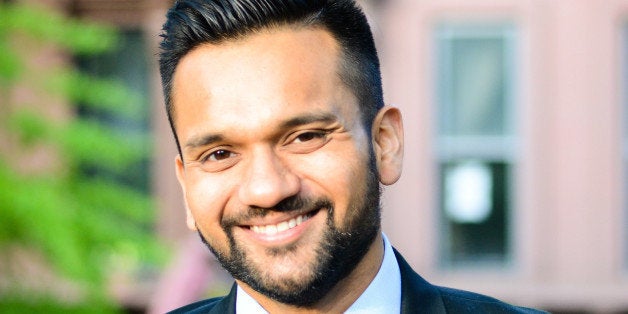 Throughout his early academic and professional career, Anurag Gupta, 30, felt consumed by his passion to help resolve international ethnic inequality. But once he got to law school, he started to turn his focus to the United States, and to the artificial construct known as "race" that has divided the country for centuries.
After immigrating to the U.S. at age 10, Gupta spent the majority of his adolescence in New York City. As an undergraduate at New York University, he joined the Free Burma Movement, inspired by the work of Nobel Peace Prize laureate Aung San Suu Kyi. He went on to spend several years in South Korea and Burma with the help of a Fulbright grant.
"When I was there, I founded [the] nonprofit Opening Possibilities Asia, [which] worked in Burma with some fellow American teachers to foster ethnic reconciliation using education, teacher training and interactive classroom activities," Gupta told The Huffington Post. "That was my passion. I really wanted to work in the field of international development and human rights."
Aiming to learn as much as possible, Gupta attended Cambridge University and earned his master's degree in development studies. One of his professors insisted that if he wanted to achieve systemic change for the global issues he was addressing through OPA, he would need to go to law school.
So Gupta came back to New York to attend the NYU School of Law, and it was during this time that his perspective on how he could best help the world began to shift.
Before leaving India for the U.S. as a child, Gupta had no real familiarity with the concept of race. Raised by two scientist parents, he grew up in a household and a culture that acknowledged that while there were different religions and ethnicities, there was only one human race. Later, as a young man in Brooklyn and Queens, Gupta knew he didn't quite fit into the "black," "white" or "Asian" categories used by people around him. But it wasn't until his second year of law school that he felt his racial identity truly begin to matter.
While studying law, Gupta became more and more familiar with the New York prison system, conducting research among incarcerated populations and participating in community service. He began to see that the vast majority of men taking the stand were of color and from poorer backgrounds. More importantly, he witnessed how they were treated.
"The absence of compassion on the part of the justice system toward these people was just mind-boggling to me," said Gupta. "Going into the prison for the first time, I literally felt from my body that someone had taken off something I wore, something called liberty and freedom. And that was just me, someone who was visiting, so I had no idea what the prisoners actually felt like. Those kinds of experiences really moved me morally and ethically."
Gupta began to study issues of race and inequality, and increasingly came to believe that much of what people call "race" is just social conditioning.
"The more I read, the more I understood that this idea of race is literally just an idea," he said. "It's idea that's been passed down to us, but it's only been around for 300 years. It's ridden with a lot of emotions, a lot of historical memory, a lot of trauma. And at the end of the day, it's really about people wanting to be validated."
Gupta knew that scientists and academics have identified the causes of nearly every problem and challenge faced by the world today, and that the real difficulty lies in translating that information into actionable solutions. So after two and a half years as an attorney for the Vera Institute of Justice -- time that he spent researching the political and economic disparities experienced by African-American men -- he set out to create his second nonprofit with this very goal in mind.
BE MORE, the result of Gupta's efforts, was created in early 2014. With BE MORE, Gupta will aim to bring change to the social systems that create or perpetuate social inequity in the U.S. Through research, storytelling and online social communities, he said, he hopes to show Americans that they are actually all one and the same, and that we all have the choice to behave as such.
"At the end of the day, we are all struggling together," he said. "There is only one human race, yet this construct of race is a reality and we need to dismantle it and understand it. Our job is to explain to people how this construct came to be, and how it's changed the world in how human beings relate to one another. To this day, it's really hurting a lot of people. There's just so much internalized hatred people face -- this idea of not being enough, of not being loved."
Gupta left Vera earlier this year to pursue BE MORE full-time, and joined the Middle Project, a progressive organization launched by New York's Middle Collegiate Church, to incubate the nonprofit. BE MORE's first campaign, beginning Sept. 2, will focus on the year 2040, the first time there will not be a single racial majority in America.
"We're using Dr. King's quote -- 'Our goal is to create a beloved community, and this will require a qualitative change in our souls as well as a quantitative change in our lives' -- and asking 40 people to give us their response in 60 seconds or less," said Gupta. "What is one change we need to make between now and 2040 to create a truly inclusive, beloved community in America?"
Videos of people's answers to that question -- including responses from religious leaders, mindfulness figures, activists, social entrepreneurs, actors and musicians -- will be released one at a time over the span of 40 days. Gupta hopes that they will help inspire a new way of talking about issues of identity and racial justice, thus moving the country one step closer to eradicating the construct of race.
"In our public discourse right now, there's a lot of shame and blame and guilt associated with these things," said Gupta. "We want to be able to undo that. We want folks to focus not only on the myriad of challenges that we confront when it comes to racial equity, but also the vision. 2040 is only 25 years away. All of us in our lifetimes, [in] particular millennials, are going to see it, so we should be able to envision what it is that we need to do to make sure we get there."
In a matter of months, Gupta said, BE MORE has changed his life more than he could have ever imagined.
"The words that come to mind are 'spiritually fulfilling,'" he said. "It allows me to stay focused and keep my eye on the prize, which is really to enable a movement that addresses all sorts of systemic challenges that create injustice. But it also keeps me rooted in my humanity."

Related
Popular in the Community