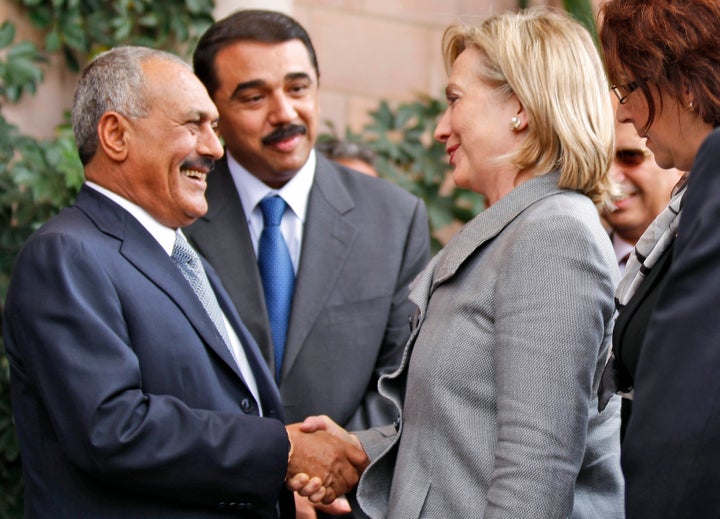 "This success is a tribute to our intelligence community and to the efforts of Yemen and its security forces who have worked closely with the United States over the course of several years," President Obama said in remarks about the assassination of the terrorist leader. "[Awlaki] has met his demise because the government and the people of Yemen have joined the international community in a common effort against al-Qaida."
Similar remarks flowed freely all day.
"It's a good day," a defense official said in a statement, "for American counterterrorism efforts--and for counterterrorism cooperation with the government of Yemen. For some time, the Yemenis have played a key role in the hunt for Awlaki."
Another government official, speaking to the Los Angeles Times, added, "It was good to see the Yemen government actually allow us to go in. Allowing us to go on the property and get fingerprint analysis was a nice gesture of cooperation by the Yemeni government."
It was a jarring break from the language coming from the State Department in recent weeks, as the death count from protests against the regime of President Ali Abdullah Saleh spiked.
"The United States extends our deepest condolences to the families of those who lost their lives during recent protests in Sana'a," State Department spokesman Victoria Nuland said on September 20, amid signs that government forces had launched a wholesale attack on the opposition movement.
"We have long condemned the use of violence during this period of upheaval and reject any actions that undermine productive efforts underway to achieve a peaceful political resolution to the current crisis in Yemen," Nuland's statement continued. "The United States continues to support the Yemeni people's aspirations for a peaceful and orderly transition that is responsive to their aspirations for peace, reconciliation, prosperity, and security."
The situation in Yemen poses a major challenge for American policymakers, who find themselves torn between supporting the democratic aspirations of the Yemeni people, while also hoping to preserve what they view, in Saleh, as an essential military partner in the war on terror.
In a further twist, Saleh had only just returned to Yemen a few days before the Awlaki strike after spending much of the summer in Saudi Arabia, recovering from wounds he suffered during an anti-government attack on his compound.
According to a count by The New York Times, 40 people were killed in attacks by government forces against the opposition movement the day after Saleh came home, amid an ongoing spike in violence.
Less than a week later, American forces finally tracked down al-Awlaki, a wanted figure who had been at large in the country for several years.
"In my mind it is no coincidence this happened after his return," Christopher Boucek, an expert on Yemen with the Carnegie Endowment for International Peace, told CNN Friday, arguing that paving the way to the strike may have been part of an attempt by Saleh to reinforce his indispensability in the war on terror.
Steven Heydemann, a senior vice president at the U.S. Institutes of Peace, agreed.
"Saleh is trying to use his support for counterterrorism to buy himself U.S. and perhaps Saudi good will, hoping to capitalize on this in his efforts to delay a transition, perhaps indefinitely," Heydemann told HuffPost. "But I don't think it will work. The U.S. knows that Saleh's future remains highly uncertain, and that it will need the support of any successor regime to sustain counterterror operations."
But, Heydemann argued, American policy on regime change would remain the same.
"The U.S. is not going to pretend that with this drone strike Saleh can rewind the tape to pre-uprising days," he said. "Won't happen, no matter what kind of praise it might direct his way in the short term."
In a briefing for reporters Friday, Nuland reiterated that the American view is that "it's time for President Saleh to transfer power," but then offered a narrow delineation between Saleh and the "government of Yemen."
"We fight al-Qaida with the Yemeni government, with security forces," she said. " We expect that cooperation will continue in strong shape, but it is time for President Saleh to turn over the reins of power and allow a democratic transition."
Popular in the Community