"Do not lose yourself in the past. Do not lose yourself in the future. Do not get caught in your anger, worries, or fears...Anxiety, the illness of our time, comes primarily from our inability to dwell in the present moment. If, in our heart, we still cling to anything--anger, anxiety, or possessions--we cannot be free." ~ Thich Nhat Hanh

It is 3:15 PM on December 31st. I intentionally waited until the last few hours of 2016 to write this note because I wanted to squeeze every last drop from the year before commenting on what it has meant to me. Because I am a longtime believer in the power of self-inquiry and mindfulness, I am taking time to revisit the highs and lows (and there are many of each) that were part of my journey through 2016 and to the cusp of 2017...and I invite you to do the same.
For me personally, 2016 has been the worst year and, simultaneously, the best year of my life--which is why I may have seemed to be missing in action with my "weekly" eMessages during the past twelve months. The how's and why's of this are not important because it is likely many people reading this can say the same. My awareness is that there is a razor fine-line between what was, what is, and what shall be. Straddling that invisible boundary with uncertainty leads to anxiety which, as Thich Nhat Hanh points out, is the illness of our time. Through the practice of mindfulness we can breathe deeply and intuit that otherwise indiscernible line called the present moment and anchor ourselves there. In the process, we are setting ourselves free to embrace the goodness each future moment offers us as it comes.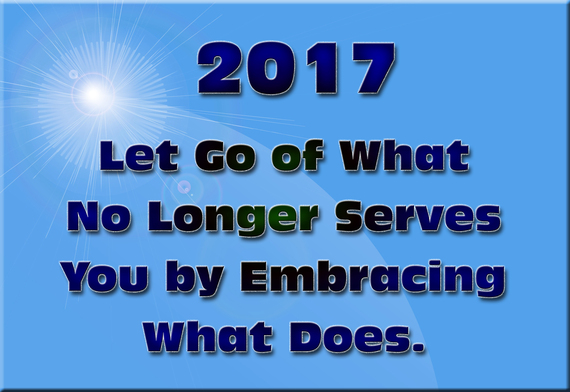 With mindfulness, the quintessential question each moment invites you to explore is, what might you be clinging to now that is causing anxiety and--what's more important--is it serving any useful purpose. If the answer is no, are you willing let "it" go? Irrespective of whether its tentacles are wrapped around the past, or the future, anxiety has no business or power in the present moment when you stay grounded there. Do not lose yourself in the past. Do not lose yourself in the future: The present moment is your only point of power, so make a commitment to "find yourself" hanging out there more of the time. How? By letting go of what no longer serves you and embracing what does; in the process you will witness anxiety disappear into the nothingness from which it came--a fearful mind. Then be prepared to ascend to new heights in 2017, one day, one moment, one sacred and precious breath at a time.
Happy Now Year!
Peace, Dennis
REAL LIFE. REAL NEWS. REAL VOICES.
Help us tell more of the stories that matter from voices that too often remain unheard.