The delta variant first identified in India is spreading widely in the United States, accounting for more than half of all new COVID-19 infections (which are overwhelmingly affecting unvaccinated individuals). Meanwhile, the lambda variant, or C.37, has also caught public health officials' attention as a "variant of interest."
These new developments can leave even the most optimistic among us feeling a little unmoored. That's especially true if you had just begun to feel as though we were out of the woods a few months back as Americans rushed to get vaccination appointments.
If you're experiencing a mounting sense of dread that things could potentially get bad again, you're not the only one, said Amelia Aldao, a psychologist and anxiety specialist in New York City.
"Just because there is a new variant does not necessarily mean we will end up exactly as we did one year ago."
"This back-and-forth has been so unpredictable," she told HuffPost. "It makes many people feel anxious or like we're going backwards. Our minds race to all kinds of scenarios: Are we going to be able to go to that wedding in the fall? What about indoor dining? What will happen with schools? There's a sense that there's some anxious times ahead."
Akua K. Boateng, a psychotherapist in south Philadelphia, has seen anxieties about new variants rise among her patients, too.
"We all remember how emotionally taxing life became during the pandemic," she said. "Now people may experience hyper-vigilance around the new variants' status or new health phobias."
As always, though, there are ways to manage and cope with your anxiety. Below is therapists' best advice for dealing with uncertainty about the future.
Stop yourself before you start catastrophizing.
Watch out for catastrophizing, a cognitive distortion where we plunge into a spiral of "what if" scenarios and usually assume that the worst will happen, said Sheva Rajaee, a therapist and the director of The Center for Anxiety and OCD.
"Remind yourself that just because there is a new variant does not necessarily mean we will end up exactly as we did one year ago, and that no matter what this new wave may bring, that we have the strength to cope, one day at a time," she explained.
When you start gaming out those worst-case scenarios ("We're entering another year-long lockdown! Life will never return to normal!"), try to nip it in the bud, Rajaee said. Plus, in spite of what your nagging glass-half-empty frame of mind may be telling you, positive developments are just as likely to happen.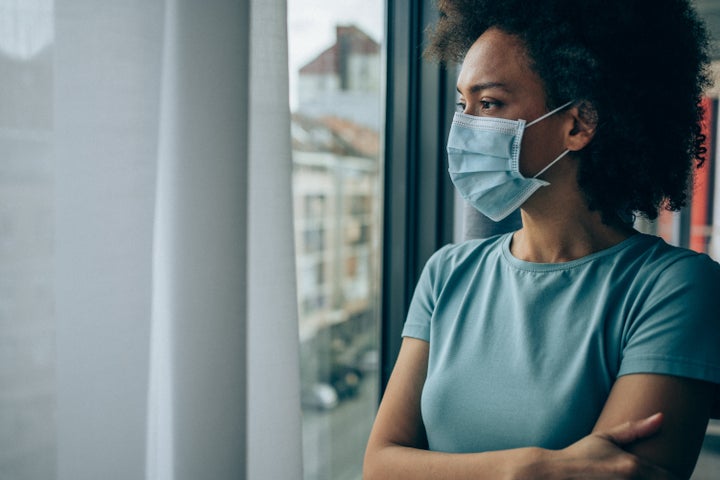 Remind yourself that most breakthrough cases are evidence the vaccines are working.
Yes, some young, relatively healthy vaccinated people are getting mild COVID-19 cases, but don't forget: The vaccine was never going to prevent people from getting sick entirely.
As infectious diseases specialist Monica Gandhi told HuffPost earlier this week, when the mad dash to develop a COVID-19 vaccine began last year, health officials hoped to create one with just a 50% efficacy rate against severe disease and death.
"Even a not-so-great vaccine would make a huge dent in the pandemic," Gandhi said, stressing that all three vaccines available have performed much better than that.
So when fully vaccinated people come down with cases of the coronavirus that are mild and don't result in death or hospitalization, that's proof positive that the vaccination is doing its job. Prior to the shot's development, the likelihood of more serious symptoms or even death was much higher.
Don't put your life on pause.
If you're experiencing anxiety despite being fully vaccinated, start with small steps toward reentry (if you haven't already). Grab dinner with friends you haven't seen in forever or spend some time at your physical office if your company has adopted a hybrid workplace. Get back on dating apps if you've been thinking about it, or start looking for that new job if you put your search on the backburner the last year.
"Although doing these things might feel anxiety-provoking at first, these feelings should fade and people will begin to feel more comfortable over time," said Marney White, a psychologist and professor at Yale School of Public Health.
Focus on what you can do to stay safe.
As Boateng said, "fear often compels us to focus on uncertainty."
But you don't need to be too fearful at this moment because you already know what you can do to stay safe: chiefly, getting vaccinated, while also hand-washing, wearing a mask, avoiding large crowds if you feel it's necessary and sharing your reentry boundaries with friends and family.
You have agency here, Boateng stressed. Not to mention a hard-won education on how to deal with COVID-19 threats, lockdowns and all the requisite safety precautions.
Whatever you do, don't start doomscrolling again.
Access to news 24 hours a day is a curse and a blessing. If constant headlines about the delta variant are freaking you out, step away from that cable news channel or your phone if you're back to your old doomscrolling ways.
"Over-consumption of the news can paralyze you with fear," Boateng said. "Limit your intake to one check-in a day or every other day. It can support anxiety reduction."
"The more we savor the present, the more grounded and mindful we become and the less room we have in our minds for worries."
Concentrate on the present — or even fun plans for the future.
More than ever, Aldao encourages her clients to ground themselves in the present. You could map out all the worst-case scenarios in your mind and ramp up your stress levels in the process ― or you could focus on the here and now. Sometimes, the best way to fend off your fears for the future is to put a little joie de vivre back into your life in the moment.
"The more we savor the present, the more grounded and mindful we become and the less room we have in our minds for worries," Aldao said. "Don't give anxiety too much real estate in your brain."
Get in a planning mood, too. Go ahead and give yourself permission to plan something decadent or fun to look forward to in the fall. Worried about indoor activities becoming limited? Aldao said to ask yourself: What are some alternative activities I can do to keep myself contented, simulated and more importantly, connected with others?
"Maybe it's joining a sports league that plays outdoors, joining a running group or taking a trip," she said. "Light planning can help us fight off the anxiety."
Go easy on yourself right now.
Now that the delta variant has become an intensifying threat, plenty of us are processing the hard reality that a return to normalcy might involve multiple fits and starts. Because of that, make sure you grant yourself compassion when you experience fears or insecurities, Rajaee said. The therapist said it's also important to acknowledge the immense toll of what we've been through and continue to go through.
"The trauma of all of this is nowhere near fully healed or complete," she said. "Still, although we might not be at the finish line yet and must cope with that frustration, it doesn't mean real progress isn't being made."
Experts are still learning about COVID-19. The information in this story is what was known or available as of publication, but guidance can change as scientists discover more about the virus. Please check the Centers for Disease Control and Prevention for the most updated recommendations.
Support HuffPost
A No-B.S. Guide To Life
Popular in the Community