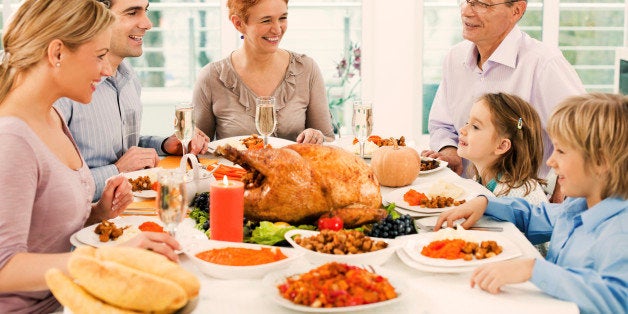 It's that time of year again. The holiday hustle and hassle. Normally a time of good will and cheer, unless you happen to be involved in a nasty divorce situation with children. In that case, holidays might seem downright dreadful. Nothing seems worse than spending your holidays without your children.
Ideally -- you would both be cool enough to split holidays evenly or even (gasp!) share them together. However, this is reality and chances are slim that either one of these scenarios goes down. This makes you basically stuck working with very little. That's okay though, it can be done. Go ahead and mourn the loss of the perfect holiday with everyone all together right now.
I have an alternative idea for you. This is going to require some flexibility and coolness on your part. Here's the deal -- any day can be a holiday. All you have to do is make it so. It's true.
There is no law that says you can't celebrate Thanksgiving on a different day. You know and I know that Thanksgiving falls on Thursday, November 28th this year. Let's break down what happens that day. You get the day off work (unless of course you work at one of those retail stores that never closes), the kids are off school and the whole family gathers for an insane feast. You give thanks and then everyone watches football and falls asleep on the couch.
What if you did all of these things exactly the same except you did it on Sunday November 24th? What if you called it Thanksgiving? What is wrong with that? Nothing my friend, nothing. It's just family getting together for a crazy meal, watching football and giving thanks! You can take pictures too! When you look back on those photos, you won't see anything but what looks like Thanksgiving!
Get out of your head for a minute and conceptualize that Christmas doesn't have to be December 25th. It really doesn't. Technically, if you are actually celebrating the birth of Jesus, he wasn't born on December 25th anyway. So, no harm, no foul (more on how December 25 became Christmashere).
You can pick another day to celebrate Christmas. Santa can come five days earlier. Divorced parents are allowed to request special delivery dates. Ask anyone.
Your eight days of Hanukkah can come eight days before the official eight days of Hanukkah. I can't imagine any God that would frown upon honoring a special day on a different day to make children happy.
Stop complaining about what you are missing out on and start creating something special. Who cares if it's different? The point is to make it special for the children. I think you will find that your family will be a little more flexible for special holidays when it comes to making times special for the children. I know that deep down you know it's not the real holiday, but it is what it is. You can mourn the loss of what was, or you can choose to celebrate with what you have. It is possible to create new holiday traditions and have fun even though you aren't together as a family anymore.
Don't forget the top three rules for handling the holidays.
1. Your children come first.
2. Your children come first.
3. Your children come first.
Once you have these down, you can proceed to deal with your difficult holiday situation turned awesome because you are cool and creative enough to make it happen -- even if it is on a different day.
It's as easy as changing your mindset. Repeat after me. "It's just a day." "It's just a day." "It's just a day."
Happy Holidays! Whenever you may celebrate!