Anya Hindmarch has been designing handbags and small leather goods under her eponymous label for nearly two decades. The designer's timeless carryalls and evening bags have become a staple in the world of luxury accessories, spotted on public figures such as Reese Witherspoon, Angelina Jolie, and Princess Diana since the brand's inception in the early '90s. More recently, the rise of the eco-friendly fashion movement helped propel Hindmarch's "I'm Not a Plastic Bag" to a level of popularity never before seen by an environmentally conscious tote. The demand for the canvas bag in 2007 was so high that it created a new market for recyclable bags that had yet to exist, spawning countless copies and imitations. Additionally, Hindmarch was commissioned by Target last year to create a collection of bags for the mass-market retailer, resulting in a well-received, gently-priced capsule collection.
The designer's success can be credited to the range of product offered by her brand, as she makes sure to cater to both the customer on a budget and the more affluent shopper. Nothing exemplifies this better than the new "High Line" canvas tote, celebrating the opening of the former New York City railroad turned redesigned park, as well as the bestselling "Bespoke Ebury" bag in a luxurious crocodile with a handwritten message embossed inside. See below for a look into Anya's office, her must-haves, and learn how her company manages to stay relevant.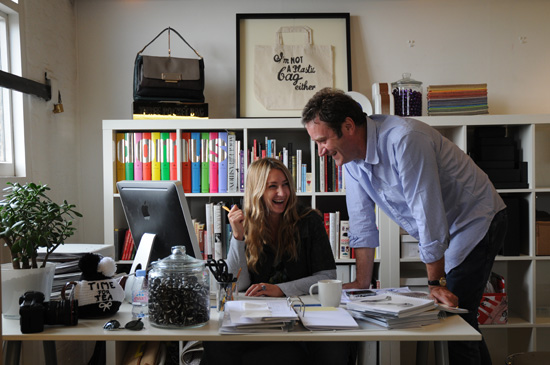 Photograph of Anya at her desk by Matteo Bazzoffia
Framed "I'm Not a Plastic Bag" -- "This is a lasting memento of many of the spoofs in what was a crazy and fascinating project."
Time for Tea Knit Tea Pot Cover -- "This is left over from an English tea party we hosted when we launched our store in Vegas."
Leica Camera -- "Leica makes the best lenses!"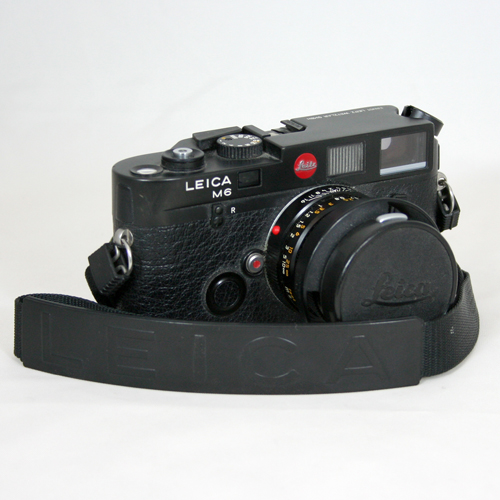 Oliver People's Sunglasses -- "The style is called the Isla. I love these sunglasses although don't have enough opportunity to wear them in London!"
Jar of sweets -- "This makes my office a place people want to drop in to...They are especially popular with the messengers."
Collection of Domus Books -- "I reference these endlessly for anything design related...and they add a refreshing pop of color amongst the necessary boring files and binders which crowd my shelves."
Three Pocket Bag -- "It's the key style of the Autumn/Winter 2009 Collection. It was inspired by my mother's style during that period of glamorous jet set travel in the '70s. I am looking forward to seeing its debut in our shops in the next few weeks."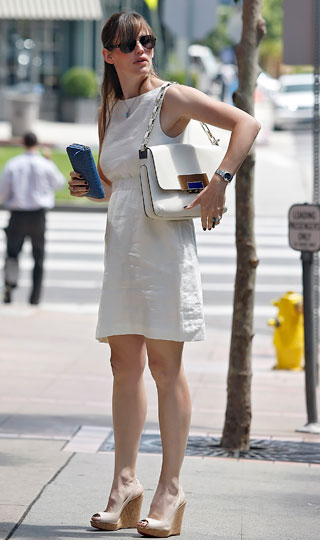 Jennifer Garner wearing the Jackson from the Spring/Summer Collection.
1. The first handbag she ever made was for Harpers & Queen (now Harper's Bazaar). It was created as a reader offer and 500 were sold. That was 20 years ago!
2. She sits next to her husband James everyday -- he is the company's CFO.
3. She originally wanted to be an opera singer.
4. She is an art lover and now sits as a trustee of the Design Museum and the Royal Academy.
5. She is obsessed with Welsh Choirs. The office once surprised her by arranging for the most amazing Welsh Choir to sing to her for her birthday.
Rachel Strugatz: Describe your personal style.
Anya Hindmarch: I love to feel pretty and not too obvious - I don't like my outfit shouting louder than me. I get the most use out of the clothing that makes me feel most confident and at ease.
RS: What's a typical outfit for a day in the office?
AH: A shift dress and colorful cashmere cardigan (when the air conditioning is working!) finished off with a piece of bold, statement jewelry and a vintage, oversized men's Rolex watch. I am not very good at walking in high heels; platforms, however, are amazing, providing the same effect with less pain. I've also just bought a pair of Current/Elliot cropped jeans that I'm mad about for the days when I'm running late from seeing the kids off at school.
RS: What are your must-have items?
AH: I love the ease of warm weather dressing and having fun with more vibrant colors. I am currently lusting after the Faustine from my Summer collection - a playful raffia clutch with bold, bright trim. Bags like this can be mood enhancing! I plan to live in the Isadora kaftan at the beach which doubles as a dress for night when you have to pack lightly. I never leave home without my Oliver People's sunglasses, Leica, and my hairy husband and the children (in no particular order)!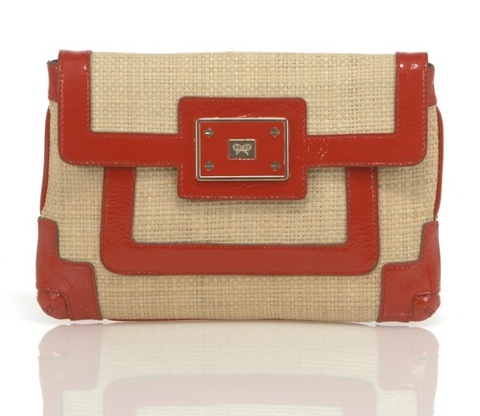 Faustine Clutch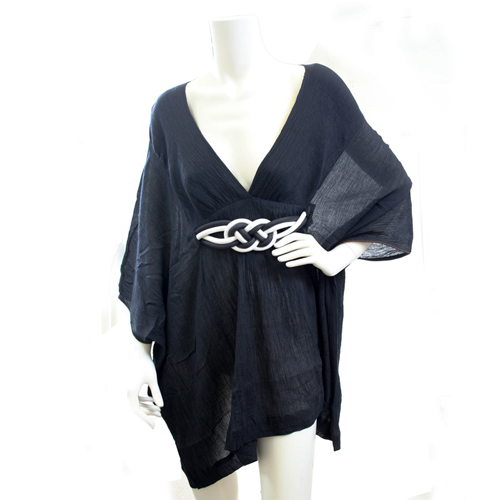 Isadora Kaftan
This Fall, I have my eye on the Three Pocket Bag. I love this graduated tricolor shoulder bag for its unfolding pockets that act as a filing system for your belongings. And since I'm constantly on the run, the Hands Free is a lifesaver. It's light and fits all the 'guts' of your handbag edited right down to just what you need. It looks great worn cross-body; almost like part of your outfit rather than an accessory.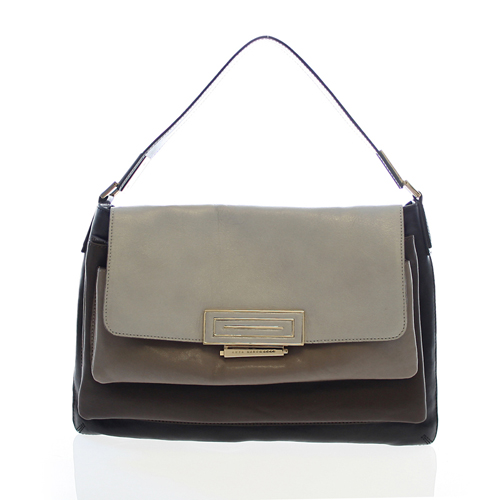 Three Pocket Bag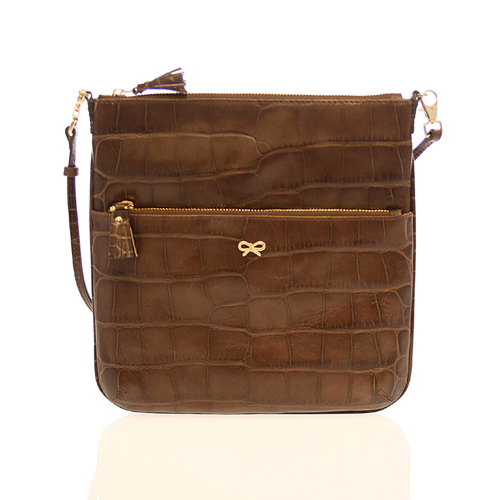 Hands Free Satchel
RS: Why do you think your brand is more relevant than ever these days, especially in light of the current economic climate?
AH: I'm a strong believer that economic hardship breeds innovation and creativity. It has a Darwinian effect on industries, which I think is healthy. People reevaluate their needs and often return to those brands that have heritage. The idea of luxury and quality is very relevant right now given the recent disposable feeling of fashion, which contributes to waste. In these difficult financial times, people want to spend wisely on things that will last and can be handed down.
Craftsmanship, attention to detail, and personalization have always been central to the Anya Hindmarch DNA. I have never been a believer in the "it" bag. I think it is more important to buy something that you love and will cherish for a long time, not something that everybody else has.
I am passionate about offering customers product that has longevity and does not become quickly outdated when the next trend arrives. We have seen a higher demand for investment pieces and have sold more Bespoke Eburys in recent months, for example, than ever before. Customers are spending more wisely on pieces they will treasure forever and are more interested in special 'lifetime' purchases that will transcend all current and future trends.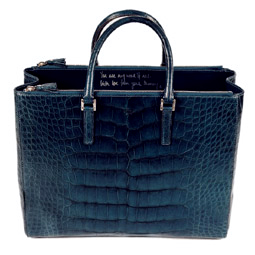 Bespoke Ebury
AH: I am inspired by all sorts of things...memories of my mother's outfits in the '70s, Slim Aaron's photographs of glamorous socialites and frequently architecture -- the period in the late '50s when John Lautner and Arthur Elrod made their mark is a particular source of fascination for me. I am probably most inspired by craftsmen and their traditional ways of working.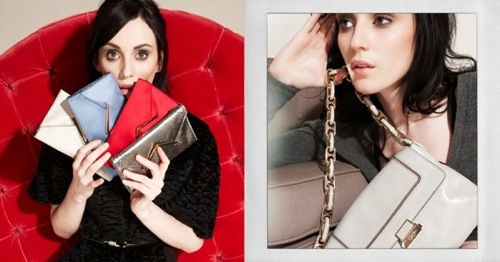 '
Rachel Strugatz can be contacted at rachel.strugatz@gmail.com
Support HuffPost
A No-B.S. Guide To Life
Related
Popular in the Community