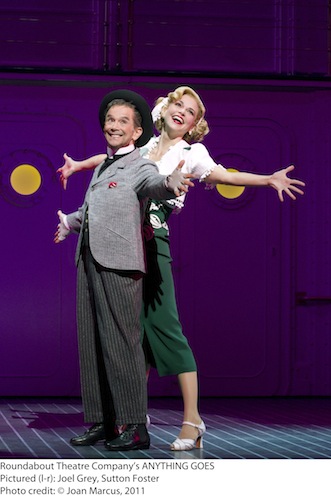 You may be asking yourself, so how relevant can a 1930s show taking place aboard a transatlantic cruise ship, starring an entertaining gangster and a plucky cabaret singer and featuring a couple of crisscrossed lovers really be in 2012 NYC? The short answer is very.
Lets go back to the year 1934 in America, the year Cole Porter's Anything Goes debuted on Broadway, in its first incarnation of the oft revived musical. It is the year which follows President Roosevelt establishing the "New Deal" in 1933, as a response to the Great Depression, and focusing on what historians call the "3 Rs": relief, recovery and reform. It is the year the U.S. Securities and Exchange Commission is established to watch over Wall Street, to make sure another Great Depression won't happen again. And it is the year prior to the establishment of the FBI, with J. Edgar Hoover as its first, and most well-known director. So, the long answer is that the U.S. of 1934 was very much like this country of ours in 2012: uncertainly dark, changing at a dizzying speed and in dire need of strong guidance. The perfect time to watch a show that can both transport and transform its audience.
The Roundabout Theater Company's current production of Anything Goes is just such a show, chock full of contemporary themes and ageless. It delves into our modern media's fascination with infamy, features an androgynously named leading lady and drops quite a few references to drugs, heterosexual and homosexual love. It's also laden with politically incorrect jokes -- a welcomed relief for this Italian trapped in a sometimes uptight PC world -- and spotlights a magnificent score of hard to resist sing-along classics by Cole Porter. It is for these reasons and many more that I'll gladly crown Anything Goes the quintessential American musical.
Apparently, I'm not alone in feeling this big love, after witnessing the smiles, enthusiastic clapping and bopping/foot tapping going on in the audience of the Stephen Sondheim Theater this past Wednesday night. To quote Porter's magnificent lyrics "The Gypsy in Me" finds "Anything Goes" both "Easy to Love" and "De-lovely."
From the very first scene, set in an elegantly moody "smoky Manhattan bar" and highlighted by Sutton Foster's spot on rendition of "I Get a Kick Out of You" I was hooked. Wearing what would turn out to be the first of a virtual parade of outstanding outfits by costume designer Martin Pakledinaz, Foster as her character Reno Sweeney had me mesmerized, with her impeccable style and breathtaking charisma. It's no wonder she won the 2011 Tony Award for playing this part, which at times channels the first Reno -- Ethel Merman -- so subtly, it's brilliant. And the show keeps building upward, reaching its highest peak at the arrival of the legendary Joel Grey, playing gangster Moonface Martin. Turning eighty later this year, Grey remains every bit as wonderfully complex as he was in the 1972 film Cabaret and his performance proves a NYC treat that just should not be missed.
But no matter what I can manage to write about this spectacle, its impeccably talented cast or the astoundingly beautiful sets and costumes, words cannot do it justice. Anything Goes is the kind of necessary extravagance that must be experienced live, in person. I know times are rough, those extra bucks to make it out to a show harder to come by, but isn't it priceless to once more believe in the magic of the theater?
In addition to Foster's award, Anything Goes won Best Revival of a Musical and Best Choreography, for Kathleen Marshall who is also this production's director, at the 2011 Tony Awards. It is scheduled to run in NYC until September 9th, 2012 with a National Tour kicking off at Cleveland's Playhouse Square in October 2012.
Related
Popular in the Community