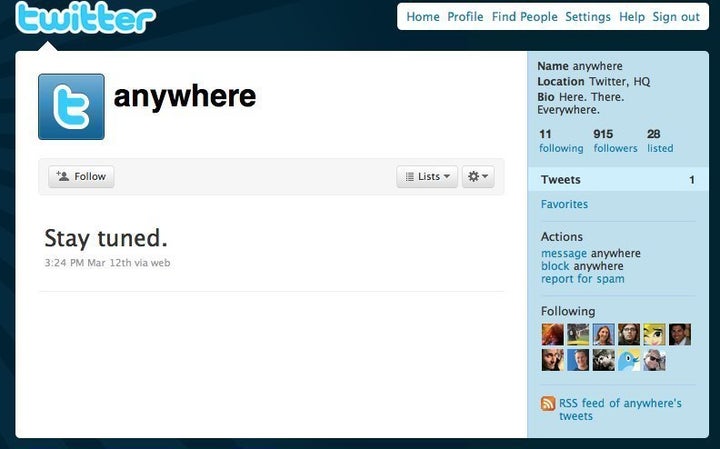 New Twitter app @Anywhere was announced by co-founder Ev Williams during his keynote address at SXSW 2010 in Austin.
@Anywhere will allow Twitter integration for Web sites. There are 13 pilot partners: The Huffington Post, Amazon, AdAge, Bing, Citysearch, Digg, eBay, Meebo, MSNBC.com, The New York Times, Salesforce.com, Yahoo!, and YouTube.
The @Anywhere Twitter account has been rapidly been picking up followers since the announcement. It grew from a handful to more than 1,000 in less than 20 minutes.
We've developed a new set of frameworks for adding this Twitter experience anywhere on the web. Soon, sites many of us visit every day will be able to recreate these open, engaging interactions providing a new layer of value for visitors without sending them to Twitter.com. [...] Rather than implementing APIs, site owners need only drop in a few lines of javascript. This new set of frameworks is called @anywhere.
A brief demo of @Anywhere showed off "hovercards" that bring up Twitter information with a mouse-over, let readers or users connect with their Twitter accounts much like Facebook Connect, or explore more specific possibilities, like instantly following a newspaper columnist's Twitter account by clicking on his or her byline.
Popular in the Community