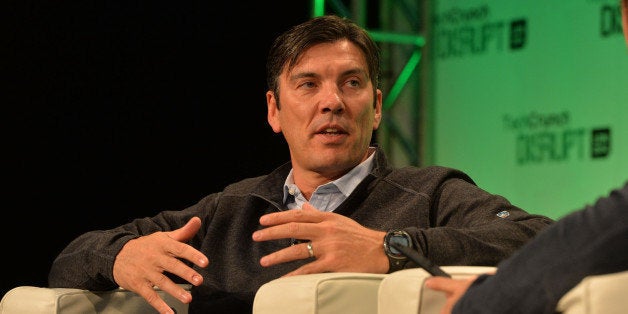 NEW YORK -- AOL CEO Tim Armstrong said Tuesday morning that the company's $4.4 billion acquisition by Verizon would bolster AOL's hope of dominating the burgeoning and lucrative mobile ad market.
Comparing to the company's mission to an airplane's flight path, Armstrong said selling to Verizon was not changing direction but, rather, "extending the tarmac."
"This is not a deal done out of necessity," he said before a crowd of staffers gathered in the fourth-floor reception room of the company's Manhattan headquarters. "This is a deal done out of where the future is overall."
According to Armstrong, one benefit of the deal announced Tuesday morning will be that, thanks to AOL's push to make its wide variety of media properties mobile-friendly, the merged company will have access to a huge amount of user data from those sites. And while Armstrong did not mention it, data could also flow in the other direction, from legacy Verizon businesses to AOL media properties. The elusive end goal for tech companies is to squeeze every possible penny out of, or 'monetize,' the data they collect. Monetizing data generally means sharing it with other companies, which tends to make the privacy-minded users who generate that data uncomfortable. Now, Verizon and AOL will be able to monetize their data without sharing it with outside parties.
Though Armstrong insisted Verizon wanted to buy AOL mostly for its content properties -- which include The Huffington Post, Engadget and TechCrunch -- many have speculated that the company's newly launched automated ad platform, AOL One, is the real prize. AOL earned $995 million from display and search ads on its own properties last year. The company made almost as much -- $856 million -- selling ads for third-party sites, according to Fortune. Still, Armstrong said all editorial brands were included in the deal, allaying worries about spinoffs, at least in the near term.
The deal may also boost the companies' work around mobile video.
AOL began investing heavily in video two years ago, when ad sales for online video in the U.S. hit $2.8 billion, a 19 percent increase from the previous year, according to the Interactive Advertising Bureau. That year, the company bought the programmatic video ad platform Adap.tv -- which became a cornerstone of AOL One. A month later, HuffPost launched HuffPost Live, the publication's streaming video network.
"Mobile is the centerpiece," Armstrong said. "We need to be on every single screen."
Verizon, which streams television channels through its FiOS division, also has a hand in the lucrative live-sports business with the exclusive NFL Mobile app.
"You're going to be at a company that does everything from NFL live games to HuffPost Live," Armstrong said.
He said the deal was completed just after midnight, hours before the public announcement was made. It began as an operational deal, but became a merger. If the acquisition gets the green light from regulators, the deal will close before the end of summer, Armstrong said.
"This deal," he said, "puts us at the big table."
Jenny Che and Damon Beres contributed reporting.

Calling all HuffPost superfans!
Sign up for membership to become a founding member and help shape HuffPost's next chapter