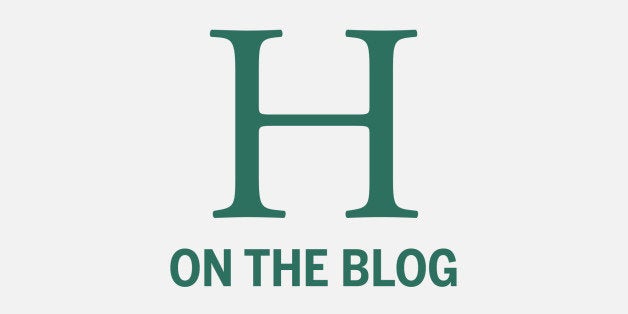 It used to be, video was one thing -- video. But as the worlds of television and Web hurtle toward their now seemingly inevitable convergence, a number of the web's largest players are staking unique claims in the future of video.
This week content creators, distributors, ad sales executives and gathered in New York to rally the troops and unleash new deals, programs, and audience measurement options for the emerging web video community.
Oh, and don't forget drinking. There was a lot of that too.
Yaho event on Monday night was both literally and figuratively in a big tent pitched on the grounds of Lincoln Center. The backdrop of quality arts served Yahoo well, as Marisa Mayer opened the event -- leading the packed house through a hour plus long journey into Yahoo Originals and programming.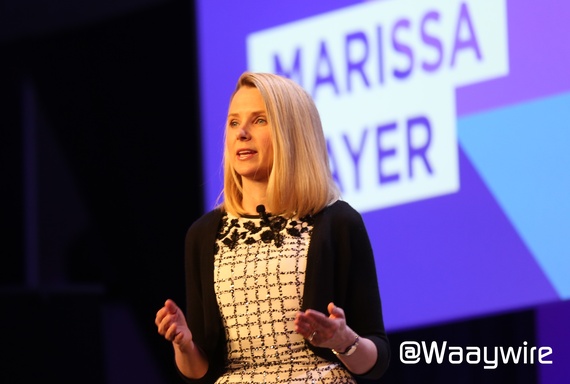 The presentation was data-driven, and Yahoo under the leadership of Mayer is listening to where the data is driving them. Mobile Video consumption grew a staggering 38 percent -- year over year, and 35 percent of all primetime viewing is now via DVRs -- excluding sports. Simply put, users are shifting their behavior to 'on demand' and self-programed content consumption. "Consumers Are Now Programmers" proclaimed Yahoo in big bold letters.
"We are in a time of rapid and dramatic change in how people view content online," said Kathy Savitt, Yahoo's CMO and the leader of their video effort. "Our goal is to not only enable the future but also to help invent it. Yahoo is focused on connecting artists, storytellers, great content producers and brands with the audiences they want -- at scale, across devices, every single day.
Yahoo announced new series, and content partnerships that are sure to make some waves. But the big news was an exclusive, live partnership with Live Nation. Already the largest producer of live music worldwide, Live Nation's CEO Michael Rapino explained: "Sixty million people attended our 23,000 Live Nation concerts last year. "he Live Nation Channel on Yahoo will become a great, new destination for music fans." The plan is for a live concert, every night -- 365 days a year. For music fans, this is a Big Deal. If Live Nation brings its "A-list" stars to this channel, it could be a new powerful home for live music fans at Yahoo.
Yahoo's focus on big name partners, live music, and the power of their Tumblr sharing social eco-system give them a unique foothold in video.
The next night -- at a completely different venue -- AOLon Premiered it's "NewFront" take on video.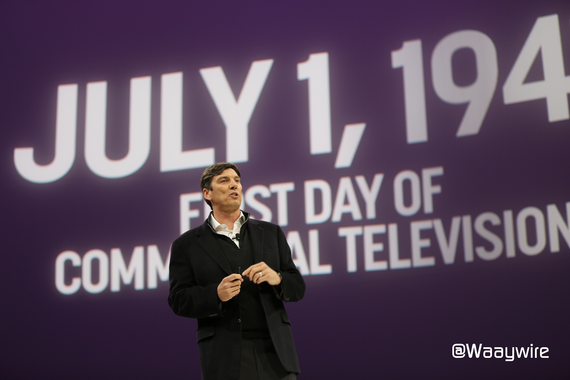 Attendees were ferried across the East River via water taxi to a warehouse in Brooklyn, to the Massive Duggal Greenhouse. AOL (AOL -0.14 percent) CEO Tim Armstrong announced 16 original shows featuring big-name talent like James Franco, Steve Buscemi and Olympian skier Bode Miller.
Ran Harnero, president of video at AOL, made it clear there were five key elements: creation, curation, programming, distribution, and monetization. AOL is doubling down on original production -- using their content partnerships to drive audience, and their originals to drive brand value and tune in. It's a smart way to leverage their assets, and Armstrong went out of his way to embrace the three founders of 5min, the video startup that AOL purchased in 2010. The three founders, who've stayed on -- have morphed the innovated 5min into the now growing and powerful AOLon.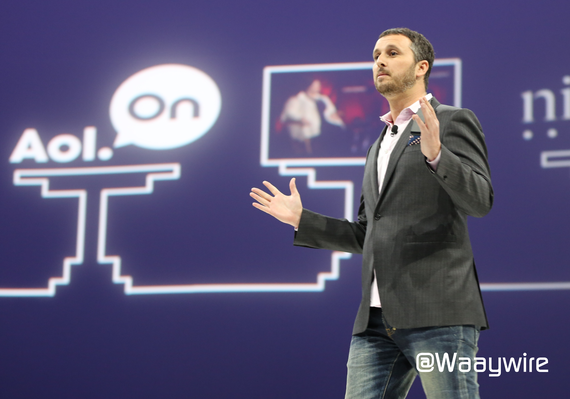 On the original production side, James Franco will star in "Making a Scene with James Franco," transgender musician Laura Jane Grace is producing and hosting "So Much More," Kevin Nealon and Portia de Rossi's "Laugh Lessons" is about funny kids, Mike Epps' "That's Racist" explores cultural stereotypes to find out how they began and why they linger, Nicole Richie will return with a new season of her show "Candidly Nicole." AOL is partnering with Israeli producers and US producer/director Morgan Spurlock for "Connected," a long-form series of first-person POV mini-docs that could help but remind me of the early days of MTV UNfiltered.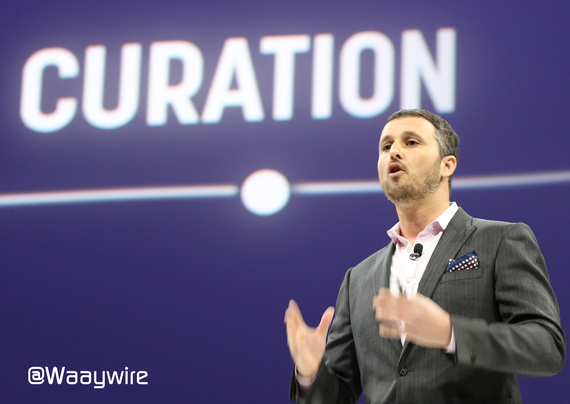 "In 2009, we were... the new kid on the block," Armstrong said. "Now we feel we are at the forefront of video."
Last but not least of the "Big Three" tentpole night presentations was Google Brandcast, the Newfront presentation for YouTube's content at Madison Square Garden.
This was the 3rd year for a YouTube NewFront, and after some rethinking last year, it seems like they strode on stage with a vision, confidence, and a plan to deliver on serious promise to both advertisers and audiences. Just three months on the job as the new CEO of YouTube, Susan Wojcicki clearly is bringing her background at Google. Until taking the helm at YouTube, Wojcicki lead Google's ad products including AdWords and AdSense, Analytics and DoubleClick. Bringing in an astounding 87 percent of the company's $50 billion revenue in 2012.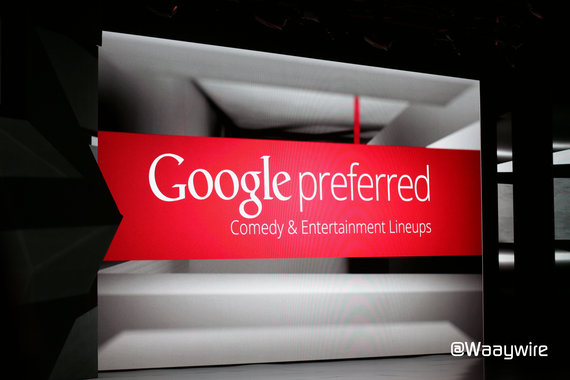 "The internet gives us the opportunity to redefine the video experience," Wojcicki said. Last year, YouTube shifted from branded content to "native" -- originals produced by actual YouTubers. This year, they rolled out Google Preferred, allowing advertisers to buy the top 5 percent of YouTube channels, along with Neilsen and Comscore measurement and something that advertisers have long had in broadcast TV -- audience guarantees. There were no "mainstream" publishers on stage this year, instead YouTube featured Bethany Mota, Soul Pancake, Vice and DanceOn.
YouTube's Robert Kyncl made it clear -- Google wants its advertisers to know how hard they're working to make them happy... bringing Pharrell Williams on stage to rock the house to his hit tune, "Happy."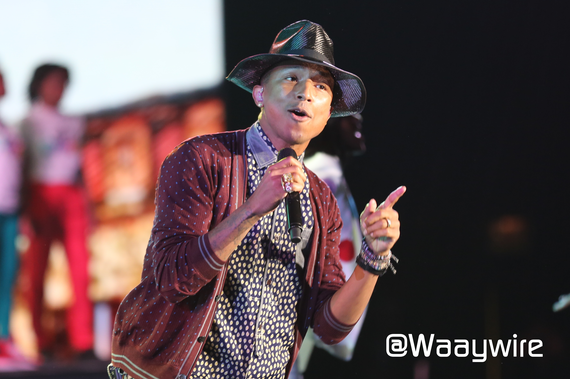 Yahoo, AOL, YouTube -- all driving hard to have a major impact on television (the space formerly known as web video). In each case, they made a compelling case that they were on a good track. And giving the drive toward connected TVs, mobile viewing, and the demand from advertisers to reach new web audiences, the simple fact is it's not a zero sum game. They've each got a plant and a strategy that could work, and should result in more choices and more quality for audiences.
REAL LIFE. REAL NEWS. REAL VOICES.
Help us tell more of the stories that matter from voices that too often remain unheard.