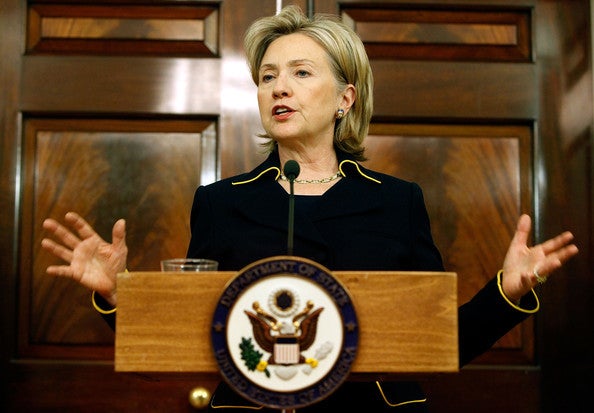 The Associated Press reports that Clinton Foundation Donors were granted access to meeting Secretary Clinton. The AP states "Combined, the 85 donors contributed as much as $156 million." In addition, Hillary Clinton's willingness to meet with Clinton Foundation donors is highlighted in an AP article by Stephen Bruan and Eileen Sullivan titled MANY DONORS TO CLINTON FOUNDATION MET WITH HER AT STATE:
WASHINGTON (AP) ‑‑ More than half the people outside the government who met with Hillary Clinton while she was secretary of state gave money ‑ either personally or through companies or groups ‑ to the Clinton Foundation. Itʹs an extraordinary proportion indicating her possible ethics challenges if elected president.

At least 85 of 154 people from private interests who met or had phone conversations scheduled with Clinton while she led the State Department donated to her family charity or pledged commitments to its international programs, according to a review of State Department calendars released so far to The Associated Press. Combined, the 85 donors contributed as much as $156 million. At least 40 donated more than $100,000 each, and 20 gave more than $1 million…

The 154 did not include U.S. federal employees or foreign government representatives. Clinton met with representatives of at least 16 foreign governments that donated as much as $170 million to the Clinton charity, but they were not included in APʹs calculations because such meetings would presumably have been part of her diplomatic duties.
Including foreign governments that were "part of her diplomatic duties," Clinton met with people or governments who donated around $326 million to her foundation. I state my own view of this precarious arrangement in the following YouTube segment.
The latest AP revelation correlates to a recent CNN piece titled If Clinton wins, foundation says it won't take foreign money:
(CNN)The Clinton Foundation said Thursday it will not accept foreign or corporate donations if Hillary Clinton is elected president in November.

The decision comes amid intensifying scrutiny over the foundation's practices as Republicans use its connections to wealthy international players to attack Clinton's tenure as secretary of state. Bill Clinton also plans to cease giving paid speeches ― another move intended to prevent further accusations of cronyism…

This week, State Department officials have faced questions this week about the department's interest in purchasing land for a US embassy in Lagos from Lebanese-Nigerian businessmen Ronald and Gilbert Chagoury. Gilbert Chagoury has donated more than $1 million to the Clinton Foundation, according to the foundation's website, which also notes that The Chagoury Group ― run by the brothers ― pledged to commit $1 billion to fight coastal erosion.

Over the weekend, former Democratic Pennsylvania Gov. Ed Rendell, a Clinton supporter, told The New York Daily News the foundation should be disbanded if she's elected.

"I definitely think if she wins the presidency, they have to disband it. I know it'll be hard for President (Bill) Clinton because he cares very deeply about what the foundation has done," Rendell said. "It'd be impossible to keep the foundation open without at least the appearance of a problem."
While the Clinton campaign claims nobody influenced Hillary Clinton, despite millions in Clinton Foundation donations, Bill Clinton has called for an end to accepting foreign money. I explain my viewpoint of this new Clinton Foundation arrangement in the following YouTube segment.
Finally, it's important to put the pieces of this story together, so that future generations will be able to decipher why we ignored obvious ethics violations. The impact of money upon Clinton's decision-making is highlighted in an International Business Times piece by David Sirota and Andrew Perez titled Clinton Foundation Donors Got Weapons Deals From Hillary Clinton's State Department:
Even by the standards of arms deals between the United States and Saudi Arabia, this one was enormous. A consortium of American defense contractors led by Boeing would deliver $29 billion worth of advanced fighter jets to the United States' oil-rich ally in the Middle East.

Israeli officials were agitated, reportedly complaining to the Obama administration that this substantial enhancement to Saudi air power risked disrupting the region's fragile balance of power. The deal appeared to collide with the State Department's documented concerns about the repressive policies of the Saudi royal family.

But now, in late 2011, Hillary Clinton's State Department was formally clearing the sale, asserting that it was in the national interest. At press conferences in Washington to announce the department's approval, an assistant secretary of state, Andrew Shapiro, declared that the deal had been "a top priority" for Clinton personally. Shapiro, a longtime aide to Clinton since her Senate days, added that the "U.S. Air Force and U.S. Army have excellent relationships in Saudi Arabia."

…These were not the only relationships bridging leaders of the two nations. In the years before Hillary Clinton became secretary of state, the Kingdom of Saudi Arabia contributed at least $10 million to the Clinton Foundation, the philanthropic enterprise she has overseen with her husband, former president Bill Clinton. Just two months before the deal was finalized, Boeing ― the defense contractor that manufactures one of the fighter jets the Saudis were especially keen to acquire, the F-15 ― contributed $900,000 to the Clinton Foundation, according to a company press release.

The Saudi deal was one of dozens of arms sales approved by Hillary Clinton's State Department that placed weapons in the hands of governments that had also donated money to the Clinton family philanthropic empire, an International Business Times investigation has found.

Under Clinton's leadership, the State Department approved $165 billion worth of commercial arms sales to 20 nations whose governments have given money to the Clinton Foundation, according to an IBTimes analysis of State Department and foundation data. That figure ― derived from the three full fiscal years of Clinton's term as Secretary of State (from October 2010 to September 2012) ― represented nearly double the value of American arms sales made to those countries and approved by the State Department during the same period of President George W. Bush's second term.
In terms of weapons deals, Clinton's tenure "represented nearly double the value of American arms sales made to those countries and approved by the State Department during the same period of President George W. Bush's second term."
In order to finally question the loyalties of Bill and Hillary Clinton, The Washington Post and New York Times might need a hand written thank you note stating "We appreciate the money, Bill and I thank you." However, nobody will ever find a "smoking gun" email or letter, especially if the FBI's James Comey couldn't even conclude that Clinton intended to use a private server. Ultimately, the next WikiLeaks revelations might focus even greater attention upon Hillary Clinton's tenure as Secretary of State. Combined with questions about foreign donors and WikiLeaks DNC emails showing Bernie Sanders was cheated during the primary, Clinton's 5.5 point national lead might be in jeopardy. If more damaging information is leaked, or acquired by various organizations battling the State Department in court, Americans can't discount the possibility of a Trump presidency.
Related
Popular in the Community