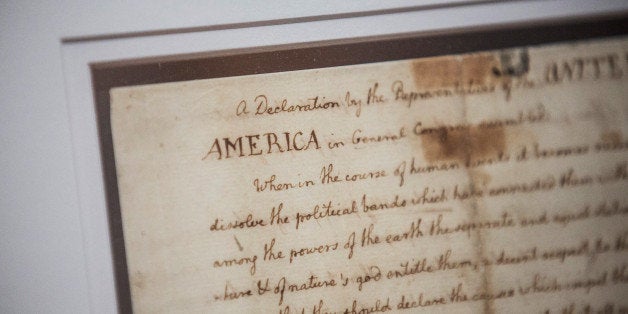 History is the most difficult subject to write K-12 standards for, and for one simple reason: the discipline is bursting with information. There's not enough time, even over 13 years of public schooling, to teach students everything that is good to know in the subject. Of course, that doesn't stop pundits and parents from protesting -- often loudly -- when some preferred person or event is left out.
The new AP U.S. history framework is the most recent effort to raise howls. The College Board has begun revising many of its frameworks and tests in order to reflect changes in scholarship and better align with current college freshman-level survey courses. According to the College Board, the new AP course will emphasize students' "ability to think critically, construct solid arguments, and see many sides of an issue." Gone are the lists of topics, replaced by 27 "key concepts" each supported by 3-4 related concepts.
By my estimate, that's over 80 content standards. That sounds like a lot, yet it's still not enough for some. In an analysis for the Heartland Institute, retired AP teacher Larry Krieger denounced the framework for, among other things, the alleged "excising" of James Madison and Benjamin Franklin from the historical record (because they were not specifically named); its "dismissal" of the Declaration of Independence, Jefferson and Washington (although all are specifically addressed, just not enough); and an imbalance in content that, Krieger claims, stresses America's negatives over its good.
Krieger's critique was soon picked up by the National Review, Breitbart and Glenn Beck who see something pernicious in the rewrite amounting to "left-wing indoctrination." They have also conflated the AP revisions with the Common Core standards, even though one has nothing to do with the other. In Texas, the possible connection concerned a member of the state board of education enough that he is introducing a resolution to "rebuke and reject" the teaching of AP U.S. history in the state. Texas could be just the first.
Which brings me back to the first point: it is really difficult to write history standards. I am reminded of a very sensible question a former colleague would often ask: "if we add [favorite topic here] to the standards, what are we willing to take out?" History courses are already packed. Great political figures and major military engagements represent only a part of what a rigorous program should provide today's students. A half century of scholarship has opened up social, economic, cultural and other lenses for viewing the past that add depth and texture to the historical picture. Every subject area -- math, sciences, the arts and technology -- also has a history that contributes to our understanding of those fields. On top of all this, teachers need time to help students develop their capacity to think critically and analytically about the material.
So educators have to make choices, and there's the rub. Every story has its champions ready to engage in metaphorical combat over what should survive out of the many worthwhile stories to tell, not to mention how to tell them. And nowhere is the battle more contentious than in deciding what is important in U.S. history to teach our future citizens.
That leaves standards writers with the thankless task of trying to reconcile disparate camps. Compromise has typically been achieved one of two ways: by drafting statements that are so broad they please everyone, offend no one, and provide little guidance for teachers; or by including every topic that everyone wants, resulting in history standards that move from one fact to the next with no room for students to develop any real understanding.
Educators have often charged that the AP U.S. history framework took the latter route, something the College Board was attempting to correct with the new revision. How successful they were is clearly a topic worthy of discussion. But as a long-time standards reviewer, I'd like to offer a few things to keep in mind when considering the content of the new AP framework:
First, the framework is not a curriculum. Rather it is designed to leave decisions to teachers about the particular topics to teach and concepts to emphasize. Likewise, the AP test will feature questions that can be answered effectively by drawing from a range of historical topics for evidence. This means that no AP classroom will look exactly like the next.
Second, AP courses are intended to model college-level survey courses, and the College Board consults with universities and faculties to validate that they do. Critics who are concerned about the content might do better to direct their barbs toward higher ed.
Finally, students have history every year in public school beginning in at least first grade, and likely study American history yearlong in both fifth- and eighth-grades. We can assume AP students already know who George Washington is. If they don't, we have much bigger problems to deal with than worrying about what the College Board is up to.
I have my own quibbles with the new framework. For example, I think it could have done more with science, technology and the arts and their role in defining the U.S. But in order to include this content, what am I willing to take out?
I'll need to think about that.
A version of this appeared on the EDifier at www.centerforpubliceduction.org.
REAL LIFE. REAL NEWS. REAL VOICES.
Help us tell more of the stories that matter from voices that too often remain unheard.