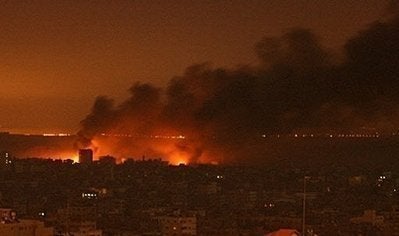 In one of the most moving accounts of the war in Gaza, Ibrahim Barzak, the Associated Press's chief correspondent there for 17 years -- called "the best reporter in Gaza" by a Jewish colleague -- today wrote of watching his own home destroyed on YouTube. But who is Ibrahim Barzak?
First, his account. Here is full link, but an excerpt now:
I live alone in my office. My wife and two young children moved in with her father after our apartment was shattered. The neighborhood mosque, where I have prayed since I was a child, had its roof blown off. All the government buildings on my beat have been obliterated. After days of Israeli shelling, the city and life I have known no longer exist.
Three days after Israel began its airstrikes against Hamas militants on Dec. 27, my apartment building was shaken by bombs aimed at a nearby Hamas-run government compound. My brother took a picture of the room where my boys, 2-year-old Hikmet and 6-month-old Ahmed, once slept. Their toys were broken, shrapnel had punched through the closet and the bedroom wall had collapsed. I don't know if we will ever go back.

There are other pictures that haunt me. The Israeli army issued a video of the bombing of the Hamas-run government compound, which it posted on YouTube. In it, I also can see my home being destroyed, and I watch it obsessively.

Some of my colleagues lost their houses to the shelling as well, and are sleeping on mattresses spread across the floors of an apartment upstairs from The Associated Press bureau.
But who is Ibrahim Barzak? His late father was also an AP correspondent and he inherited his position, more or less, from him. He's been covering the Gaza conflict in the past weeks, just yesterday sharing a by-line on the main account of the horrific shelling of the U.N. school.
A colleague, Ron Kampeas of JTA, the well-respected news service "for the Jewish people," tells us much more about hm today in a remarkable posting, calling him "the best reporter in Gaza." Kampeas has known him for about 17 years, since they worked together at AP.
He is an assiduous, just the facts reporter. He never raises his voice and always asks the tough questions. He has risked his life more than once for his job, and more than once for pissing off the Palestinian powers that be.

So I bristle -- I bristle hard -- when some moron who thinks he is making some kind of case for Israel writes about how Palestinian reporters are implacably biased (and I wonder whether these fools realize how hard those accusations make it for Israelis and Jews who are reporting in the region)."
Read the whole thing. As well as Barzak's account of his personal loss.
UPDATE: Barzak still on the job reporting on Thursday, helping with this shocking report. *Greg Mitchell is editor of Editor & Publisher. His latest book, on Iraq and the media, is "So Wrong for So Long."
Popular in the Community