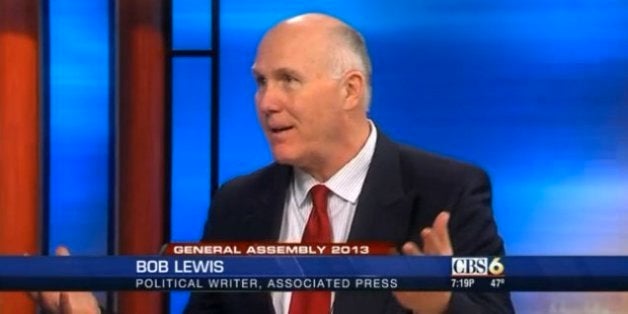 NEW YORK -- The guild that represents employees of The Associated Press responded Tuesday to the recent firing of journalists involved in a retracted story about Virginia gubernatorial candidate Terry McAuliffe, saying the employees' rights were violated.
"The firings have alarmed AP employees nationwide, and the News Media Guild will vigorously enforce the contractual rights of the employees it represents," Guild president Martha Waggoner told The Huffington Post in a statement.
The Huffington Post first reported Monday that the AP had fired veteran Virginia political reporter Bob Lewis and Richmond-based editor Dena Potter over an erroneous Oct. 9 report alleging that McAuliffe had lied to a federal investigator.
Atlanta-based AP editor Norman Gomlak confirmed Tuesday that he had also been fired over the McAuliffe story. (Politico was first to publish Gomlak's name after HuffPost revealed earlier Tuesday that a third employee had been fired.)
In a statement to HuffPost, Gomlak said he is "extremely disappointed by the AP's response to this unfortunate incident."
"I take my integrity as a journalist very seriously, and I strived to do my best under challenging circumstances," he said. "I was also saddened by the treatment of my two colleagues: Bob Lewis, a well-respected 28-year AP veteran, and Dena Potter, who was nothing short of a model employee for the news organization. I refer further questions to the News Media Guild."
The Guild represents Lewis and Gomlak, though it is legally barred from representing Potter because she held a management position. The union has filed a grievance demanding Lewis and Gomlak's immediate reinstatement, according to Guild administrator Kevin Keane.
"We claim the firings violate the Job Security article of the contract," Keane said. "They were also denied dismissal pay which violates the Dismissal Pay/Severance terms. A refusal to comply with the demand can be submitted to arbitration by the Guild. The arbitrator has the authority to issue a final and binding decision on the issue."
The firings have shocked journalists long familiar with Lewis' work out of Richmond –- where he's been dubbed the dean of the press corps -– and politicians on both sides of the aisle.
"Big loss for Virginia. @APBobLewis is an even-handed, talented reporter & a class act," tweeted Democratic Sen. Tim Kaine.
Gov. Bob McDonnell, a Republican, tweeted that Lewis and Potter "have always been fair, tough and smart. Virginians deserve dedicated reporters like them." Lieutenant Gov. Bill Bolling added that Lewis "is one of the most respected reporters in Richmond" and "did not deserve this."
The AP declined to comment Monday on personnel matters and has not yet released any official statement.
This article was updated after publication with additional information from the News Media Guild and a statement from Norman Gomlak.
Support HuffPost
The Stakes Have Never Been Higher
Related
Popular in the Community