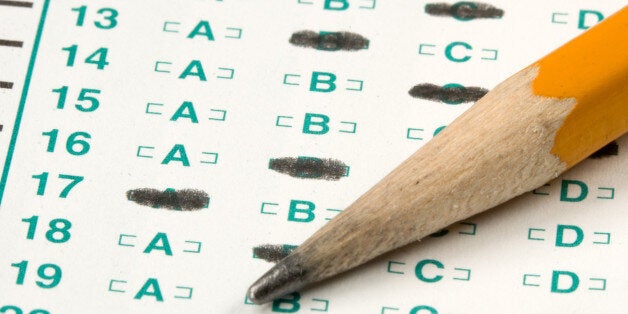 From South Carolina to Colorado, conservative activists want to make sure that teachers do not use the College Board's new framework for Advanced Placement U.S. History classes.
Over the past few months, conservatives have criticized the new AP U.S. History course framework -- set to hit classrooms this fall -- claiming that the course structure contains anti-American biases. While the College Board has called the claims baseless, school districts around the country are reconsidering their use of the course.
Jane Robbins, senior fellow at the conservative advocacy group American Principles Project, told The Huffington Post in August that she thinks the course is a "leftist revisionist slant on history."
"It doesn't emphasize any positive things about [American history]; I'm assuming whoever wrote it has that view," Robbins said.
But the College Board has maintained that these charges misrepresent the course. In August, The College Board released a sample AP US History exam to quell concerns. David Coleman, president of the organization, also released a letter defending the framework, saying that he "reviewed the claim that the new AP U.S. History course 'will erase the great sacrifices from the minds of America's children.'"
"We hope that the release of this exam will address the principled confusion that the new framework produced," he wrote. "The concerns are based on a significant misunderstanding. Just like the previous framework, the new framework does not remove individuals or events that have been taught by AP teachers in prior years. Instead, it is just a framework, requiring teachers to populate it with content required by their local standards and priorities."
Notably, according to The College Board website, the organization decided to revise the course's framework after "teachers and professors participating in the AP U.S. History program expressed strong concerns that the course required a breathless race through American history." The new framework was developed by teachers and professors, who received feedback from hundreds of other teachers.
The authors of the new framework recently noted in an open letter that they did not include the specific mention of historical figures in the course's framework because teachers already know to educate students on these leaders.
"Critics who believe we have omitted them from the course are misunderstanding our document, and we request that they examine the AP Practice Exam as evidence of our determination that AP students must be exposed to a rich and
inclusive body of historical knowledge," says the letter, obtained by Education Week.
Below we have included the practice AP U.S. History exam released by the College Board, as well the course's framework. Does this test and its accompanying framework contain an anti-American bias? You be the judge.
Popular in the Community