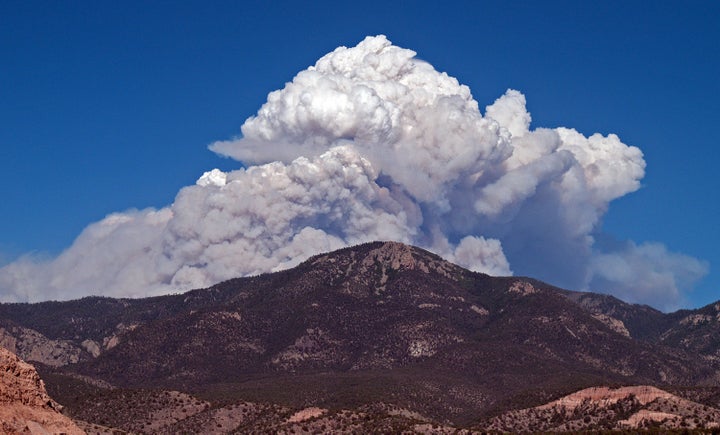 In American history, there have been many icons that we know about, but also a few most of us have never heard of who have had an impact on so many people in their journeys through life. Elbys Onea Naiche Hugar was one such soul.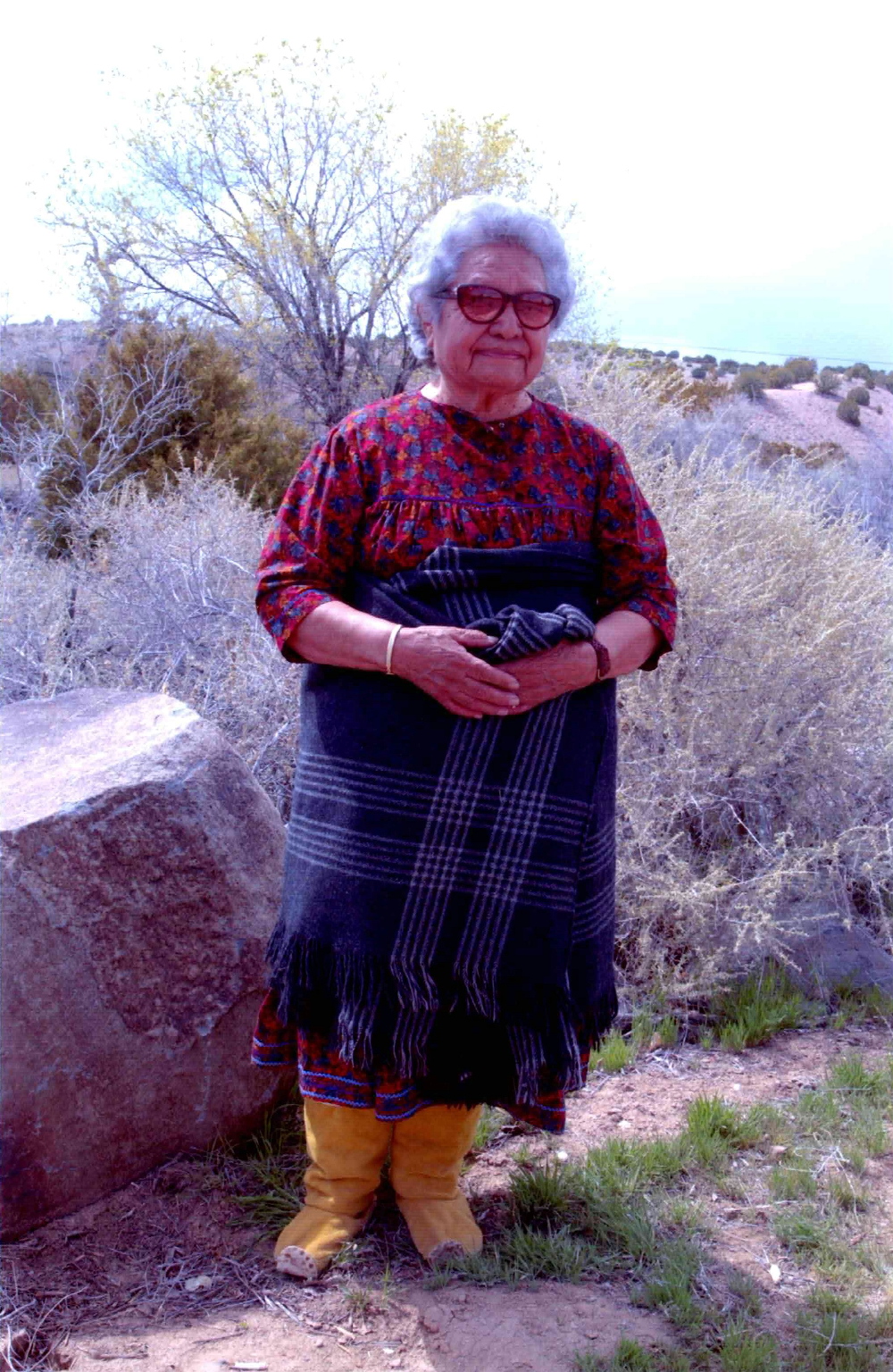 She was a true American icon who passed away at age 82 at midday on June 13 in Mescalero, New Mexico. She was surrounded by her family who are the direct descendants of the legendary Chief of the Chiricahua, Cochise.

Cochise was the closest thing the Apache had to a King. He united many of the Apache bands and leaders and was considered a great commander and peacemaker among his people. Elbys was the great-granddaughter of Cochise. Her grandfather was Chief Naiche, one of Cochise's two sons. Naiche was the last leader of the only free band of Indians left in America in the 1880s, alongside Geronimo. Naiche was held as a prisoner of war for almost 28 years, along with other Chiricahua Apaches. His son Christian Naiche Jr., who was Elby Hugar's father, was born a prisoner of war.

The Chiricahua Apache were exiled longer than any other Indian Nation in U.S. history. During those 28 years, they lived in unbelievably harsh conditions in Alabama, Florida, and Oklahoma.

When they were freed almost 100 years ago in 1913, some of them went to New Mexico where the Mescalero Apache people welcomed them and gave them some of their lands. To this day, they live as one with the Mescalero and the Lipan Apache, up in the Sacramento Mountain region.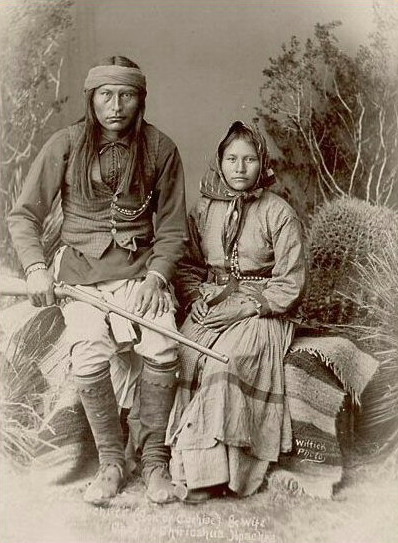 Elbys Onea Naiche Hugar was the last of her breed. In her crackling sweet voice that commanded attention, she told me that she was the last of her generation. All of her close family members had passed away, so she was the only one left.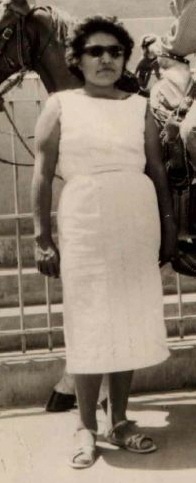 In Native tradition, women are known as "life givers." They are the decision makers. To the Apache, Elbys was a prominent woman, honored and revered by everyone. Throughout her life, she set a great example for other Apache women with her grace, beauty, kindness, generosity and leadership skills. She had an uncommon talent for sharing the vast knowledge that she had inherited.

So it was natural that Elbys was sought out by the best movie directors and historians. She was unequaled in her dedication to the preservation of her Apache language and her ability to communicate her expert knowledge.

She co-authored the first Mescalero Apache Dictionary and consulted on numerous film and television projects, including Know Your Roots, Geronimo and the Apache Resistance, The Missing and Geronimo (from the PBS Series, We Shall Remain). I had the pleasure of working with Elbys when Ron Howard hired her as a linguistic expert and historian to help prepare his actors for the award winning film, The Missing. It would be the first time the Chiricahua dialect would be spoken by the actors who portrayed them. Even in the film Geronimo (Walter Hill, 1993), the language was incorrect; the actors did not speak the Chiricahua but Western Apache dialect.

Elbys dedicated herself to making The Missing as authentic as possible, giving the lead actors Apache dialect lessons each day for several hours. She was on the set every day, listening on her headphones to make sure we hit the silent L's and the glottal stops that make Athabascan one of the hardest languages to master.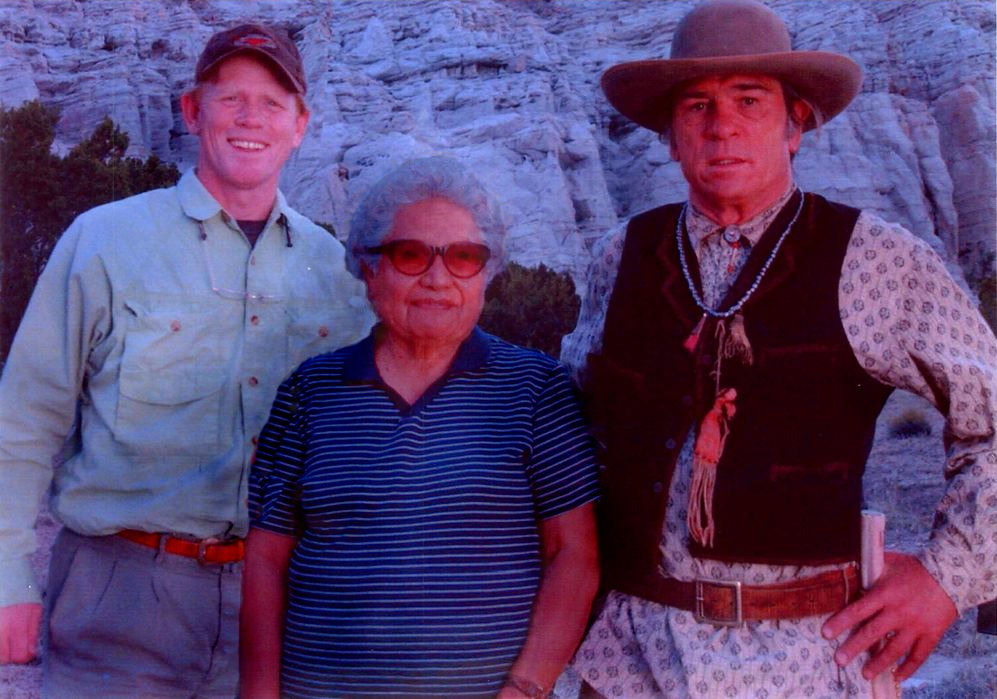 Elbys was last featured on the BBC America's hit travel/adventure/cooking show, No Kitchen Required. We ended the episode with a "Round Dance," a traditional Apache social dance. I never thought that would be my last dance with Elbys.

She was truly an original American who lived a simple life and still touched so many people from all walks of life. Her name and her story are mentioned in many books and her historic bloodline lives through her eight children, Joyce Waters, Debbie Naiche Martinez, Jackie Blaylock Sr., James Natchez, Dennis Blaylock, Ronald Blaylock, Troy Blaylock Sr., and Alda Mae Enjady; and her 22 grandchildren and 39 great-grandchildren.

I was so moved with emotion to be invited to Mescalero to be an honorary pallbearer and to be one of the few honored speakers at her service on Saturday, June 16, 2012. We followed her remains to a sacred cemetery that houses the graves of many historic Apache leaders and chiefs, including Chief Naiche, her grandfather; and Christian Naiche, her father.

Elbys had said that if we hear thunder when someone is buried, it means they are crossing over; and if it rains, it's God washing away their footprints.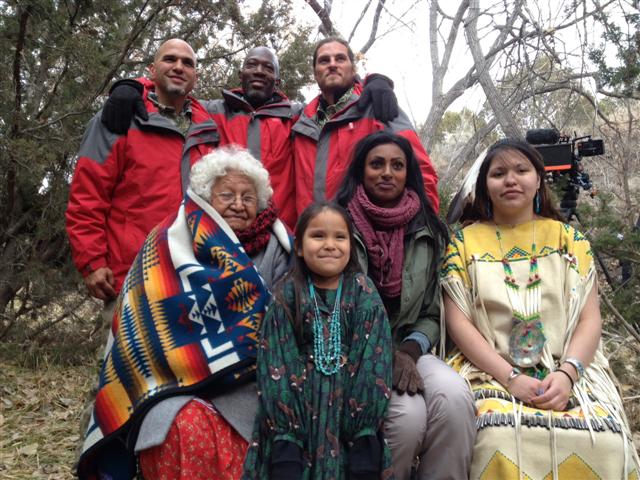 As we lowered her casket into the grave, her sons and a small group of singers sang an old Apache song. Suddenly, the skies broke into a rumbling thunder, as if God was on cue. When she was being buried, the heavens poured down on us, the rain washed everything clean, and in the distance, you could hear an Apache war cry followed by startling gunshots echoing through the mountain canyon.

In the Apache tradition, the men of the family shoveled the earth over her and her belongings, which were buried with her. I felt blessed by the sacred dust of the old graveyard as I helped to cover her one last time. Elbys was a powerful traditional woman and I feel she had power even on her last day above ground.

I will always treasure the fact she gave me my adult Apache name, " 'e na 'l di n," which means "The One Who Remembers." She adopted me into her family, and this is why I am greeted with so much love and respect whenever I visit the reservation in New Mexico.

She taught me to always do my best and have good intentions in everything I set out to do. She would always say, "gu 'zhu daa l," which means "Let all good things happen,"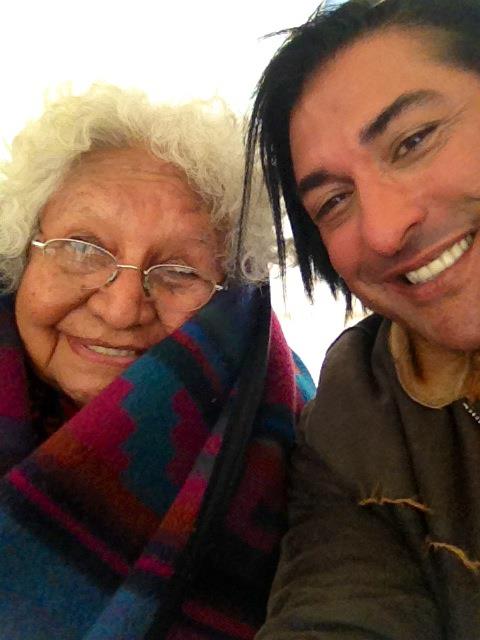 to surrender to the will of something higher even though we want our own desires to manifest so badly. She also taught me to "stay strong"no matter what odds were against me.She would say, "nan 't l ' as," my son, "Keep going strong."

As I share this my heart is full, but I hold back my tears for I know Elbys is now pain free. I know she is on her way to her creator, "Usen," the Apache God. Although she was a traditional Apache woman, she was also an avid Christian who followed the teaching of Christ. At the end of her life, she was reading the Bible from cover to cover for the third time.

She lives on in the heart and spirit of all of us who had the pleasure and the privilege to know this true American icon.
The Apache never say goodbye. We say, "naan dus tse l"... "See you again," my darling Elbys.
(My upcoming musical album, Tears of a Shaman will be dedicated in honor of Elbys Naiche Hugar.)
Photos, top to bottom:
Elbys Hugar
Cheif Naiche with his wife, Ha-o-zinne
Elbys Hugar at age 21 (approximately)
Elbys Hugar with Ron Howard and Tommy Lee Jones on the set of The Missing
Elbys Hugar with the cast of No Kitchen Required, 2012
Elbys Hugar with Jay Tavare, 2012
Related
Popular in the Community