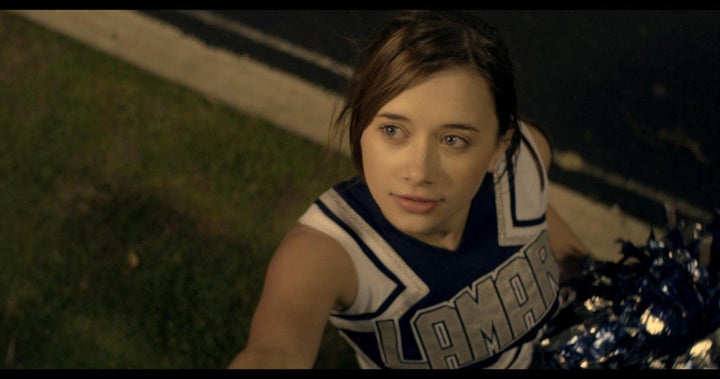 Since the release of "High School Musical" and the subsequent sequels -- "High School Musical 2" and "High School Musical 3: Senior Year" -- Rulin's costars have broken into the Hollywood spotlight, with Zefron and Hudgens starring in some of the year's biggest box office hits.
Now, it's Rulin's turn to shine in the dark indie drama, "Apart," which coincidently, the actress filmed right after wrapping the third -- and final -- "High School Musical" installment.
"Apart" follows a teen (Josh Danziger) who wakes up from a two-year coma. As he slowly begins to recover his memories, he is forced to come to terms with the underlying suspicions that come with these harrowing events of his life. He finds that he shares a special connection with a girl named Emily (Rulin), as the two share a rare psychological disorder classified as ICD-10 F24, or madness of two.
The Huffington Post chatted with Rulin about her new indie role, her experience as a certified nursing assistant and why she wants to be a Disney kid forever.
People are so used to seeing you as a Disney kid. Was that in the back of your mind when you took this role in "Apart?" It's much darker than your previous work.
In part, yes. I really loved the script. It blew my mind how interested I was in this project. I saw it as a challenge. I got it two-and-a-half years ago. It came along two months after "High School Musical 3" came out. I had just been on this amazing train for the past three years of my life doing "High School Musical" and I wanted to do some indie films just to get, quite frankly, some street cred. I just wanted to expand as an actress and play a character that I hadn't had a chance to. I love Disney. I know that some Disney stars want to break out of the Disney mold, but no, if they let me, I would work with Disney until I die.
The film was shot in 20 days, and you had only met your co-star a day before filming, so how long did you have to prepare for this role as someone struggling with a mental disorder?
Luckily, I had a minor in psychology from college, and I used to be a certified nursing assistant, so I had about 12 patients a day in a rehabilitation center for the elderly, so I knew everything about dementia and psychological disorders in general, from a really personal level, so I channeled the logistics of it all. I knew what it would look like for Emily, but I just didn't know how to ingest it. I met Josh the day before we started filming, and we went into a Chilis and sat there for about eight hours, just getting to know each other because we were about to play these characters that loved each other very deeply and share a psychological connection.
Can you tell me more about the disorder? I know that it's based on a true story.
It's a disorder called ICD-10, which is a psychological disorder. It's basically schizophrenia if one person has it, but if there's a close bond with another person, then that person will feel the effects as well. The only way to cure the disorder is to separate the couple, which is what Emily and Noah are going through. The love each other, but they need to be kept away from each other for the sake of their sanities.
It must have been hard to get out of character.
I prepped myself to lose my mind, and I kind of did. It took me four months to get out of character. I was having crazy dreams, and I was completely dissociated. Oleysa was not present. I had to trust our director so much because mentally, I was not there. I was Emily.
You mentioned that you were a certified nursing assistant. Are there any other odd jobs that you'd like to share?
I've had a lot of seedy side jobs. I've done it all. I've worked retail at the mall, just tons of side jobs, which I think are amazing for actors. I think everyone should have one! It helps you get more experiences, and the more experiences you have, the more you can channel into a character. Angelina Jolie said that. Don't stop living your life. There are times as an actor when you don't work for two months, sometimes three or sometimes six, and the only thing that's going to keep you sane is if you give back and live you life. I've definitely gone through that. It's like, 'Okay, I'm out of work for two months.' That's two months I can paint. That's two months that I can work at a retirement home or reading books to kids or cleaning up the beach. You meet so many great people that you can pull from and give life to your characters.
What are you interested in now?
I attempt to surf. I'm not as good as anyone else in the water. I'm more like a beached whale. I just hang out on my board. I can ride, but I get too nervous unless I go with my boyfriend or my trainer. There are too many burly men out there! Those are their waves [laughs].
Do you have any plans to go back to TV?
It's pilot season right now, so I've been running around like a crazy woman going to auditions. I can't tell you the projects that I'm on hold for because I have to wait until they come out, but I recently did a webseries. It's hilarious. It's called "Dirty Work." It's another dark comedy, and it's about a murder scene cleanup crew, and I play a heroine dealer. I'm covered in tattoos and smoking. My audience has definitely never seen me do something like this before. I like surprising people.
"Apart" opens in select theaters & On Demand on March 9, 2012. Watch an exclusive sneak peek of the film below.
Popular in the Community