A massive rescue operation is underway in Surfside, Florida, near Miami Beach following the partial collapse of a 12-story apartment building early Thursday that killed at least one person, authorities said.
It was unclear whether others remained trapped as emergency crews continued searching the rubble. At least 99 people remained unaccounted for as of Thursday afternoon, Miami-Dade County Mayor Daniella Levine Cava said in a press conference.
Approximately 55 units in the 136-unit structure were affected in the 1:30 a.m. disaster.
Emergency crews rescued 35 occupants, including 10 who were treated for injuries at the scene and two who were taken to hospitals, Assistant Chief Ray Jadallah of Miami-Dade Fire Rescue said at a news conference.
"We are shoring up the structure from the inside as we continue to tunnel in to locate additional survivors," Jadallah said.
The cause of the disaster wasn't immediately determined.
Surfside Mayor Charles Burkett, speaking at the press conference, said the building manager told him that the tower was quite full at the time of the collapse, with a mix of seasonal and year-round residents.
Levine Cava said that federal assistance is expected from the Federal Emergency Management Agency.
"We will not leave a stone unturned," Levine Cava said in Spanish at the press conference, adding that emergency responders are still searching for people at the disaster site.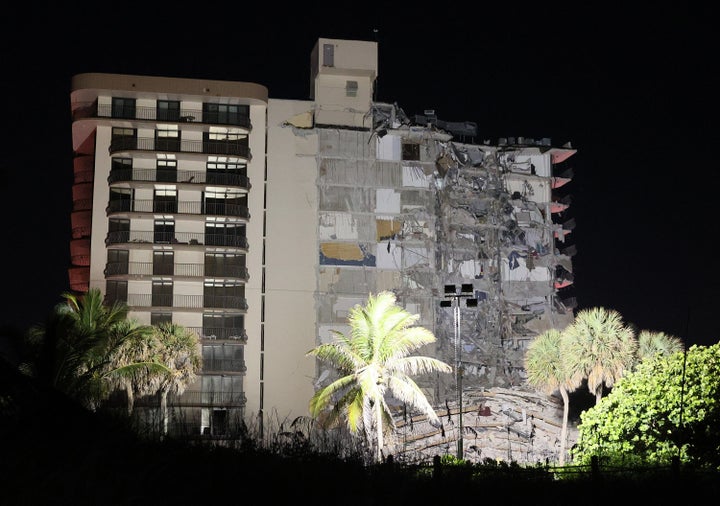 Local officials have meanwhile described harrowing rescues from the rubble, including that of a child who was pulled from the building's former garage. The child's parents are feared dead, Frank Rollason, director of Miami-Dade Emergency Management, told the Tampa Bay Times.
In a separate rescue, Rollason said, a mother and child were pulled from the rubble, but the woman's leg had to be amputated in the process.
"We got some people out. They had to cut away railings," he told the paper.
Dramatic surveillance video posted online appears to show two sections of the oceanside Champlain Towers South, which reportedly was built in 1981, abruptly collapsing, sending massive clouds of dust and debris into the air.
Photos taken in the aftermath show large sections of the structure in ruins.
"This is a catastrophic failure of that building," Burkett told "Today." "It looks like a bomb went off but we are pretty sure a bomb didn't go off, so it's something else."
"Apparently when the building came down it pancaked, so there's just not a lot of voids that they are finding or seeing from the outside," said Burkett. There "hadn't been many hits" by search dogs combing the wreckage, he added.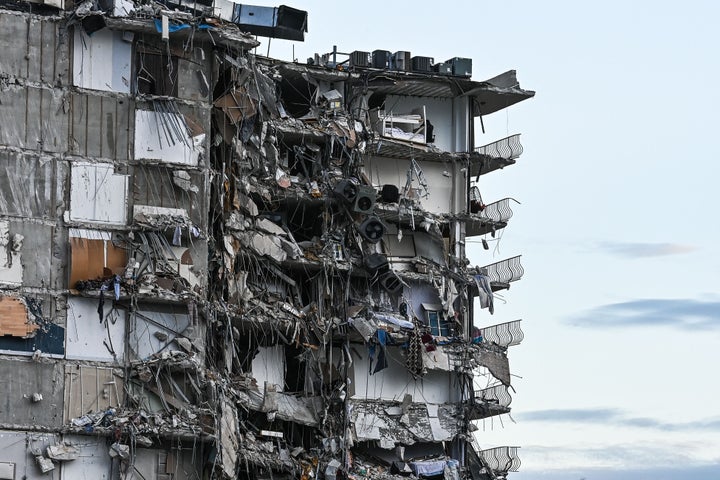 One video showed a young boy pulled alive from the debris:
Emergency crews rescued people from balconies in another clip:
Before-and-after comparisons shared on Twitter showed at least half of the building had been destroyed:
Aerial footage showed the devastation from the sky:
Residents described chaos and terror as the building collapsed.
"The whole building shook like an earthquake. I opened my sliding glass and I saw a plume of dust and then I opened the door and I saw that the building had pancaked in the back," a ninth-floor resident told Local 10 News.
"It was as loud as you could — the loudest thing I've ever heard," Barry Cohen told CBS News. "Now I know what a building collapsing sounds like."
"I've been living in Surfside the past 10 years, and this is by far the most horrific thing that I've seen in my life," added Mich Balkany, who witnessed the collapse during a walk.
Miami-Dade County Mayor Daniella Levine Cava described the collapse as a "horrific tragedy," tweeting that "my prayers are all with those impacted."
The Miami-Dade Police Department said it had taken charge of the investigation and was working with other agencies in the search and rescue operation.
Residents were moved to a nearby community center, reported NBC Miami, and surrounding roads were blocked by police. Rooms at a nearby hotel were evacuated and a family reunification center was set up "for anyone looking for unaccounted or missing relatives," per Miami-Dade Fire Rescue.
Sarah Ruiz-Grossman contributed reporting.
Related
Popular in the Community