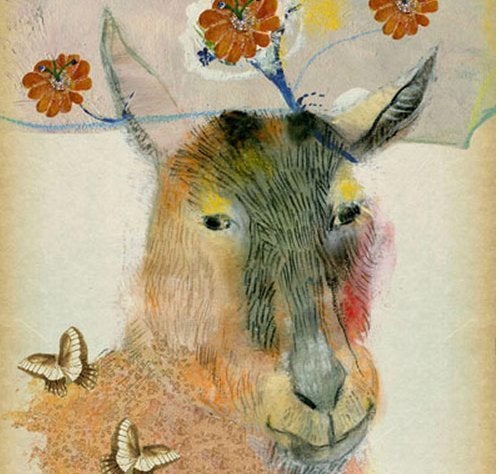 Another piece of art to be included in Misfits of Love a collection of narratives about the old and needy barn animals that have found Apifera in some magical set of circumstances, allowing them to live out their days with nurturing. If there was ever a creature that deserved a halo of flowers, it is the beautiful, soulful, Stevie.
A couple years ago, a herd of 30 goats was rescued from neglect in Douglas County in southern Oregon. It's odd to look back on such an event and wonder what my life would be like had it not happened -- for it was the beginning of a series of events that brought a handsome, dark, physically-challenged soul named Stevie into my life. It also brought me a pig named Rosie who had bonded with the goat.
When discovered, Stevie and his herd were living on a small piece of land littered with garbage and rotting carcasses. They were malnourished, loaded with fleas and had bad feet. But Stevie was the worst of the group -- he walked on his belly and knees because his neglected hooves were so long.
Someone finally blew the whistle on the property, and The Humane Society helped the county sheriff remove the herd of goats. But right away, there was one standout who endeared himself to the rescuers -- Stevie.
Stevie was known for giving kisses -- yes, it's true, I witness this every day, so I can attest to it. He gently puts his closed lips forward and graces your face. They are gentle, tender acts of acknowledgment and trust, like all good gentlemanly kisses.
After his rescue, the Saving Pet Adoption Center helped trim Stevie's hooves, over six inches long. But he still couldn't stand -- he'd been on his knees so long that his tendons had contracted. With funding from The Human Society, a vet named Gene Kang performed an operation on Stevie's legs to enable him to get off his knees.
Eventually, he was transferred to our friends at Sanctuary One, where he quietly got up one night and went to the pen of a small, grumpy pot-bellied pig named Rosie. They became companions and never parted. He seemed to tolerate her mood swings and grunts, and she had no qualms about his physical limitations.
So, when I went looking for a pot-bellied pig in need to adopt and bring to Apifera, there were many out there. Most were living in their original homes, but their owners had tired of them. But none of them came with a Stevie. No matter what separate entities need to be brought together -- man and woman, woman and farm, goat and pig, woman and pig with a goat -- the universe always seems to get the job done, even if the road is curved and hilly.
Related
Popular in the Community