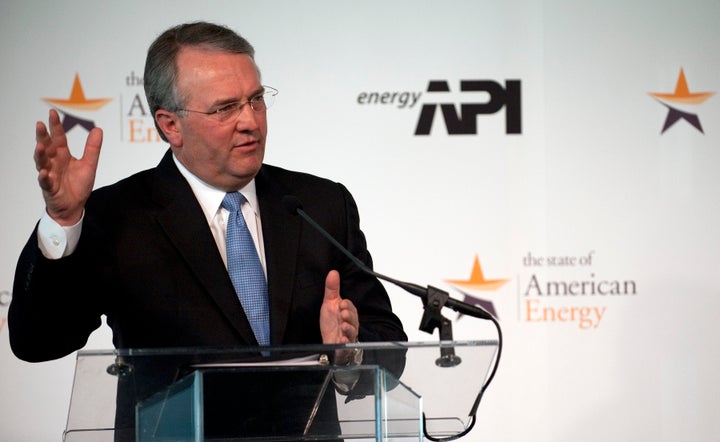 Today the American Petroleum Institute launched its latest attack on our great nation with their "Vote 4 Energy" or "I vote" campaign.
At the campaigns unveiling, API President Jack Gerard explained, "We are doing this because an electorate that is educated on energy issues will demand of all candidates, for every office, a commitment to honest common-sense discussions of how we can achieve energy security..."
I look forward to engaging in that discussion with Gerard and candidates for office because the electorate has been pretty clear what they want:
A Pew poll done last year found that 71 percent of Americans believe "This country should do whatever it takes to protect the environment."  And 59% believe that "strongly." The same poll found that 63 percent favored prioritizing clean energy, such as wind and solar. Only 29 percent favored expanding exploration and production of fossil fuels.
A more recent poll from November by the Washington Post and Pew Research Center found that 68 percent favor developing solar, wind, and hydrogen, only 26 percent oppose it. This compares to 58 percent who favor drilling offshore or on federal lands, and 35 percent who oppose it.  Support for nuclear energy is supported by only 39 percent of Americans while 53 percent are still opposed.
Voter support is even stronger when it comes to cleaning up pollution caused by fossil fuels. A poll conducted by Ceres on behalf of a coalition of investors, environmental, and public interest organizations found that 75 percent of voters think the Environmental Protection Agency (EPA), not Congress, should determine air pollution standards. 88 percent of Democrats, 85 percent of Independents, and 58 percent of Republicans oppose Congress stopping the EPA from enacting new limits on air pollution from coal-fired power plants.
Mr. Gerard implies that somehow Americans aren't having an honest discussion about energy but I don't think Mr. Gerard, with his $4.31 million salary and corporate perks, has any idea what normal people are talking about and how honest or dishonest the conversation is. In fact, API spent almost $6 million last year lobbying Members of Congress to continue their oily ways.
Despite API's expenditures, voters are pretty clear what they want. I am sure that API will spend a lot of money spreading falsehoods in 2012 (like this one, this one, and this one) to further scare politicians beholden to corporate interests who don't want to pay to clean up their messes. But if your audience is truly the public, Mr. Gerard, let's have this debate.
I vote and my kid's health and our country's economic future matter way more to me then your bottom line. I am betting that there are millions of other voters just like me.
Calling all HuffPost superfans!
Sign up for membership to become a founding member and help shape HuffPost's next chapter