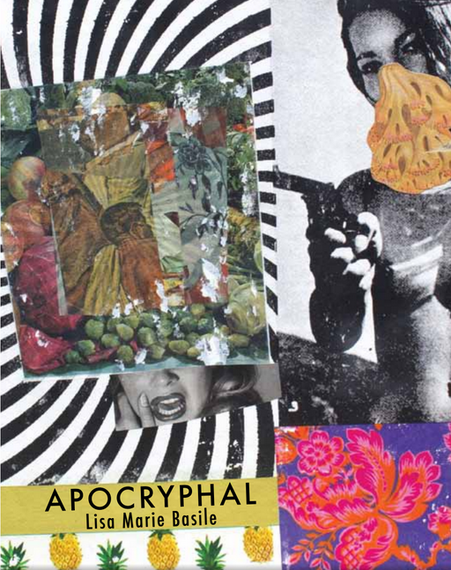 Lisa Marie Basile has to be one of the most hard-working writers I know. She is the author of chapbooks Andalucia, triste and war/lock, and is the Founding Editor of Luna Luna Magazine. She also edits Patasola Press and helps curate DIORAMA. If that weren't enough, she is the NY Editor for The Doctor T. J. Eckleburg Review, an online and print literary and arts journal housed at The Johns Hopkins University, M. A. in Writing Program. I recently had the opportunity to sit down with her to discuss Apocryphal, her (utterly fantastic) soon-to-be-realeased fourth book of poetry.
Amelia Shroyer: Talk to me about the title, Apocryphal. Why did you choose this as your title, and what does it say about your work?
Lisa Marie Basile: The apocrypha are the holy texts which are typically disregarded, seen as lies. Much of my childhood occurred in such a way that I felt I was both a participant and an observer. Family tragedies happened, leaving me sort of lost. Sometimes my memories are unprovable, I've found.
My mother says my memories are wrong sometimes, while other times I remember things very clearly. The two do not always reconcile and so I always feel as if I want to tell the story of it; the truth and the untruth and the half-truth. In APOCRYPHAL I do that. And another thing, there are few women's voices in holy texts. The story of my life was drawn by a man and so I wanted to explore how women and femininity fit into it all.
AS: You open with a quote from Anaïs Nin; how has her work inspired you, and how do you relate to her as a poet?
LMB: Anaïs Nin is my favorite writer, probably of all time. Her sensuality, her power and her inner freedom is exceptional, and in a lot of ways I have turned to her work for personal answers and literary permission.
AS:In your first poem you say, "it might be truth, or not. that is up to you." When I read this for the first time I felt a bit like a detective, trying to find the story behind the pieces. But they're broken and foggy on purpose, right? Why is that?
LMB: I too feel like a detective! The thing I love most about reading poetry and also writing it is that there's this sense that maybe there is an answer and yet we know on some level that the answer is our own, that we project and inject those secrets and mysteries and answers in any text. Like religion. Like life. Poetry is ours and not ours. So, I wanted the reader to decide what I am, if I win or lose against the shit I am writing about, or something else entirely.
AS:What significance does the beach, the ocean, sand and sea hold for you?
LMB: I grew up going to beaches throughout summers. Once, my mother, her friend and their daughter all held hands and stood in the water waiting for the wave to come. When it did, I lost their hands and got sucked under. I felt frantically for them and was suffocated, and I swam to shore, angrily. I was like 7. Then, when they laughed at me in that "aw poor baby" sort of way, I wanted to show them. So I became a wave chaser and did it to prove a point. I wasn't scared. I guess water compels me to be okay with fear? Not to mention, I'm a water sign.
AS:Me too! I totally get that. I read once that there is always a male figure in your work, and this time it is Javi. Have you used Javi before? What inspired him?
LMB: In my first chapbook, ANDALUCIA, I wrote a lot about Alejandro. There is also a Gael and a Javi, now. These are men that are sort of put in the position I need them to be in: father, monster, god, lover, etc. I paint them as I need them. It sounds as if they use me in my writing but it is a very successful imaginary symbiotic relationship.
Javi is my lover and my friend and my father, I guess you could say. He's the way I see men as a child (So cool! So handsome!) and as an adult (So nuanced! So flawed!).
AS:Do you think sex is always a little ugly?
LMB: I believe sex has the capacity to allow us to indulge in our notions of ugly as much as it allows us to explore the infinite beauty of being human.
When we leave our bodies during sex, we immediately poison it. We need to be fully there, however that works for you.
We have to remember how natural it is to use sex as a way to move through and explore ourselves and our lives. That can be ugly and rotten.
Poetry I think maybe lets you into those cracks.
AS:You explore womanhood, relations to fathers and relations to men, and you make the brilliant point of women and girls finding validation and meaning through our relationships with men. This line in particularly struck me, "an unmovable desire to be filled and poured." Do you think it's possible to escape this dynamic?
LMB: From a poetic perspective I would like to say that it is not my responsibility to write what is clean and free from bullshit. It is my responsibility to write what I want to write. If that means exploring that damaged dynamic I will never apologize for it. I think there a lot of content police out there, and that kills art. But then again, as a woman and as someone who has turned to men for validation, sure, in the past, I think it's hard to allow yourself to love yourself because of the messages the world at large always feeds you. Making men into saviors and unhealthy relationships to the self and gender-roles are but one of humanity's many vices and cruxes. The best we can do is talk about them honestly and recognize our own weaknesses and complacencies. Maybe that's why poetry feels good to me; I can bask without guilt.
AS:How do you feel about memory?
LMB: I have a bad relationship with memory. I can't tell which are real or fake sometimes. It's confusing.
One time I swear I met some actor from The Godfather on the street. I have this elaborate memory. My mother swears it's fake. Another: when someone died, I entirely blocked it out. Nothing's there. I wish I could access the meaningful memories.
AS:Do you think bodies are shameful? Can we separate ourselves from this shame?
LMB: I think bodies are perfect. We invent and broadcast shame every single day. I wanted to explore how religion and bad values cause us to feel shame in this book. I focused on why we need to be beautiful; what is it? Why do we need it? Why is shame a sort of baseline?
We can work hard to love ourselves which I think probably negates everything negative. But then again, I wouldn't write if I were filled with happy reconciliation of all things.
AS:When will Apocryphal be available and where?
It will be in select bookstores as well.
AS:Is there anything else you'd like us to know?
LMB: Read the book, and everything on Noctuary Press, my publishing house.
Sometime next year I'll be releasing a series of motel murder poems. I suspect the conversation will be different then!
AS:Awesome! I'm looking forward to it.
LISA MARIE BASILE was born and raised in small strange towns and on beaches in New Jersey. She lives in NYC now. She is a graduate of The New School's MFA program for creative writing. Nominated for a few Pushcart Prizes, she has been named a top contemporary NYC poet to read by several publications. She tweets at @lisamariebasile.
Calling all HuffPost superfans!
Sign up for membership to become a founding member and help shape HuffPost's next chapter