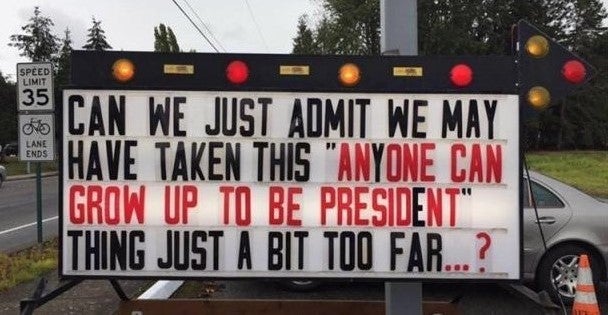 In my college years, every student rally included a fiery speech protesting South Africa's racist apartheid regime. In 1990, I cheered when, after 27 years in prison, Nelson Mandela walked free. In 1994, following the end of apartheid, I tearfully celebrated when black South Africans, in their country's first fair and inclusive election, voted in the African National Congress. Behind my office desk, in a simple red frame, hangs a paper ballot celebrating that election.
Twenty-two years later, in 2016, in an act of democratic infamy, the United States elevated to the presidency a xenophobic, racist, sexist, bigoted, willfully ignorant, dishonest bully. As the election results were announced, my body convulsed with the very same feeling I had when my dog Andy, the best dog in the entire world, died from cancer.
It's as if the United States voted for a politics of apartheid. Even if it's not apartheid in the legalistic sense, it's still an ugly hate, a heartless cruelty, that's been installed in the White House.
Every election year, in a rather moralizing tone, we are informed that the act of voting has been reduced to an unsavory choice between the lesser of two evils. We are told that our vote only serves to validate a corrupt, centrist, corporatized two-party system.
Newsflash: the lesser of two evils is less evil. Voting for the lesser of two evils is a shitload better than giving power to the more evil of the two evil options. I'm in favor of less evil.
Not voting is the same as averting your eyes; looking the other way; censoring yourself; not taking responsibility; succumbing to cynicism.
Just between you and me—if you're not a regular voter, then we have a problem.
Actually, I can't believe I need to say this, but apparently I do. I really didn't want to tell you. It's a sour note. I almost deleted it. Reluctantly, here goes: If you're not a committed voter, you're not a committed social entrepreneur. You might be a perfectly good person and you might be exceptionally proficient in your social sector work, but if you are a spectator in the democratic process, then you lack the applied courage of your convictions.
If you're not a regular voter, how do you reconcile your political alienation with a career committed to community empowerment? By what leap of logic did you conclude that every single person on the face of the earth should have agency to manage their personal affairs, advance their financial future and participate in the body politic—everyone but you?
'I voted' is so much more than a statement of personal accomplishment. It's a profound expression of our commitment to each other. People who vote share a bond of common kinship.
In the same way that saying 'I love you' defines my relationship to another human, 'I voted' defines my relationship to the people in my community. Our votes affirm that we care about each other's welfare. 'I voted' also implies the reciprocal question, 'Have you voted?' That is to say, 'Do you love me too?' When I vote, I'm confessing my interdependency, my vulnerability and my need for you to vote with me. I'm asking for solidarity and your support.
Our votes build and strengthen our community's emotional resilience. Voting adds our voices to the crescendo of conscience that defines the world we want. As social entrepreneurs, we dream of communities where individuals have economic power, personal power and political power. We don't dream of communities of indifference and disengagement.
Some social sector analysts and academics parse social entrepreneurship, partitioning it off from public service, political activism and committed citizenship. The distinction is sophistry. Voting with your impact investment dollars, voting with your volunteerism, voting with your donation, voting with your career choice, and voting with your ballot are all on the same continuum of change-making social entrepreneurship. Understanding how change happens, and doesn't happen, is central to our social action work.
As citizens and as social entrepreneurs, sometimes we don't get to choose our battlefields. We do get to choose whose side we are on in the long struggle for environmental, economic, racial, gender and social justice. As change agents, we are obligated to pursue every opportunity, every avenue, every available forum, to advance progress.
From soapbox to ballot box, politics is a changemaker power. Use it or lose it.
The term 'apolitical social entrepreneur' is an oxymoron.
Jonathan C. Lewis, author of The Unfinished Social Entrepreneur (from which this commentary is adapted), is a life-long social justice activist and social entrepreneur. He is the Founder of MCE Social Capital, an innovative social venture that leverages private capital to finance tiny business loans to deeply impoverished people, mostly women, in 33 countries in the developing world. He is also Founder and President of the Opportunity Collaboration, an annual strategic business retreat for 450 senior level anti-poverty leaders from around the globe. In addition, Jonathan is the co-founder of Copia Global, an Amazon-like consumer catalog serving the base of the economic pyramid in Kenya. Jonathan is a Trustee of the Swift Foundation and serves as a General Partner of Dev Equity, a social impact investment fund in Central America. #UnFinSocEnt @SocentClinic (Photos by Pixabay)
Related
Popular in the Community