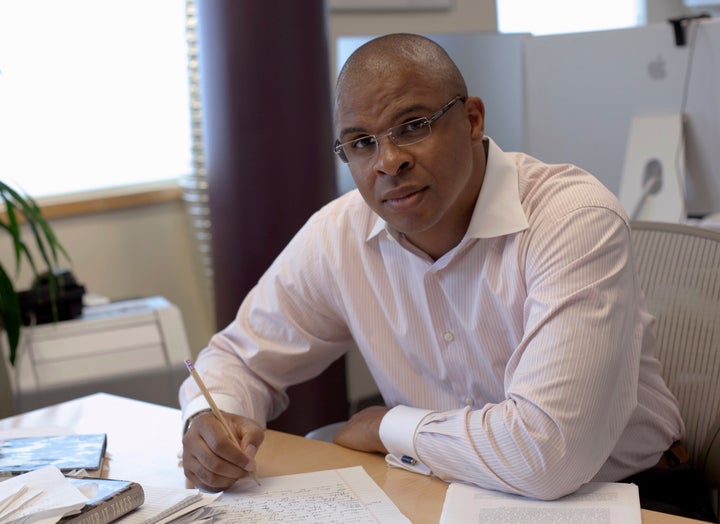 An ambitious experiment created by Harvard economist Roland Fryer to export and scale the practices of high-performing charter school chains to public schools in Houston appears to be bearing early fruit, according to Fryer's findings in a recent report. But the results are preliminary, and the method has its critics.
The three-year project, called Apollo 20, is focused on turning around nine low-performing public schools in Houston using five practices Fryer found to be effective in New York's top charter schools. Apollo 20 aims to close the black-white achievement gap, and, as Fryer said during a presentation made in Houston, "boil down charter school successes into translatable, scalable practices for public schools."
"When charters were first established, there were two goals: to educate kids in bad schools and be an incubator for best practices," Fryer told The Huffington Post. "This paper shows that can be effective in a short time."
"Have we closed the achievement gap?" he continued. "Of course not."
First-year test scores in Apollo 20's schools showed some gains, with an increase in standard deviations of .234 in middle school math and .368 in high school math. But the program had little effect on reading scores.
"I've been in education a long time," Houston Independent School District Superintendent Terry Grier told HuffPost. "I've never seen that type of progress in one year," he said of the math score improvement.
The Apollo 20 study comes as economists and educators alike seek cost-friendly solutions to improving low-performing urban schools, turning to charter schools for recipes for success.
Charter schools are often touted for allowing more innovation than traditional public schools, and charters such as KIPP and Harlem Children's Zone often send to college some students who otherwise would have had few chances at success.
These schools follow a strain of philosophy known as "no excuses": In the words of New York Times columnist David Brooks, they "create a disciplined, orderly and demanding counterculture to inculcate middle-class values."
Apollo 20 aims to replicate the successes of this educational philosophy -- without the charter school structure. Fryer isolated five factors he found successful in "no excuses" charter schools to replicate in Houston: extended learning time; changes in leadership and teaching staff; extensive tutoring; a data-driven approach to teaching; and a culture of high expectations.
While Apollo 20 stresses these practices, some criticize them for being too punitive and discipline-oriented.
"The 'no excuses' philosophy, with its discipline-based approach, assumes that the parents who are receiving this treatment have lost faith in the utility of education, or that somehow they're unmotivated and they've walked away from schooling their kids," said Luis Huerta, a professor at Columbia University's Teachers College.
Fryer presents his strategies as a cost-effective alternative to more standard interventions to close the achievement gap, such as class size reduction. Those interventions, Fryer wrote, produce "a fraction of the impact of our fully loaded treatment."
Apollo 20 schools receive $2,042 more in funding per student than local public schools. The project is financed by government grants and an extra $14.4 million from private donors.
The project began after Grier, at the beginning of his tenure in Houston in early 2010, learned that several schools in his district were failing at a rate that required them to implement federally-mandated turnaround plans.
"One of the options was to lock doors and let the students go elsewhere. I thought, we don't want to do that," Grier said. Another option was to turn them over to charter school chains, but the best ones, Grier said, wanted to start schools from scratch. So he began searching for successful turnaround plans that could be accomplished within the parameters of traditional public schools.
But he had little success until one of his associates asked Grier if he'd heard of Fryer. "I read around, called his phone. I said, 'Would you be willing to partner with us to see if we could turn around nine schools?" Grier recalled.
The next day, Fryer flew down to meet Grier in Houston. That meeting led to the founding of Apollo 20, which now serves 7,000 kids in nine schools. The program included hiring nine new principals, replacing more than half of the targeted schools' teachers with new ones (who were screened for embodying the "no excuses" philosophy) and hiring 257 tutors.
Now, Fryer said, "the biggest limit to scalability is the supply curve." For example, "It took us forever to find nine principals that we thought had the 'no excuses' philosophy."
But Gary Miron, a professor at Western Michigan University's College of Education, worries that the "no excuses" philosophy drives some students out. Miron noted Apollo 20 had built on the KIPP model. "One of the concerns about KIPP is that so many students are leaving," he said.
Grier said Apollo 20 schools lost between 2 and 3 percent of their students last year. He blames that loss on bad publicity.
"That's because this was being promoted by the critics of the program as being punitive," Grier said. "We're seeing these schools' [enrollment] level off."
Huerta, the Columbia Teachers College professor, said he was unsure whether Fryer's five ingredients for charter school-style effectiveness were what actually made the charter schools successful to begin with.
"It's important to separate the marketing hype -- that these organizations have used to self-promote their franchises about what they claim makes them effective -- from the actual practices that may actually make a difference in raising students' learning curves," Huerta said.
Fryer countered that his ingredients accounted for 40 percent of variance between charter and public schools in his earlier New York-based charter study. "Let's figure out what's the most effective for kids," Fryer said. "I don't want to have coffee shop debates of what might be."
"I think we're onto something, but this is just the end of year one," Grier said. "We're seeing an uptick in students' attitudes. They're having hope again."
Calling all HuffPost superfans!
Sign up for membership to become a founding member and help shape HuffPost's next chapter