In a country where billions of pounds of food get wasted every year, one app is connecting the dots between those who have excess food and those who need it.
Copia, a food recovery app, collects surplus food from companies and distributes it to organizations that serve people in need. Companies can use the app to order a food pickup after an event, for instance, and Copia will come retrieve the fare and drop it off at a local pantry, shelter or soup kitchen.
"Hunger is the world's dumbest problem, especially in the world's wealthiest country," Komal Ahmad, the app's founder, said at the Women in the World summit in New York on Thursday. "It's a distribution problem. We get food from those who have it to those who need it."
Food waste is a huge issue in the United States: 31 percent of the available food supply, or 133 billion pounds, went uneaten in 2010, according to the USDA. This is in a country in which almost 50 million Americans, or one in six people, live in food insecure households today.
"Hunger is pervasive," said Margarette Purvis, President of Food Bank of NYC, said at the summit. "It's a horrible thing that is hidden in every city, in every neighborhood -- and [the person affected] is typically not who you would believe it is."
The beginning of the initiative dates back to 2011 when Ahmad was in college. She passed a homeless man on the street, and rather than walk by and do nothing, she took him to lunch.
"In between bites he said, 'I just came back from my second tour in Iraq, and I haven't eaten in three days,'" Ahmad said. "I'm looking at this veteran, who fought for his country, who now has to face another battle: hunger and homelessness."
That's what inspired her to start Copia. So far the app is only operating in the Bay Area and is only used to distribute food, but Ahmad is hoping to expand to other cities, and to potentially use the technology to distribute other much-needed items like medicine, she said at the event.
"Next, we want to use the platform to redistribute food to Syrian migrants in our country," Ahmad said.
If you want to help, you can get businesses you work with to use the app. But Purvis suggested something more: go volunteer at a local food pantry.
"Just do something," Purvis said at the summit. "Together we can solve this."
Learn more about what you can do here.
Related
Before You Go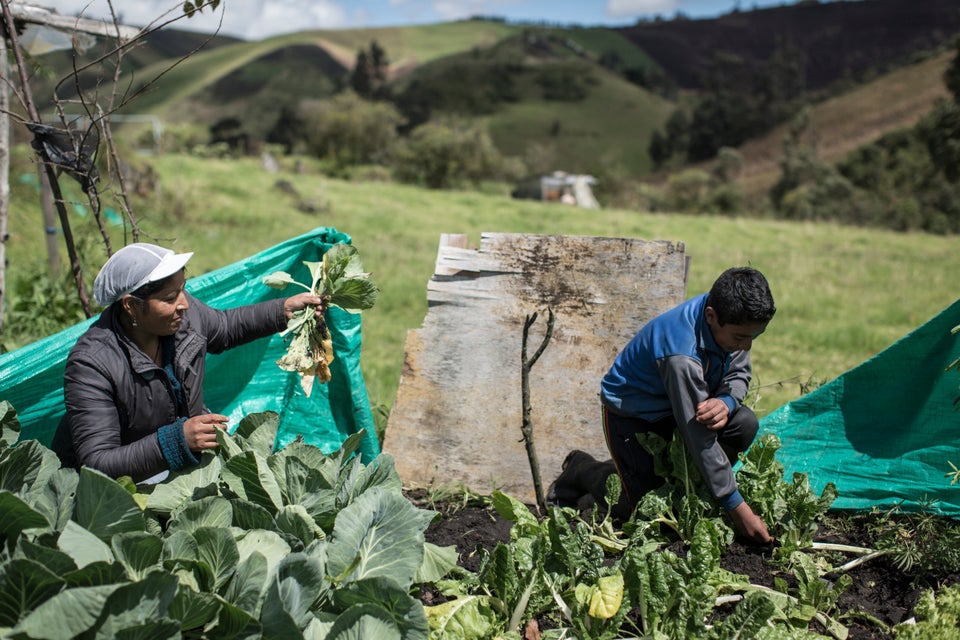 Women Are Key To Ending Hunger