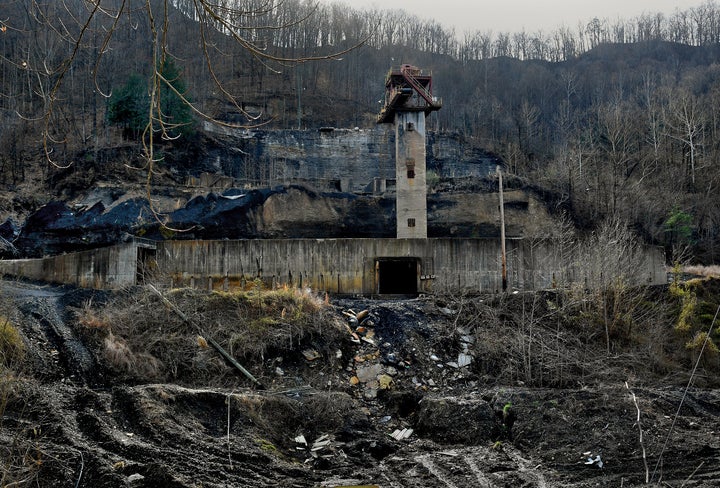 On a frigid day in mid-January, Pam Brashear woke up in her home on a hill above a creek in Viper, Kentucky, and tried to turn on the faucet. Nothing came out. She sighed. It wasn't anything new — this happens every year around this time.
"Every winter, the water goes off," she said. "For days. Then you have to boil it for days."
Brashear's water was out for eight days, which she said pales in comparison to her neighbors up the mountain who had none for nearly a month. The county government handed out bottled water, which she saved — her family doesn't drink the tap water anyway because of its sulfur-like taste — and she hiked up a coal bank nearby to carry five-gallon buckets of clean creek water to fill the toilet and brush her teeth.
"People were calling the county every day," she said. "When I called, I asked them how long it would be. They'd say, 'No ma'am, no idea, might be tomorrow.'"
Viper is an unincorporated community — an area without its own municipal government — a few miles up the road from Hazard in Perry County, an Appalachian coal mining community with a 30 percent poverty rate. The water is sourced from the nearby Kentucky River and controlled by Hazard Utilities, though many people still use well water because they say the utility's water is unreliable. When freezing temperatures slammed the Southeast earlier this winter, the utility reported that major waterline breaks and a water shortage from some of its 9,000 customers letting their faucets run (done to prevent pipes from freezing) caused the shutoffs.
The crumbling infrastructure here is just a snapshot of the larger water crisis in the U.S. In 2017, the American Society of Civil Engineers (ASCE) gave the U.S. a "D" in drinking water infrastructure. According to ASCE, the U.S. loses about 6 billion gallons of treated water everyday, making it a $1 trillion problem to fix.
"It's in pretty tough shape," said Greg DiLoreto, a retired water utility executive and chair of ASCE's infrastructure committee. "It has a huge effect on our economy, and puts a big burden on small and rural communities."
In Appalachia, as the coal industry has waned, the money that local governments receive from coal severance tax funds (a fee on the amount of coal extracted) — which helped pay for utility and other infrastructure upgrades — has drastically decreased. And as the water shuts off or runs out more frequently, with little communication to customers, it has huge ripple effects on communities: businesses have to shut down, workers get sent home and lose wages, and schools close. American families lose $3,400 a year because of poor infrastructure, DiLoreto said, thanks to lost wages or expenses like buying bottled water or fixing their cars because of potholes.
"Mostly, I think folks don't really know what to do," said Ivy Brashear, Pam's daughter and the Appalachian Transition Coordinator at Mountain Association for Community Economic Development. "Inevitably [the county] will be able to put small patches on what the problem was, but obviously that's literally just putting a Band-Aid on a broken system."
There are large-scale solutions to address these types of basic infrastructure problems. In January, a Kentucky lawmaker introduced a bill to combine some eastern Kentucky counties so they can better pool resources. Perry County recently hired a full-time grant writer to find more funding for economic development initiatives, especially those that use abandoned mine land or Appalachian Regional Commission funds.
Some utilities in cities like Milwaukee and Washington, D.C., are selling biosolids from wastewater treatment to fund water infrastructure improvements; in other places, private water companies are buying out smaller, struggling public water companies.
Instead of waiting for these expensive, long-term changes, however, residents in Appalachia and elsewhere are taking matters into their own hands. In Martin County, Kentucky, which has its own failing water district that shut off water to residents this year, residents have started a Facebook group called Martin County Water Warriors to draw attention to the issue and share resources. In Marion, North Carolina, activists have hosted community forums that bring together city government officials, local residents, organizations and other stakeholders to strategize how to build better infrastructure. In Jackson, Mississippi, and Knoxville, Tennessee, residents are organizing to get community leaders to run for city council or public service commissions.
The key to finding solutions is to look at infrastructure and development more holistically, said DiLoreto. "It's all connected," he said. "Wastewater treatment is typically the largest user of electricity in a community, so if the electric grid goes down, the wastewater treatment doesn't work. It goes into the stream, polluting [drinking] water sources."
Smarter electric grids and more widespread broadband networks can help solve these types of problems, said Christopher Mitchell, director of the Community Broadband Networks initiative at the Institute for Local Self-Reliance, which works with electric cooperatives to expand internet access and introduce programs that make it easier for outages to be monitored and repaired, or introduce energy efficiency programs.
That could make a huge difference in places like Perry County, which has seen the state utility, Kentucky Power, try to raise rates by 9 percent. The state's public service commission is working to decrease the rate by 4 percent; some customers say they are paying anywhere from $600 to $1,000 per month for electricity. "Now that we have the water back, I'm working with a group on electricity," Pam Brashear said.
Expanded internet access could also create more opportunities for work in rural areas. Jackson County, Kentucky, for instance, has a fiber-optic network that has "enabled job creation because people can work from home," he said.
Getting these types of projects started is often the biggest challenge, but it's what will lead to economic transitions in rural communities, said Elizabeth Wright, education coordinator for the Highlander Center in Tennessee. She works on the Appalachian Transition Fellowship, which partners community leaders with host communities so they can create solutions from the ground up. Past programs have focused on renewable energy development, abandoned mine land development, environmental testing or community education, while others are interested in infrastructure.
"Appalachia has historically been a region that people have come in and extracted from natural resources, and from experiences and culture here, so there's a history of exploitation and forcing dependence on people with one major industry," Wright said. "There's a monopoly on people's ability to take care of themselves and take care of their families."
But that's changing, she said. "People who live here know better, and I think they're getting creative and are excited about this opportunity that now exists. There are hardships along with that, but these conversations are really happening."
For more content and to be part of the 'This New World' community, join our Facebook Group.

HuffPost's 'This New World' series is funded by Partners for a New Economy and the Kendeda Fund. All content is editorially independent, with no influence or input from the foundations. If you'd like to contribute a post to the editorial series, send an email to thisnewworld@huffpost.com
Related
Popular in the Community